This article was highlighted for PRO subscribers, Seeking Alpha's service for professional investors. Find out how you can get the best content on Seeking Alpha here.
DISCLAIMER: This note is intended for US recipients only and in particular is not directed at, nor intended to be relied upon by any UK recipients. Any information or analysis in this note is not an offer to sell or the solicitation of an offer to buy any securities. Nothing in this note is intended to be investment advice and nor should it be relied upon to make investment decisions. Cestrian Capital Research, Inc., its employees, agents or affiliates, including the author of this note, or related persons, may have a position in any stocks, security or financial instrument referenced in this note. Any opinions, analyses, or probabilities expressed in this note are those of the author as of the note's date of publication and are subject to change without notice. Companies referenced in this note or their employees or affiliates may be customers of Cestrian Capital Research, Inc. Cestrian Capital Research, Inc. values both its independence and transparency and does not believe that this presents a material potential conflict of interest or impacts the content of its research or publications.
What Good Looks Like In Cloud
The service portfolio offered by security company Zscaler (ZS) is built for the times – we don't mean Covid-19 times, we mean modern, multidevice, proliferation of enterprise applications, distributed working times. Work from home will slowly return to something like the old days, but Zscaler's services will in our view remain in tune with the zeitgeist.
The value proposition offered by the company is simple. Your company needs computing devices to be able to connect from anywhere, across a network, to applications and microservices (that is, the underlying bits and pieces that form parts of applications) which are also likely to be hosted, well, anywhere. The promise of the Internet is that this is possible. The standardization of the enterprise network on TCP/IP, HTTPS and other related protocols makes it possible. The huge, sustained, and increasing degree of malevolence among unwelcome snoopers, hackers, thieves and other forms of ne'er-do-wells preying on the corporate network however – that mitigates against using the Internet as an any-to-any network for the enterprise. Companies solve for this using all manner of expensive private network partitions sold to them at great cost and delight by the likes of Verizon (VZ), AT&T (T) and others in the telco sector. Alternatively – indeed sometimes additionally – corporates will then buy great racks full of network security systems, from the likes of Palo Alto Networks (PANW) and others. This stuff is expensive to buy, upgrade and maintain.
For the most part, security itself has yet to make it into the cloud. Companies spend their time and money protecting their networks and traffic from the gremlins that lurk in the cloud. ZS operates to a different thesis. Its proposition is, let's assume you cannot trust anything in the cloud; let's say you can trust ZS; and let's say that if your devices and applications connect to the ZS network environment as the first hop to the cloud, the protection and cleansing service can be applied there. Which means no need to buy expensive private circuits from a telco or pay out lumps of capex to buy kit from hardware vendors. You remember this pitch, right? Salesforce.com (CRM) was making this pitch for application software in the late 1990s. Their byline at the time was, "No Software", meaning, "No Installed Software". (Their phone number at the time was 1-800-No-Software). It worked out pretty well for CRM and all the other cloud application software companies that followed. It's still working out pretty well.
We cover two security software companies, being ZS and CrowdStrike (CRWD). There's a lot of companies around in this sector but the reason we like these names is the incredibly strong financial fundamentals both companies offer. (You can read our prior work on CRWD here).
ZS put in an exceptionally strong quarter to the end of July – that's Q4 of their financial year FY7/20.
Here's the numbers; a brief commentary follows.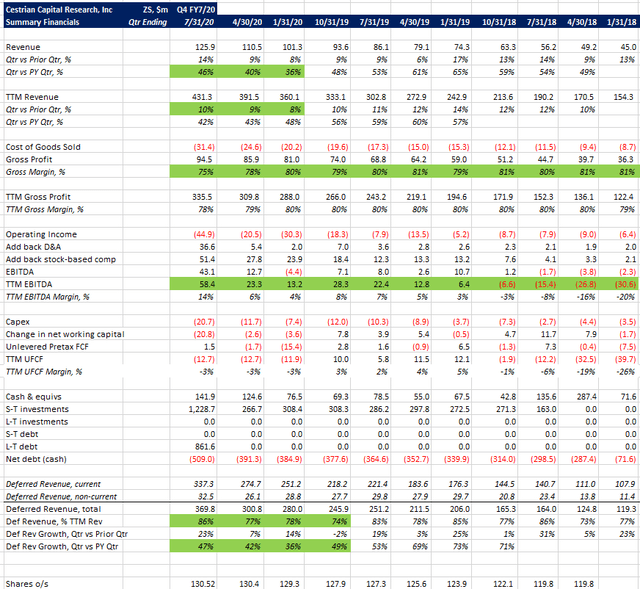 Source: Company SEC filings, YCharts.com, Cestrian Analysis
Green, as you might surmise, shows the good parts. Here's our key takeaways:
Revenue growth accelerating from 36% YoY for Q2 20 vs Q2 19 to 40% for Q3 20 vs Q3 19 to 46% for Q4 20 vs Q4 19. This gives you sequential quarter-to-quarter growth in the TTM revenue number.
Gross margin still strong at 78% on a TTM basis (though it dipped to 75% this quarter – we'll keep an eye on that).
EBITDA margins improving. There was a very heavy set of depreciation & amortization charges this financial year which needs further analysis – we'll do so in a quiet moment.
Cash usage remains light vs. the cash resources on the balance sheet (and indeed is a modest use of cash given the growth).
Now here's the part that caused us to go to Buy yesterday in our Marketplace subscription service. Deferred revenue growth. If you read our work here on SA you know we can bore you for a long time about deferred revenue growth. But this is why – it's a little glimpse into the future. Deferred revenue is pre-paid contracts; money that customers have given the vendor in order to deliver a service in the future. It shows up, confusingly, as a liability on the balance sheet – because having already received the money, the vendor has a liability to deliver services of that value to the customer. Most cloud companies have a high level of "current deferred revenue" vs. "non-current deferred revenue", in other words, a high level of prepaid contracts which will be recognized in the next twelve months, not much to be recognized in the next twelve months. That tells you they win prepayments on a one-year basis a lot of the time, and relatively few prepaid multiple years. We look closely at deferred revenue as a percentage of TTM recognized revenue. If deferred divided by TTM is say 1.0 (100%) – that tells you that the company has already been paid for, and is expected to deliver, 100% of last year's revenue next year. In other words, everything but the growth is in the bag already. Compare that to a normal business where every morning you wake up and think, hm, I wonder what we will sell today. At ZS or similar companies – CRWD is even stronger on this front – you get to work and say, "OK, all of last year's revenue is already in the bag for next year. Now I can just focus on winning the new revenue". That's both a relaxing place to work, and also likely to be a high growth place to work.
Look at the deferred revenue above. It's now 86% of TTM revenue, and it's growing at 46% vs this time last year. In short: that's good.
The stock barely moved on the earnings print yesterday, which we thought was odd given the growth acceleration. The guidance – for about 36% revenue growth in FY7/21 – looks light. One analyst on the earnings call asked how to reconcile that with the big new sales team hired by the company this year; the company answered, "you know we like to be cautious on guidance". So they could be wrong but when you factor in the recently increased sales costs, plus the acceleration in deferred growth (meaning more in the bag for next year already) plus the acceleration in recognized growth (meaning the flywheel is turning faster), you may very well conclude the same. We would be surprised if the company grew by just 36% this year – we would expect 40% plus, all other things being equal.
We moved to Buy for subscribers yesterday when the stock was at $131.50; the stock is up about 6% at the time of writing since then. We think there's more to come and remain at Buy.
Cestrian Capital Research, Inc – 10 September 2020.
Disclosure: I am/we are long ZS, CRWD, CRM. Business relationship disclosure: See disclaimer text at the top of this article.
Additional disclosure: Cestrian Capital Research, Inc staff hold long personal account position(s) in CRM, CRWD and ZS.