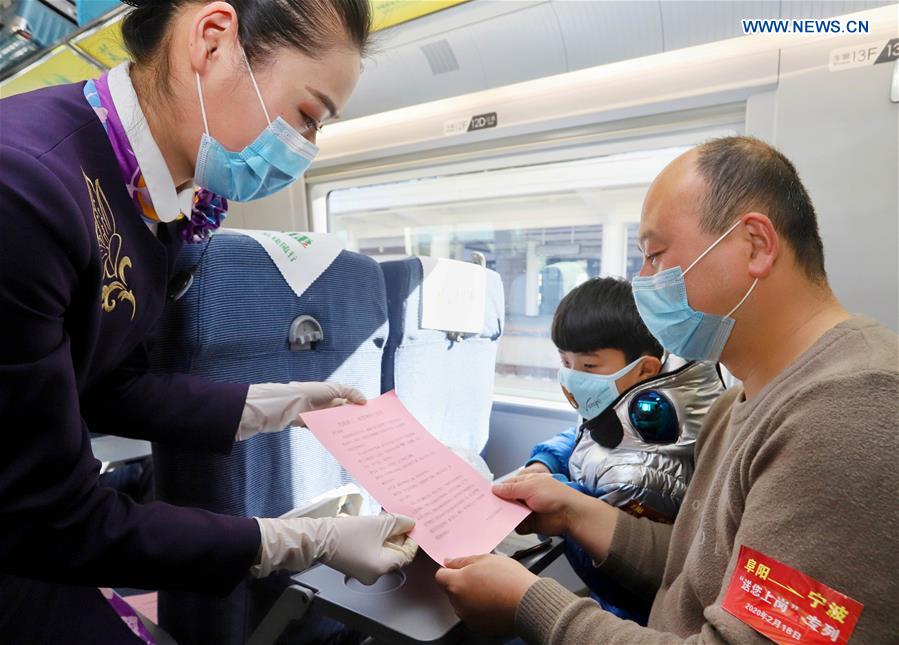 A lifeline for China's economic and trade resumption was launched to ensure the return to work and production in China's Yangtze River Delta, one of the economic powerhouses of the country.
The Shanghai Bureau of China State Railway Group announced on Wednesday that chartered and custom high-speed trains will be organized to transport migrant workers from areas where the epidemic has been brought under control and remains stable, such as Anhui and Sichuan provinces, to the Yangtze River Delta through March 31, in a bid to ease the labor shortage and ensure a comprehensive resumption of production.
Local governments in Shanghai, Jiangsu and Zhejiang provinces can apply for such trains at their local railway stations as long as they provide passengers' ID information and mobile phone numbers. The bureau has designated personnel to handle such applications in its railway stations.
Since Sunday, such trains have been put into trial operation between labor-intensive Guizhou, Henan, Anhui and Sichuan provinces to transport migrant workers to Hangzhou and Ningbo in Zhejiang province.
On Sunday, the nation's first chartered train carrying about 300 migrant workers set off from Guiyang North Station in Southwest China's Guizhou province, transporting workers to Hangzhou in a timely and safe manner.
Tianneng Group, one of China's largest battery manufacturers, chartered five buses on Feb 12 to help a total of 145 employees who spent the Spring Festival holiday in Yunnan province return to work.
The company, based in Changxing county, Huzhou, East China's Zhejiang province, mainly focuses on providing batteries for electric vehicles.
On Feb 6, the Department of Transport of Zhejiang advised that local companies could charter buses at their own expense to bring their employees back to work.
The buses were required to be disinfected regularly, and each bus had two drivers who drove in shifts to avoid drowsiness.
Employees on the buses were required to wear surgical masks the entire journey. When they arrived in Changxing county, they could return to their homes after having their temperatures taken.
Fuzhou, in East China's Fujian province announced on Tuesday that it is offering free chartered planes and trains to transport workers from Yunnan and Guizhou provinces.