Due to subscriber and reader interest, I've decided to take a look at the Global X S&P 500 Covered Call ETF (XYLD).
XYLD invests in the S&P 500 index, and sells covered calls on the entirety of its holdings. The fund basically trades most of the upside of said index for an increased 6.76% dividend yield, and might make sense for retirees or income investors who prefer the certainty and stability of dividends over more unreliable, if perhaps stronger, capital gains.
Although XYLD is a good fund, both the Nuveen S&P 500 Buy-Write Income Fund (BXMX) and the Nuveen S&P 500 Dynamic Overwrite Fund (SPXX) are comparable choices with more attractive discounts, and so are probably stronger investment opportunities, at least at current prices.
Fund Basics
Sponsor: Global X
Underlying Index: Hybrid CBOE S&P 500® 2% OTMBuyWrite Index
Expense Ratio: 0.65%
Dividend Yield: 6.76%
Total Returns CAGR (Inception): 6.98%
Fund Overview
XYLD invests in the S&P 500 index, and sells one-month 2% out-of-the-money call options, maturing on the 21st of each month, on the entirety of its holdings for an increased 6.76% dividend yield. In simple terms, these options means that price upside potential is capped at about 2% per month (really per options interval), that downside potential remains the same, and that the fund's shareholders receive a strong 6.76% yield regardless.
In practice, as upside is capped, XYLD tends to trend either sideways or slightly up, with downturns continuously wiping out most accumulated capital gains. Investors should, in my opinion, expect few, if any, long-term capital gains moving forward, even if equity markets post strong gains, as has been the case since the fund's inception: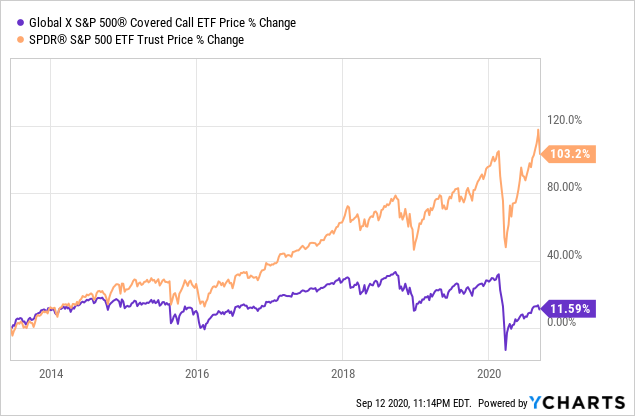 In exchange for the above, XYLD's shareholders receive a reasonably strong 6.76% dividend yield, significant greater than those of broader equity market indexes, and of comparable high yield ETFs: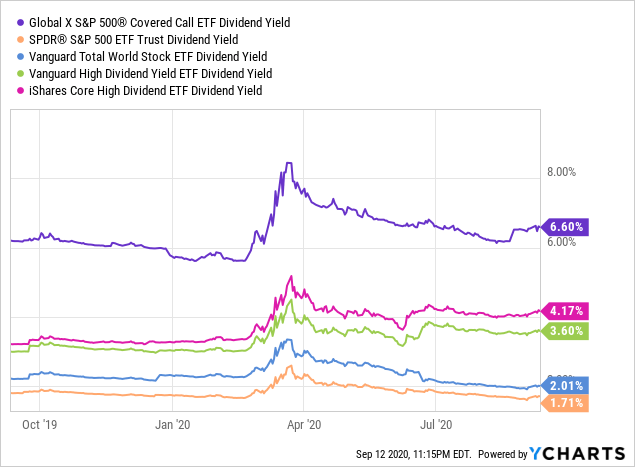 The net effect of lower capital gains but greater dividend yields is generally negative, for the simple reason that the former outweighs the latter. As such, XYLD has underperformed the S&P 500 on a total return basis since inception: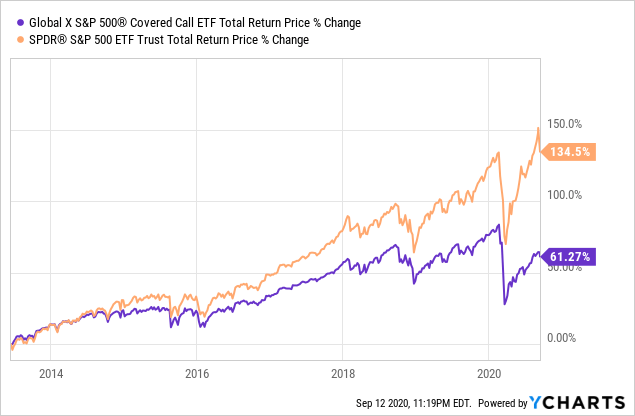 XYLD's investment thesis is basically the three points and graphs above: stronger dividends, weaker capital gains, with the net effect being negative.
That last point is key. XYLD should underperform the S&P 500 index under most relevant market conditions. XYLD underperforms during bull markets as upside is capped, and generally underperforms during downturns as monthly upside is capped, and most downturns have a couple of months or weeks of reasonably good performance. XYLD only really outperforms when volatility is low and the S&P 500 moves sideways, which is not really all that common or long-lasting. XYLD came close to outperforming during 2018, but then a quick drop and sharp rebound lead to stronger performance for the S&P 500: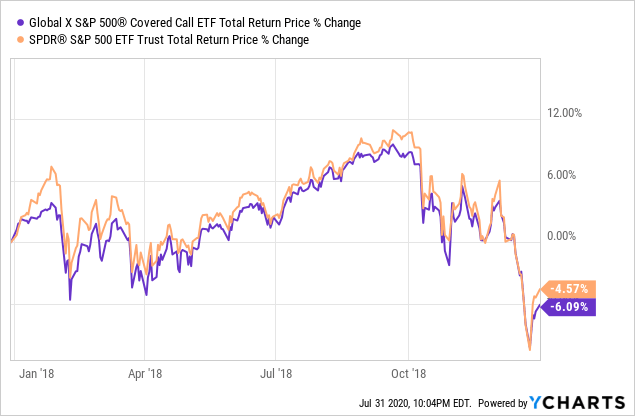 XYLD could plausibly outperform during certain market conditions, basically reasonably stable markets with consistent gains and few losses, but these are somewhat rare and unlikely to persist for long, as happened during 2018.
As a final point, XYLD's dividend yield is strongly dependent on options pricing / premiums, which depend on many factors, but especially on market volatility. As markets are extremely volatile right now, that means that XYLD's dividend yield is higher than average: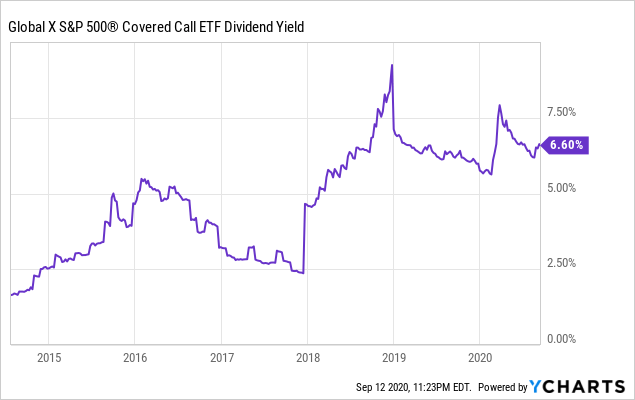 Current or prospective investors should take into consideration the fact that XYLD's yield is likely to fluctuate as market conditions change, and that it is more likely than not to decrease as economic conditions stabilize.
Peer Comparison
Finally, I wanted to do a quick comparison of XYLD with BXMX and SPXX, two CEFs with comparable investment strategies and holdings.
BXMX's overall options strategy is extremely similar to that of XYLD, with the caveat that the fund is actively-managed, so performance could be slightly different depending on management decisions. In practice, XYLD seems to be slightly more volatile than BXMX, with equal NAV performance since inception: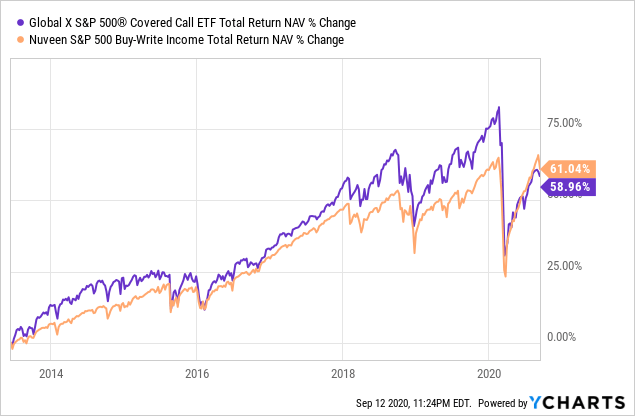 SPXX's options strategy is a bit different. The fund sells options on just over half of its holdings, but these have a strike price that is a bit lower than the index's spot price. These differences have many effects, but two stand out.
First, XYLD should outperform when S&P 500 returns are low-to-moderate, which is generally the case, as it benefits from the entirety of capital gains which are below 2% per month.
Second, XYLD should underperform when gains are massive, as it sells call options on the entirety of its holdings, meaning that the entirety of gains are capped after the 2% is reached.
In practice, the two factors above have cancelled each other out, and the NAV performance of these two funds has been mostly equal since inception: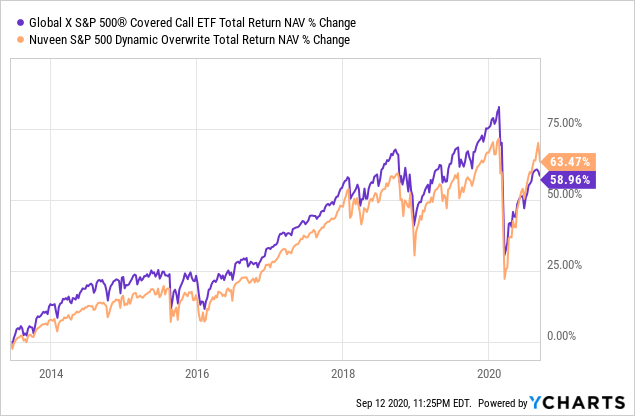 XYLD is an ETF, so it never really trades at a significant discount or premium. BXMX and SPXX are both CEFs, and so sometimes trade with the same. Both are currently trading with moderately large 10-11% discounts, and so present something of a buying opportunity to investors: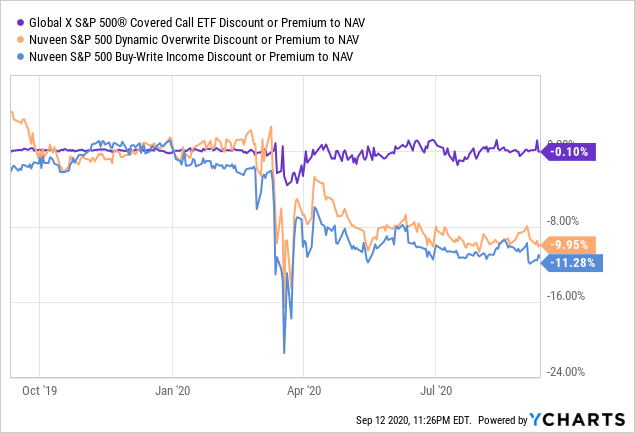 In my opinion, the strategies and performance of these three funds are similar enough that these discounts are the key, perhaps only, significant differentiator between them. As such, I believe that BXMX and SPXX are the superior funds, at least at current prices and discounts.
Conclusion
XYLD's options strategy effectively trades most of the fund's upside potential for an increased 6.76% dividend yield. This is a reasonable trade, especially for retirees and income investors. BXMX and SPXX are funds with comparable strategies and performance, but with significant discounts. As such, I believe that these two funds are the comparatively stronger choices
Profitable CEF and ETF income and arbitrage ideas

At the CEF/ETF Income Laboratory, we manage ~8%-yielding closed-end fund (CEF) and exchange-traded fund (ETF) portfolios to make income investing easy for you. Check out what our members have to say about our service.
To see all that our exclusive membership has to offer, sign up for a free trial by clicking on the button below!



Disclosure: I/we have no positions in any stocks mentioned, and no plans to initiate any positions within the next 72 hours. I wrote this article myself, and it expresses my own opinions. I am not receiving compensation for it (other than from Seeking Alpha). I have no business relationship with any company whose stock is mentioned in this article.