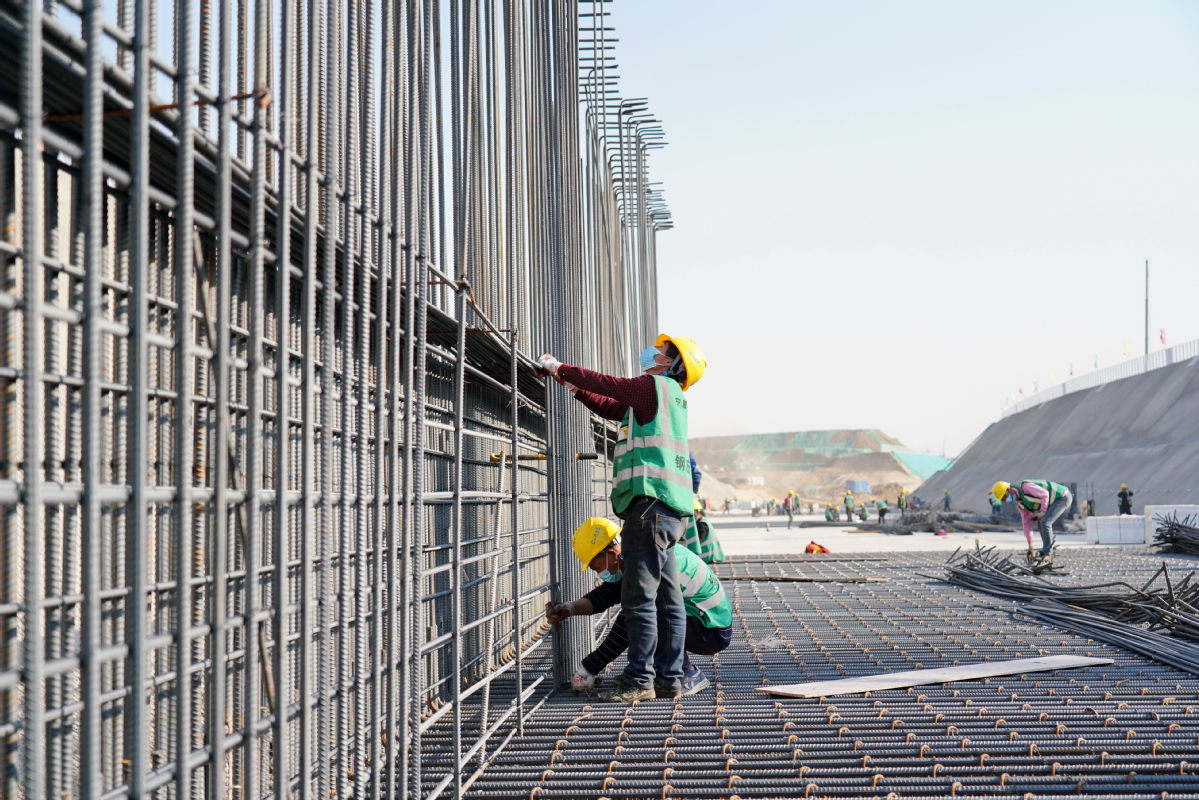 Work on the Xiongan New Area, China's new landmark economic zone, is back in full swing amid the nation's steady recovery from the novel coronavirus outbreak.
According to zone officials, China Construction First Group Corp, a fully-owned subsidiary of State-owned China Construction Engineering Corp, has started work on two construction projects spreading over 450,000 square meters in the northern part of Xiongan.
The projects, Xinji Forest and Xinji Park, are essentially horticultural parks which leverage the natural landscape to transform the entire area into a green city-led economy.
Company officials said the Xiongan area has accorded top priority for green projects. The new area will be a modern city that is green, intelligent and livable, with relatively strong competitiveness and harmonious human-environment interaction by 2035, according to the Xiongan master plan.
Located around 100 kilometers southwest of downtown Beijing, Xiongan New Area was set up in April 2017 to ease congestion and shift some of Beijing's functions that are unrelated to its status as the nation's capital.
During a visit to Xiongan, President Xi Jinping, also general secretary of the Communist Party of China Central Committee, said that the highest standard of life is represented by a good environment with blue skies, clear water and green trees. China should remain committed to the new development concept and stick to high-quality growth when building the new area, Xi said, adding that setting up the new area is "a strategy that will have lasting importance for the millennium to come".
Zhao Qiang, project manager of Xinji Forest and Xinji Park of China Construction First Group, said: "Despite the pandemic, we managed to resume work as soon as possible and are keeping the project construction in high gear."
Labor shortage has been a big challenge for most of the companies in Xiongan, especially while restarting operations since the COVID-19 outbreak.
Zhao said China Construction First Group recruited more than 40 suitable farmers from nearby villages for the construction on a temporary basis and are taking steps to ensure their safety.
"Such a move has ensured that the project work resumed in an orderly manner. It also accounted for our job vacancies and helped boost local employment," Zhao said.
By the beginning of this month, more than 58,000 workers had returned to their jobs in Xiongan and work on 78 projects and operations of over 1,000 companies resumed.
China Mobile Communications Corp said its unit has resumed normal operations and is working round the clock to ensure that the telecommunications are working smoothly. The company has also offered a batch of tech equipment including thermometry to companies in Xiongan for work resumption.
Wang Su, a senior researcher from the China Center for Information Industry Development, a think tank under the Ministry of Industry and Information Technology, said: "State-owned companies are the backbone of China's economic development. Most of them played a key role in important sectors including petroleum, electronics and manufacturing. Resumption of work at the SOEs has set an example for other companies to follow suit and helped dispel some of the economic uncertainties due to the epidemic."