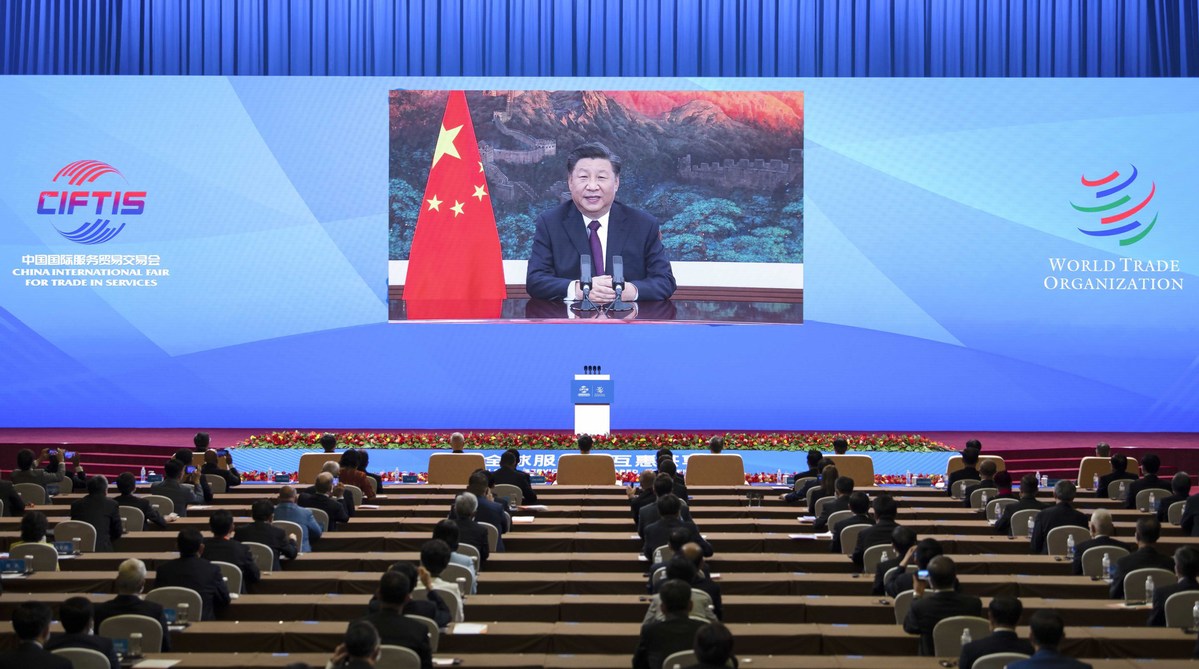 President says China is prepared to promote world economy"s recovery
President Xi Jinping said on Friday that China will remain steadfast in opening wider to the world, further ease market access for the services sector and actively increase imports of quality services.
He made the commitments when delivering a speech via video to the Global Trade in Services Summit of this year's China International Fair for Trade in Services in Beijing.
CIFTIS, held as all countries face a battle to defeat the COVID-19 pandemic, stabilize their economies and protect people's livelihood, shows China's willingness to work together with others to enable global trade in services to thrive and the world economy to recover at an early date, Xi said.
China will also continue to work on a negative list system for managing cross-border services trade and develop open platforms for the pilot program of innovative development of the sector, he said.
Xi said Beijing will be built into a national integrated demonstration zone for greater openness in the services sector as well as a pilot free-trade zone featuring scientific and technological innovation, opening-up of the services sector and the digital economy.
Considering that the services sector, more than other sectors, requires an open, transparent, inclusive and nondiscriminatory environment, Xi called for concerted efforts of all countries to reduce border and behind-the-border barriers constraining the flow of production factors and to promote cross-border connectivity.
China will promote greater harmonization of rules for services at the multilateral and regional levels, and work for continued improvement in global economic governance and more inclusive growth of the world economy, he said.
The president also underlined the importance of unleashing the power of innovation in driving cooperation forward.
"China will work with other countries to enhance macro policy coordination, accelerate international cooperation in the digital sector, step up intellectual property protection and facilitate the vibrant growth of the digital economy and sharing economy," he said, noting that such efforts will generate renewed dynamism for the world economy.
Xi said that treating each other with sincerity and pursuing shared benefits is the key to state-to-state relations in the age of economic globalization, when countries' interests are intertwined like never before.
To promote mutually beneficial cooperation, he also called on countries to forge greater synergy in growing their trade in services, seek new ways and more areas of cooperation, and look for the widest possible converging interests in development so as to make the economic "pie" bigger and bigger.
"We hope to see more fruits from our practical cooperation so that people in different countries will all benefit from a growing trade in services," Xi said, adding that China supports the establishment of a global alliance for trade in services.
Business executives and experts both home and abroad spoke highly of the country's increasing presence in world trade in services and its contribution to the world economy.
Jens Eskelund, managing director of Maersk China Ltd, said the company sees a significant future development potential in China's services trade, as it has made incredible improvements to its logistics and transportation efficiency in the coastal provinces, while efficiency and logistics infrastructure in many inland locations are also improving.
The company has just inaugurated its first fully automated warehouse in China together with a local partner in July, and Eskelund said it will continue to invest in the business in the coming years in China.
Farid Murad, vice-president of the Federation of Sao Paulo Trade Associations in Brazil, said, "CIFTIS will reveal a new path for countries around the world to resume economic development in the post-pandemic era, and promote economic and trade cooperation among countries worldwide."
China has become an important growth driver in world services trade in recent years. It has been the world's second-largest trader in services for six consecutive years, and its trade in services in 2019 reached 5.42 trillion yuan ($793 billion), the Ministry of Commerce said.
Although affected by COVID-19 and other factors, China's services exports outperformed imports, with exports totaling 1.09 trillion yuan from January to July, declining 1.4 percent on a yearly basis, and imports hitting 1.53 trillion yuan, down 22.8 percent.
Meanwhile, China's trade in knowledge-intensive services reached 1.15 trillion yuan, up 8.9 percent year-on-year, accounting for 44 percent of the total services trade in January-July. The ratio is up 9.7 percentage points from the same period last year.
Qiao Xin, co-founder and CEO of Beijing-based medical artificial intelligence company Deepwise, said China has been promoting high-quality services trade growth with an open attitude and proactively contributing to multilateralism in global economy development, which aligns with CIFTIS' theme this year of "Global Service, Shared Prosperity".
"China is promoting deep-level services trade reforms, high-level opening up, and all-around innovation, which is good not only for Chinese companies but also for foreign companies that eye the Chinese market," Qiao said. "The development prospects for us are very promising."
Zhong Nan contributed to this story.