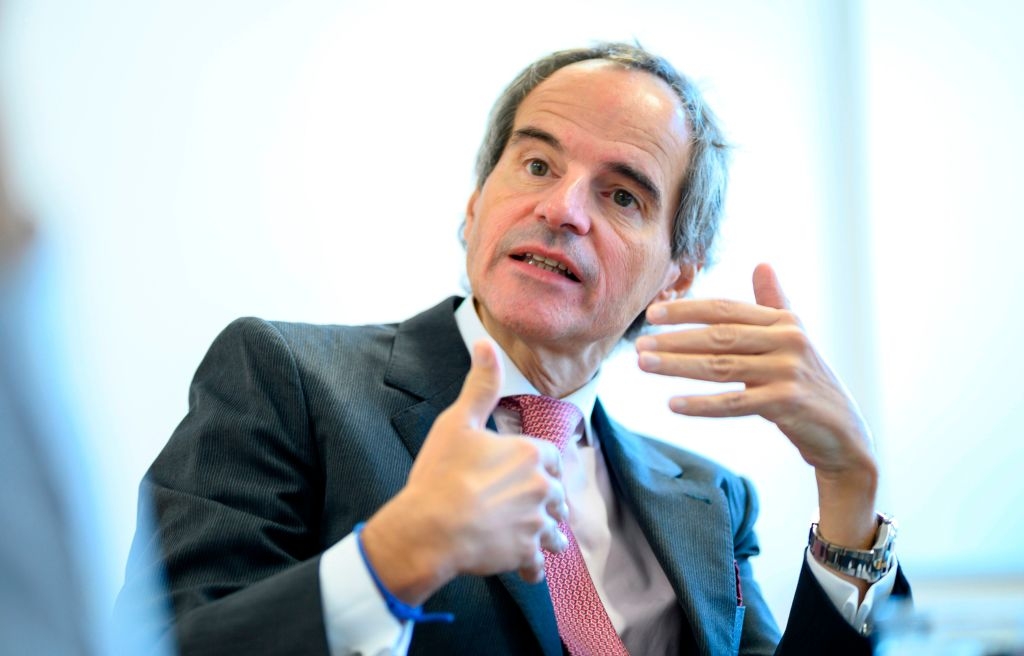 In refusing to support the US plan to extend the United Nations arms embargo on the Iranian regime, Germany, Britain and France appear to have turned a blind eye to a recent statement made by the IAEA Director General Rafael Mariano Grossi (pictured), who raised serious concerns about possible clandestine and undeclared nuclear sites in Iran. (Photo by Joe Klamar/AFP via Getty Images)
The ruling mullahs of Iran are being handed yet another gift courtesy of the leaders of Europe. On June 19, 2020, Germany, Britain and France issued a statement that they will not support the United States' plan to extend the United Nations arms embargo on the Iranian regime. The arms embargo is set to expire in October 2020. Germany, Britain, and France, known as E3, were members of Iran nuclear deal, the Joint Comprehensive Plan of Action (JCPOA), which, revealingly, Iran never signed.
The foreign ministers of these three European countries pointed out in a statement that "We firmly believe that any unilateral attempt to trigger UN sanctions snapback would have serious adverse consequences in the UN Security Council". They added, "We would not support such a decision, which would be incompatible with our current efforts to preserve the JCPOA."
Did Germany, Britain and France fail to read the latest report from the UN nuclear watchdog, the International Atomic Energy Agency (IAEA), which highlighted that Iran is violating all the restrictions of the JCPOA?
The European Union has refrained from criticizing the Iranian regime even though, as of May 20, 2020, it has increased its total stockpile of low-enriched uranium from 1,020.9 kilograms (1.1 tons) to 1,571.6 kilograms (1.73 tons). That is approximately eight times more than what the regime was allowed to maintain under the misbegotten JCPOA "nuclear deal." According to the terms of the JCPOA, Iran had been permitted to keep a stockpile of 202.8 kilograms (447 pounds), and enrich uranium up to 3.67%. Iran is now enriching uranium up to the purity of 4.5% and possesses far more heavy water than permitted under the nuclear agreement.
The EU has remained silent about all that, as well as the dangerous fact that Tehran regime now has enough enriched uranium to refine and build a nuclear bomb if it desired to do so. Approximately 1000kg of uranium enriched at just 5% can be further refined to create one nuclear bomb. Moreover, according to the IAEA report, Iran is still not allowing the IAEA to inspect its sites.
Germany, Britain and France also appear to have turned a blind eye to a recent statement made by the IAEA Director General Rafael Mariano Grossi, who raised serious concerns about possible clandestine and undeclared nuclear sites in Iran. "The agency [IAEA]," he warned, "identified a number of questions related to possible undeclared nuclear material and nuclear-related activities at three locations in Iran. The agency," the report clarified, "sought access to two of the locations. Iran has not provided access to these locations and has not engaged in substantive discussions to clarify the Agency's questions."
The EU has not only managed to disregard Iran's dangerous nuclear defiance, they have also been willing to lift the United Nations arms embargo despite all the terror and assassination plots Iran has brought to the EU since the beginning of the JCPOA. These include, in recent years, a series of assassination and terrorist plots across Europe — some successful, others not, but all committed in the EU by Iran's agents, and traced back to Tehran. In July 2018, a foiled a terrorist attack in Paris targeted a large convention attended by high-level speakers including former US House of Representatives Speaker Newt Gingrich, ex-New York Mayor Rudy Giuliani, and former Canadian Foreign Minister John Baird. A few months later, in October, and Iranian diplomat and several other individuals of Iranian origin were arrested in France, Belgium and Germany for what French intelligence officials concluded was a foiled bomb plot, behind which was the Iranian regime.
Iran's regime has also been murdering dissidents on European soil. Ahmad Mola Nissi, a Dutch citizen of Iranian origin and a critic of the Iranian regime, was gunned down at his front door in November 2017. The Dutch authorities publicly acknowledged that it had "strong indications" that the Iranian government had commissioned the murder.
Another of Tehran's political opponents, Mohammad Reza Kolahi Samadi, was killed in similar circumstances in Amsterdam in 2015. He had apparently been targeted for his opposition to the Iranian government since the 1980s. Furthermore, the Iranian regime, the top state sponsor of terrorism, has a long and distinguished track record of complete disregard for human rights and international law.
Germany, Britain and France must put a stop to their mercenary appeasement policy and corrupt loyalty to the Iranian regime. It is the equivalent of enriching the Third Reich during WWII or Soviet Russia during the Cold War. It would have been so much less costly in life and treasure to stop Hitler before he crossed the Rhine. The more the EU kisses up the ruling mullahs, the more it empowers their rogue, soon-to-be-nuclear, regime.
Dr. Majid Rafizadeh is a business strategist and advisor, Harvard-educated scholar, political scientist, board member of Harvard International Review, and president of the International American Council on the Middle East. He has authored several books on Islam and US foreign policy. He can be reached at Dr.Rafizadeh@Post.Harvard.Edu
© 2020 Gatestone Institute. All rights reserved. The articles printed here do not necessarily reflect the views of the Editors or of Gatestone Institute. No part of the Gatestone website or any of its contents may be reproduced, copied or modified, without the prior written consent of Gatestone Institute.