A Brief Recap of Q3 Carnage
With full-year results not too far off, it may seem irrelevant to revisit Walgreens Boots Alliance (WBA) ("Walgreens") performance following its mixed Q3 FY '20 results announced on July 9. But, indulge me in briefly reminding readers that shares are down about (7.5%) since then, exacerbating already dismal performance of (37%) year-to-date.
Figure 1: Walgreens Stock Performance – Trailing-12 Months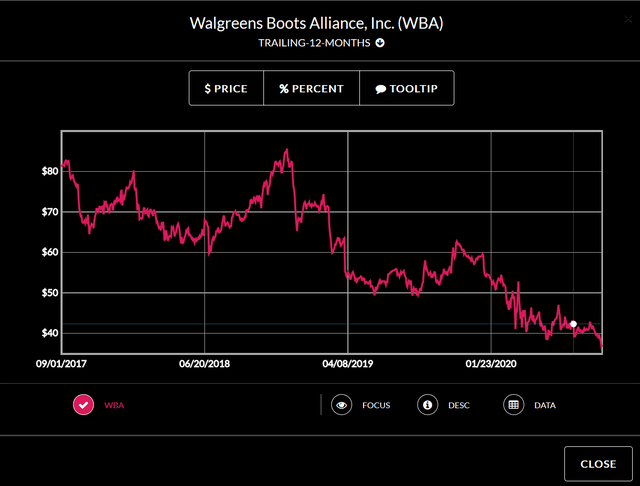 Source: Inveyo
Figure 2: Walgreens / CVS Comparison

Data Source: Yahoo Finance
Table Source: Yves Sukhu
As most readers likely already know, the Q3 carnage, which was largely a reflection of the pandemic's estimated $700M – $750M impact on operations, included:
GAAP EPS loss of ($1.95) versus EPS of $1.13 in Q3 FY '19. Adjusted EPS was $0.83 versus $1.47 in the prior year. Management has offered its full-year FY '20 EPS guide in the range of $4.65 to $4.75.
GAAP operating income loss of ($1,584M) versus $1.2B in the prior year.
Gross margin declines of (85 bps) and (440 bps) realized by the US and international ("Boots UK") operations respectively.
Dramatic slowdown in US retail pharmacy scripts business with prescription scripts growth essentially flat at 0.4%, and well below the pre-COVID run-rate of 4.9%.
$100M of additional SG&A expense, partially attributed to pandemic-related cleaning costs.
Bear in mind these results stand alongside (for the 9 months ending May 31, 2020):
$104.8B in sales, a 1.8% increase over the prior period. (The company realized $136.9B in total sales for FY '19, representing 4.0% growth over FY '18.)
Free cash flow of $2.4B, a 24% increase over the prior period.
Retail Pharmacy – US and Pharmaceutical Wholesale year-to-date sales growth of 2.9% and 7.2% respectively.
Fate of the Dividend
Yet, as to be expected, there has been some chatter about the fate of the company's dividend which management nonetheless increased recently by 2%, representing the 45th such consecutive annual dividend increase. Could it be that the current dividend, whose yield presently hovers above 5%, is unsustainable against the various headwinds blowing on the company's bow, as other analysts have argued? Given how shares have traded over the last couple years, it seems almost certain that the stock will get hammered if management announces a cut. The risk is surely a concern of all investors in the stock, but perhaps one that new WBA investors, such as myself, should be particularly aware of. After all:
Management already has suspended the share buyback program this year.
The company is sitting on top of nearly $17B of debt.
Gross margins

were

under pressure pre-pandemic.
Urban store sales, which are a larger component of Walgreen's retail operations as compared to its competitors, have been hit especially hard due to COVID-19.
Free cash flow in FY '20 has been bolstered by deferred CAPEX spending, and is going to increase moving forward, thus dragging on FCF.
Amazon's (AMZN) developing ambitions in the prescription drug market may be highly disruptive to Walgreen's pharmacy and wholesale pharmaceutical businesses, which are key drivers of growth moving forward.
New and unforeseen COVID-19 "waves," perhaps more severe than the current wave, could come crashing down upon the global economy resulting in business effects that simply cannot be predicted or understood at this time.
So, there's a lot to think about here. But, let us assume for the purposes of this analysis that the COVID-19 situation – though it may not disappear anytime soon – may subside somewhat in terms of the economic impact, especially with the potential for one or more vaccines later this year or early CY '21. (Yes, I realize this is a big assumption.) Against that backdrop, consider:
Cost savings initiatives appear to be on track. Walgreens unveiled its Transformation Cost Management Program in December 2018, with an original target of $1.5B in annual cost savings by FY '22. As of Q3 FY '20, this program is now expected to deliver more than $2.0B of annual cost savings by FY '22, with portions of that savings conceivably directed toward the reduction of the company's debt load. The program is inclusive of store closures, including 200 US-based stores and another 200 UK stores, and a broad information technology ("IT") transformation effort leveraging Tata Consultancy Services ("TCS"). Investors should note that total charges related to the program are estimated to be in the range of $1.9B – $2.4B.
The company hints at improving margins in FY '21 as prescription script growth resumes, retail customers shift back to higher-margin discretionary purchases, and fulfillment/distribution costs come under control. The company expects Retail Pharmacy – US gross margin to remain (0.5%) below its FY '19 level as the company closes out the year, while Retail Pharmacy – International ("UK") margin is expected down in the range of (4%) – (5%) "…under pressure in the short term, mainly due to an adverse category mix and higher fulfillment costs (due to) a significant increase in online sales and home delivery." Yet, there already are some signs pointing toward improvement in FY '21. Pharmacy prescription script growth, while still below the pre-pandemic run-rate of 4.9%, is expected between 3% – 3.5% for Q4 FY '20, representing a significant improvement over the prior quarter's 0.4% rate. While customers largely shifted their spend to essential products at the outset of the pandemic, management implies there could be greater allocation to higher-margin discretionary products post-Q3. Some evidence of this shift was arguably seen in the strong performance of online sales of beauty products by Retail Pharmacy – International operations in Q3. Moreover, the company noted a dramatic change among its international customers as they moved from in-store purchases to online/home-delivery purchases. Accordingly, Walgreens has found itself adapting the business to an

omni

channel model, as evidenced by the recently announced Microsoft-Adobe partnership meant to drive the company's online engagement and marketing strategies. While high fulfillment and distribution costs have cut into margins due to this change in buying behavior, those expenses are expected to decrease as efficiencies improve, resulting in a margin benefit over time.
Rural store sales may offer support as urban locations recover. Management noted that its urban store locations saw an (18%) sales decline in Q3 FY '20 with "…urban areas…most affected by the risk and the fear of the pandemic."

However, rural stores, which actually experienced an 8% sales increase in Q3, may be able to compensate for these losses, particularly as management notes the average customer basket size increased ~25% in Q3.
Reductions in excess inventory may (partially) offset increases in CAPEX, supporting FCF. The pandemic required Walgreens to maintain excess inventory. While that trend was expected to continue through Q4, management suggests a return to "normalized" inventory levels in FY '21 which will act to offset additional capex spending that had been previously deferred.
Amazon's success in the prescription drug market is not guaranteed. It's difficult to say anything negative about Amazon. Its future potential sometimes appears to be without bound. Yet, just because Amazon decides to enter a market does not mean its success is a "given." Walgreens commands ~20% of the prescription drug market, and is boldly seeking to drive a multiple of that share through its VillageMD initiative that would introduce hundreds of integrated primary care and pharmacy locations across the United States. Initial results from a pilot of the model suggest a significant lift in pharmacy prescription script growth. Further, as the model is focused on long-term patient care, it's reasonable to assume Walgreens will benefit from more substantial, longer-term customer relationships. It seems to me healthcare remains a high-touch affair: Patients want to engage with their pharmacist in-person; they want to actually see their doctor. This dynamic bodes well for the likes of Walgreens, CVS (CVS) and other "physical" players. While Amazon is the indisputable master of "all things online," their success against the likes of Walgreens in the prescription drug market is not a sure thing.
The Takeaway
Perhaps, the best sentence to include in closing is found in the company's Q3 Earnings Transcript:
I do not pretend to suggest that the myriad of risks surrounding Walgreens evaporate away via my points above. I'm merely trying to articulate some counter-arguments to elements of the bear case, particularly as those elements relate to drags on cash flow.
As things stand, I tend to think the company can maintain the dividend. While the pandemic remains impossible to forecast, I think Walgreens can weather the COVID-19 storm, and I'm attracted to the long-term strategy, albeit with the caveat that I think management – including the new CEO – has their work cut out for them moving forward.
Disclosure: I am/we are long WBA. I wrote this article myself, and it expresses my own opinions. I am not receiving compensation for it (other than from Seeking Alpha). I have no business relationship with any company whose stock is mentioned in this article.