W.P. Carey (WPC) has outperformed net lease REIT peers with astounding rent collection rates. Based on recent COVID-19 updates, investors should expect strong rent collection rates for the third quarter as well as a robust acquisition pipeline. In a year where most REITs are reporting declines in cash flow, WPC likely will report some level of growth this year. With shares yielding in excess of 6%, I rate shares a buy with 30% total return upside.
99% Is No Joke
WPC outperformed net lease peers in the second quarter. Rent collection was 96% – a strong figure which enabled it to report AFFO of $2.39 per share year to date, marginally down from $2.42 last year. Since then, WPC has disclosed strong rent collections including 99% for the month of September: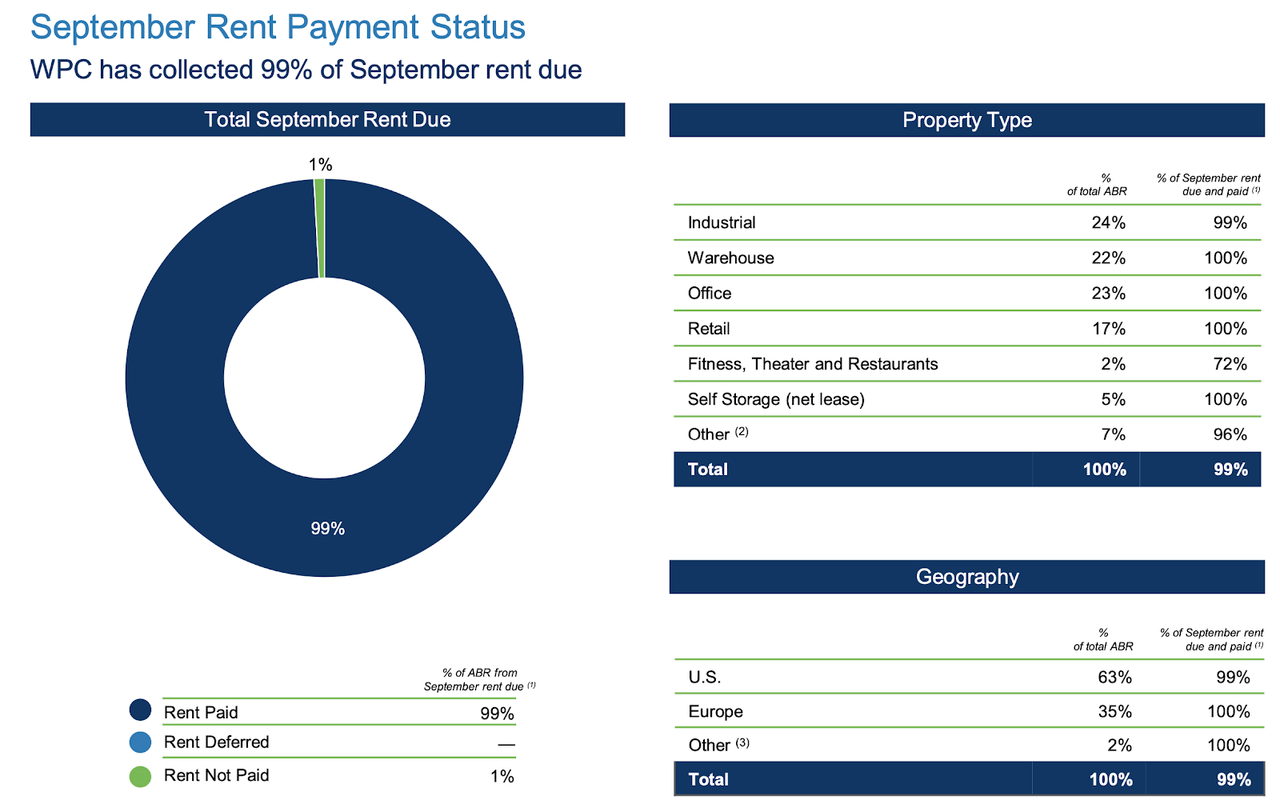 As we can see above, it appears that WPC's outperformance was due to limited exposure to the fitness, theater, and restaurant sectors. While these sectors do not necessarily have anything wrong with them outside of a pandemic, clearly they are underperforming during a pandemic. With rent collections already very strong heading into the third quarter, investors could expect bottom-line growth to return as early as now.
Balance Sheet Analysis
WPC maintains a solid balance sheet rated BBB or equivalent by the credit rating issuers. Debt to EBITDA stands at 6.0 times, a conservative multiple. Liquidity is strong at $2.18 billion with minimal near term debt maturities: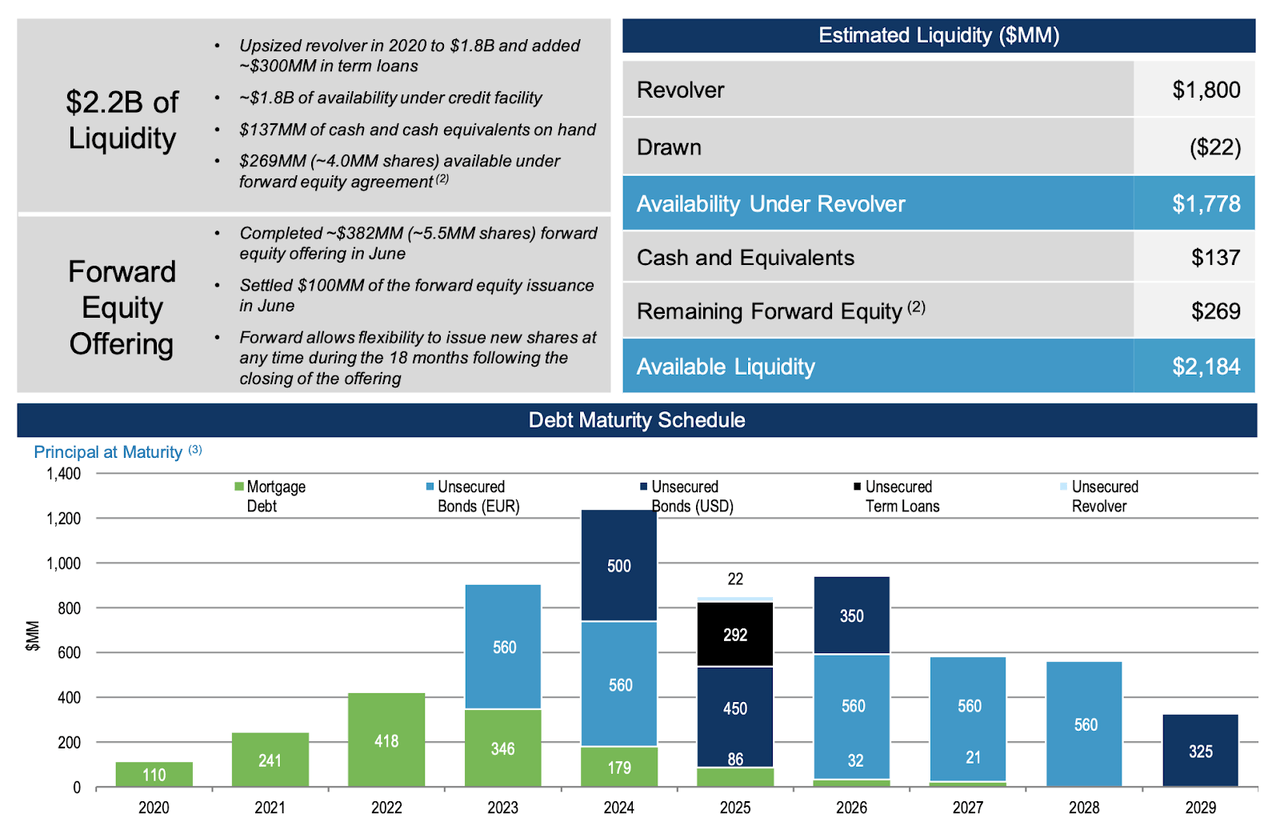 The strong rent collections and liquidity position have enabled WPC to complete over $400 million in investments and acquisition activity year to date. I note that many peers have had to effectively halt acquisition activity due to poor rent collection.
Time For Multiple Expansion?
WPC pays an annualized $4.168 dividend per share. Shares trade at a 6.2% dividend yield. I have given valuation targets of 3.8% to 4.2% for many net lease peers. Do I see the same for WPC?
The key issue I have had with WPC was that of high disposition activity. In 2020, WPC saw $116 million in dispositions. While dispositions in comparison to acquisitions is lower than in prior years, the 29% ratio is still much higher than the approximately 1-5% ratio I'd expect from peers. Management did state the following on the conference call:
"We currently expect disposition activity to be lower relative to prior years. Given the current market environment and our strong liquidity position we're approaching asset sales opportunistically if we believe execution and pricing are attractive."
If WPC could materially reduce disposition activity moving forward, then I would be more confident regarding the potential for significant multiple expansion. The issue with disposition activity is that it implies significant capital recycling and thus a lot of lemons in the portfolio. Absent further declines in disposition activity, my 12-month fair value estimate is $84, representing a 5% dividend yield.
Risks
Rent collection might not be as strong moving forward. The country continues to see records in new cases, which might suggest further strain on unemployment and the economy. While I believe that high rent collection rates in the past should lead to strong rent collection rates moving forward, there is no guarantee that all of WPC's tenants will continue to be financially solvent.

It is highly possible that WPC returns to its previous levels of disposition activity. In the years prior to 2020, dispositions typically trended at or over 50% of acquisition activity. Over the past several years, WPC has typically traded at a significant discount to peers. In my opinion, that discount was justified on account of the high disposition activity. In previous years, the disposition activity significantly slowed down cash flow growth, but if disposition activity increases then it might lead to outright cash flow declines.

All REITs have significant interest rate risk. Higher interest rates would lead to higher costs of capital as well as less demand for the dividend yield. While it seems unlikely for interest rates to suddenly rise, this is a risk that readers must not forget as we have experienced several sudden spikes in interest rates over the past 5 years.
Conclusion
With rent collection at 99% as of late, it is business as usual at WPC. The strong incoming cash flows give it the firepower and flexibility to proceed with its investment pipeline. If dispositions can remain at a lower rate, then cash flows might even grow at a faster rate than in the past. Shares yield a generous 6.2%, which is hard to beat in the current environment. I rate shares a buy with 30% total return upside.
Discover More High Conviction Ideas
NNN REITs are one of my 8 high conviction ideas. Subscribers to Best of Breed to get access to my top 10 holdings and full access to the Best of Breed portfolio. Exclusive Best of Breed content includes industry deep-dives, new compelling ideas, and high conviction picks.
Ignore the noise. Avoid bubbles. Stick to high quality and buy Best of Breed.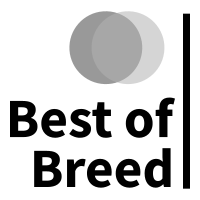 Disclosure: I am/we are long WPC. I wrote this article myself, and it expresses my own opinions. I am not receiving compensation for it (other than from Seeking Alpha). I have no business relationship with any company whose stock is mentioned in this article.