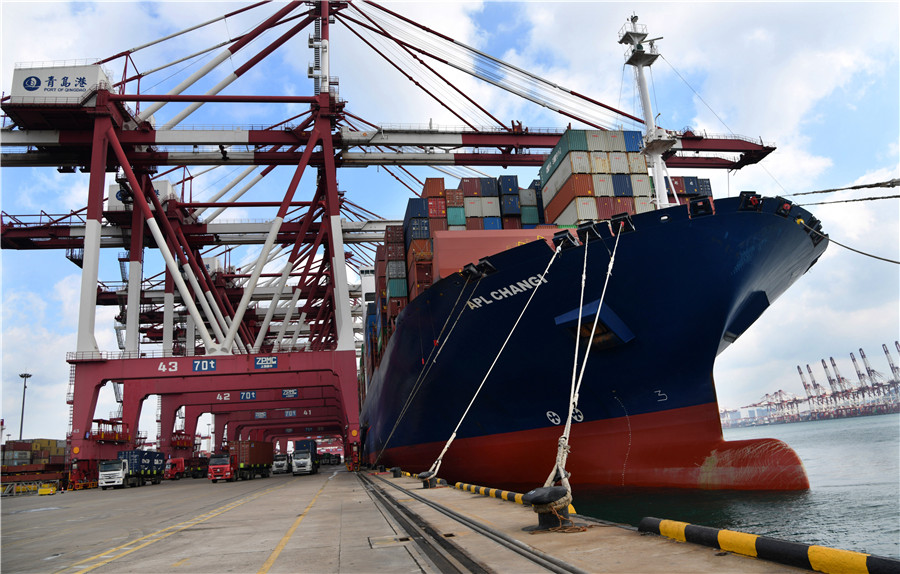 The novel coronavirus epidemic will not alter the fundamentals of China's foreign trade, foreign investment and core position within global industrial chain in the long term, commerce officials said.
Even though China's foreign trade, foreign investment and consumption condition have been hit by the short-term event, the impact will gradually ease once the virus is contained in the country, said Xian Guoyi, director-general of department of trade in services and commercial services under the Ministry of Commerce.
"The production and consumption will return to normal in China after the epidemic," he said, adding more companies will replenish inventory, and individuals will consume products in a restorative or even compensatory manner.
He said new business modes emerged amid the epidemic will develop in a fast pace and the virus certainly will not change China's determination to deepen its opening-up and international cooperation.
The government has issued a number of policy measures to help domestic exporters resume production, improve government service for foreign companies, stimulate domestic consumption and deal with foreign trade restrictions from concerns about the spread of the epidemic.
Xian noted the Ministry of Commerce has already strengthened coordination with international organizations, trading and investment partners, and urged related parties to comply with the World Trade Organization rules, respect the professional opinions of the World Health Organization and promote the development of major projects related to the Belt and Road Initiative.
As the epidemic is largely a regional and short-term event, the preparations for the 127th China Import and Export Fair are proceeding as planned. The fair is scheduled to start on April 15 in Guangzhou, Guangdong province, according the event's organizer.
Eager to shore up the domestic supply of necessities, Wang Bin, an official at the ministry's department of market operation and consumption promotion, said over 95 percent of chain supermarkets have reopened across China, while about 90 percent of large chain restaurants and about 80 percent of chain convenience stores have restarted operation.
In addition, a growing number of e-commerce platforms have resumed the delivery services.