Identifying reasonably priced companies in the tech sector can be tricky, as valuation multiples have recently expanded due to the prolonged six-month rally post the COVID-19's selloff back in late March. As stocks have been getting more expensive, dividend yields have gone down, while the massive buybacks being executed by companies are done so at higher prices, reducing their overall effect. As a result, current investors may struggle to allocate capital towards companies with enough tangible capital returns to ensure them a reasonable margin of safety.
However, there are always opportunities looming, and we believe one of those lies in VeriSign (VRSN). The stock has almost fully recovered from March's initial selloff, and unlike the rest of the market, which gradually started reaching higher price levels, VeriSign's shares recovered within weeks.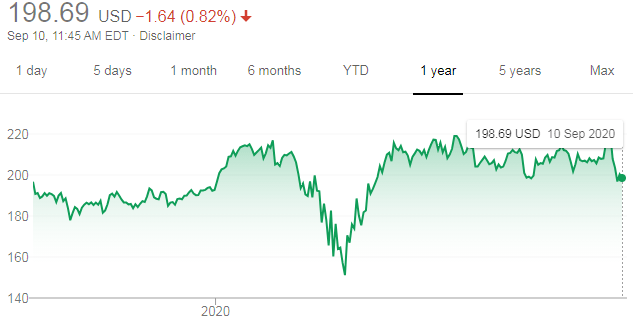 Source: Google Finance
We believe that the reason for such a rush for investors to buy into VeriSign's dip is the company's COVID-19-proof business model, which guarantees robust cash flows, even under the most adverse economic conditions. Despite shares trading near all-time highs, we view the company as an attractive investment, offering consistent capital returns while having no correlation to the state of the underlying economy.
In this article, we will:
Discuss the company's financial resiliency.
Explain

VeriSign's shareholder value creation prospects and expected returns.

Conclude why shares offer attractive returns, despite some minor risks.
Financial resiliency
As mentioned, the company's shares returned to their pre-selloff levels incredibly quickly, as investors quickly realized that VeriSign's business model bears no correlation to the performance of the overall economy. As a result, COVID-19's adverse effects had no effect on its robust cash flows. The company is one of the few global providers of domain name registry services, essentially owning the .com and .net domain names. Because of its monopolistic qualities and the need for businesses to keep their websites running 24/7, the company's revenues are incredibly trustworthy.
As the graph displays, despite the overall challenges concerning the global economy, VeriSign's quarterly revenues hit a new decade-high in the midst of the pandemic, reaching $314.37M. Since the company's business model is entirely passive, having relatively minor costs related to sustaining operations, its gross margins have undergone a long-term expansion path. Margins are more than likely to keep their positive trajectory as more and more names are registered to the global .com and .net networks, achieving even higher economies of scale.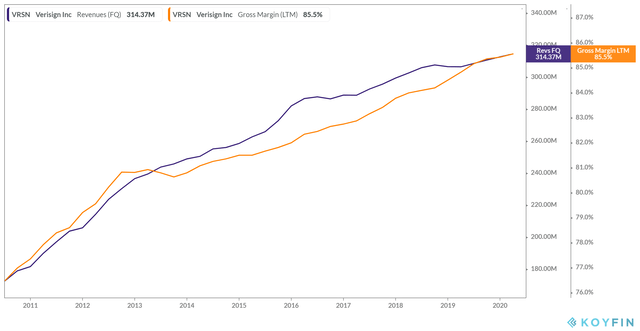 The company has more than halved its workforce over the past decade, currently employing only around 872 people. With limited and consistently reduced labor expenses, VeriSign currently displays the highest net income margins (not including special cases) in the tech sector, reaching a jaw-dropping 63.3%. By focusing solely on its domain name business (e.g., VeriSign sold its security business to Neustar a couple of years ago), the company's prolonged net income margin expansion has led to consistently higher profitability. The company is pumping record levels of cash in the bank one quarter after the other.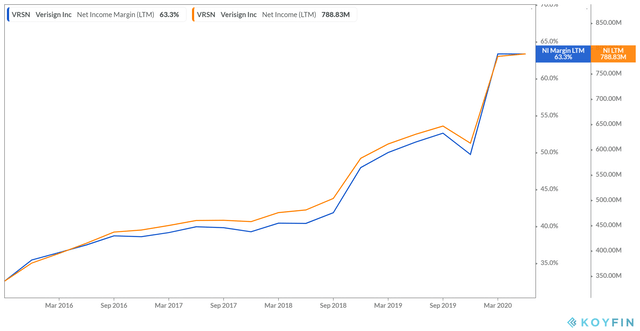 Management's decision to isolate to the company's core operations, avoiding any sort of acquisitions over the years, has left no place for all this cash generated to go but investors' pockets.
Share buybacks and expected investor returns
The two primary ways for companies to return capital back to shareholders is either through dividends or share buybacks. Despite VeriSign's cash generation consistency, the company has never distributed a single cent; instead, management has seen buybacks as the most beneficial way to reward its investors.
As the company's CAPEX has remained incredibly low over the years ($42M over the past four quarters), the majority of the company's cash from operations ends up falling under free cash flow, which is, in turn, exclusively allocated towards buying back stock.
Just to highlight how huge VeriSign's buyback activity has been, over the past 15 years, the company has retired around 55% of its shares outstanding. Over the past four quarters alone, the company has bought up around $827M worth of stock, which currently represents around 3.6% of its current float.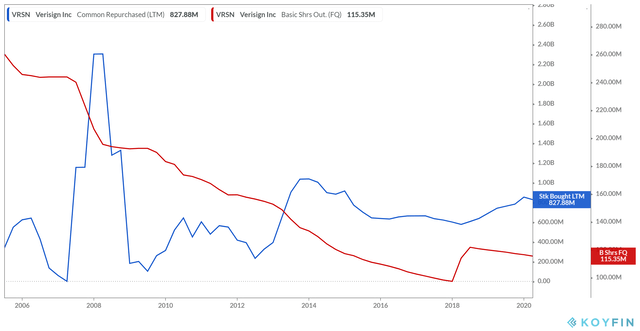 As a result of the company's organic growth through increasing demand for domain names all around the globe, expanding margins, and massive buybacks, its 5-year EPS CAGR is currently standing at an impressive 21.6%.
In 2018 and 2019, name registrations grew by 4%, while this rate remained robust in the company's Q2 results as well, which counted 162.1M .com and .net domain name registrations.

Source: 10-K
Further, the Internet Corporation for Assigned Names and Numbers (ICANN), which is the industry's regulator, has given VeriSign permission to increase prices by 7% from 2020 to 2024. The company has the contractual right to increase the fees for .net domain name registrations by up to 10% each year during the term of its agreement with ICANN, expiring June 30th, 2023. The combination of VeriSign's organic growth, regulated price increases, and its substantial amount of stock repurchases have analysts estimating double-digit EPS growth over the next few years, as the numbers themselves would suggest.
Since these factors are quite reliable from an investor's point of view, we are estimating EPS growth of around 12% in the medium term, which we believe is quite prudent based on these three catalysts, and also a bit lower than analyst estimates. Based on this growth rate, we expect VeriSign's future EPS to roughly grow close to these figures: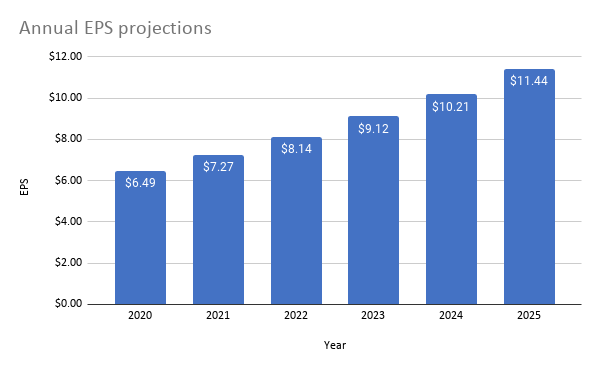 Source: Author
VeriSign shares are currently trading at around 30 times earnings, which we believe is a fair valuation for a tech stock with double-digit expected EPS growth.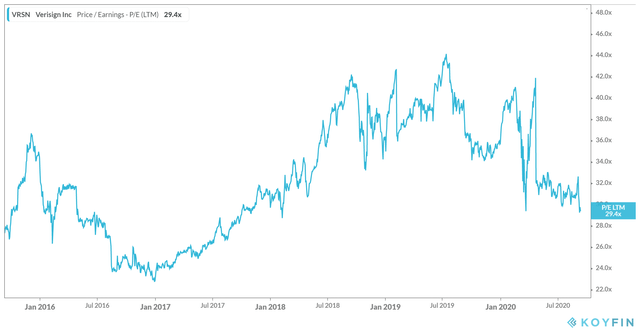 However, we can't ignore that the company's P/E has fluctuated quite a bit over the past few years, and such may be the case in the future. Therefore, in order to estimate the company's potential annualized returns, we need to take different possible valuation multiple scenarios into account.
Overall, we expect the stock's P/E to remain in the low 30s, as management's aggressive stock buybacks should keep investor demand for the company's shares strong. In such a case, we expect investors to enjoy annualized returns in the low teens.
At the same time, because the current valuation is not crazy high, even a massive compression towards a P/E of, say 23, would still reward investors with positive returns, implying a considerable margin of safety for current investors.

Source: Author
Conclusion and risks
VeriSign is a truly unique stock, with arguably one of the most passive business models there is. Over the past couple of decades, management has rewarded investors with massive returns, due to vigorous capital returns and the company's very own organic growth, benefiting from the consistent demand for more domain names.
VeriSign's passive business model has limited exposure to risks. There is, however, a major factor that will determine its long-term viability. That is, relying on its agreement with ICAAN being renewed every once in a while. Since the company has always been in compliance with the regulator's benchmarks since 1995, we find it quite unlikely and unreasonable that ICAAN would not renew its agreement, which would cause a disturbance in the current operational stability provided by VeriSign. Investors need to be aware, however, that if for any reason ICAAN doesn't grant VeriSign permission to keep hosting the .com and .net domain names, the company's business model would effectively extinguish, completely destroying any future shareholder value. Further, future price increases are not always guaranteed. For example, from 2012 to 2018, ICAAN prevented VRSN to make any increases in prices.
With that being said, even during this period, VeriSign delivered robust results, while the current combination of approved price increases and solid organic growth should please investors, as the company's operational performance remains quite predictable over the next few years. We believe that VeriSign is a low volatility growth stock, offering an attractive, double-digit return potential in the medium term. We are, therefore, going to be adding to our position opportunistically.
Disclosure: I am/we are long VRSN. I wrote this article myself, and it expresses my own opinions. I am not receiving compensation for it (other than from Seeking Alpha). I have no business relationship with any company whose stock is mentioned in this article.