When browsing through the holdings of Vanguard Real Estate ETF (VNQ), it is easy to be attracted by some of the big specialized REIT names operating in the datacenter space.
However, commercial REITS also have a high weight at 41.7%. Moreover, taking the wider view, the ETF is comprised of the shares of 182 different real estate stocks and has a weighted average market cap of $35.5 billion.
Figure 1: VNQ's holdings on a sector and weight basis.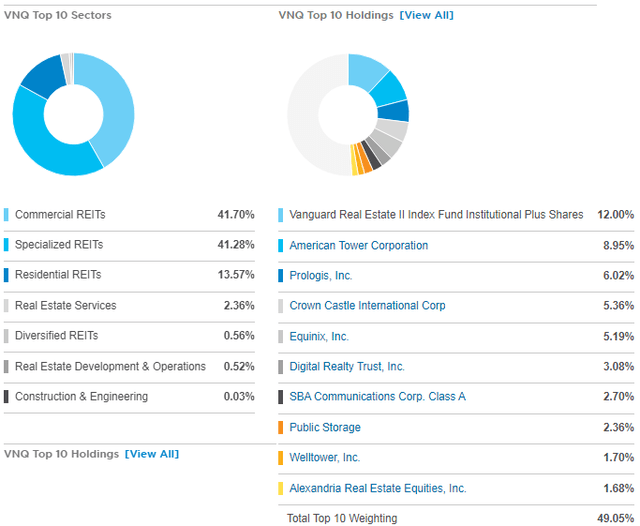 Source: etf.com
VNQ uses the simple market-capitalization-weighted index whereby each component is allocated a weight according to its market cap. Hence, the companies with higher capitalization exert a greater impact on the index value.
On the other hand, smaller cap companies even when outperforming their bigger peers have little weigh on the index and lesser impact on the NAV.
It is for this reason that I consider the largest companies while providing investors with insights on strategies which are likely to influence the performance of the respective sectors as a whole.
Commercial REITS
Commercial REITs are undergoing the deepest transformation in their history as the recession that quickly followed the onset of the pandemic has an uncertain recovery shape.
In this respect, according to a recent report by Moody's Analytics, NYC office rents will fall as much as 21% and 19% nationally in 2020. Extrapolating this further, rents should generally fall in urban areas as employees get used to working from their homes mostly located in the suburbs.
As for retail properties, effective rents are expected to fall by 11.1% this year because of store closures and the e-commerce threat.
In this respect, Simon Property Group (SPG) is engaged in the ownership of premier shopping, dining and entertainment properties has been indirectly impacted by a resurgence of COVID-19 in some locations through its retailer tenants.
However, on the other hand, it has little retail exposure (7 malls) to the state of New York.
Figure 2: FFO per share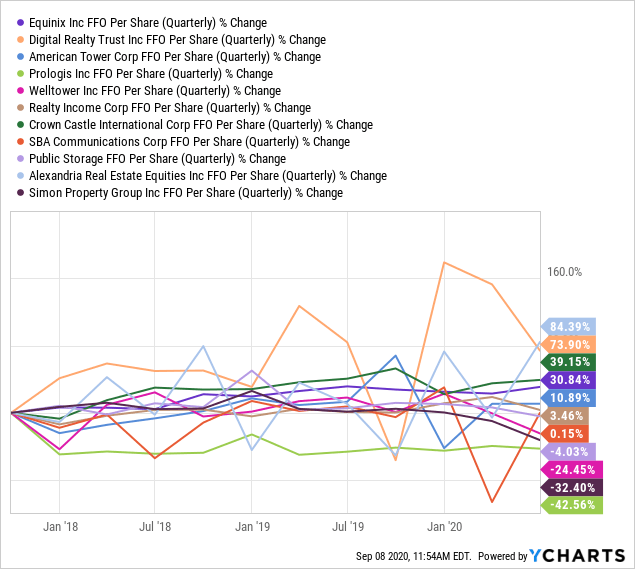 Data by YCharts
One of the REITs relying on acquisition to grow is Realty income (O) as by favoring stability over growth through demanding relatively low levels of rent increases year-on-year, it signifies reliance on acquisitions to develop additional properties for growth.
Now, taking into consideration concerns about potential losses lying ahead, buyers are demanding more discounts and sellers are reluctant to sell.
As a matter of fact, transaction volumes have decreased by 68% with retail properties being the most impacted.
However, with debt only due in 2022, this gives the company sufficient time to refinance at lower rates.
Moreover, the misfortune of some makes the fortune of others.
With online shopping set to become the dominant model whereby those which own warehousing and distribution space like Stag Industrials (STAG) are seeing increased rents. Moreover, diversified REITs like WP Carey (WPC) and even Realty Income which have more than 10% of industrial properties in their portfolio are also benefiting but to a lesser extent.
Furthermore, Prologis (PLD) is a logistics company with presence in 19 countries and with the value of goods traded at $2.2 trillion focuses on high growth markets using multi-year leases. The company is also benefiting from eCommerce.
Therefore, it's a mixed picture for commercial REITs but with some strong positives.
Also, VNQ provides exposure to a broader sector encompassing several industries including specialized REITs which own and manage a unique mix of property types.
Specialized REITs
The 'Specialized' group was created as these REITs own properties that don't fit within the other sectors. Some of the most important plays in this category are the telecommunications REITs consisting of SBA Communications Corporation (NASDAQ: SBAC), American Tower (AMT), Crown Castle (CCI)
One of the main characteristics of this group is their gross margins which are at an average of 70% and this is higher than Microsoft's at 67% despite the latter being in the software business. Therefore, going forward, with some analytics-led improvement in inventory and supply chains, these companies look poised to increase profitability further.
Looking deeper, SBAC, a wireless pure play owns and operates infrastructure throughout the American continent and southern Africa. With the need for more cellular connectivity as employees work from their kitchens, there will be more need for more connectivity and therefore more towers.
As for AMT, with its recent venture in edge datacenters following a recent agreement with Datacenter.com to be included in the latter's directory of service providers, it is taking advantage of its existing tower assets with no need to spend capital to acquire real estate. Hence, this makes possible increase of its ROCE currently at 6.8%.
Figure 3: Return on Capital Employed (ROCE)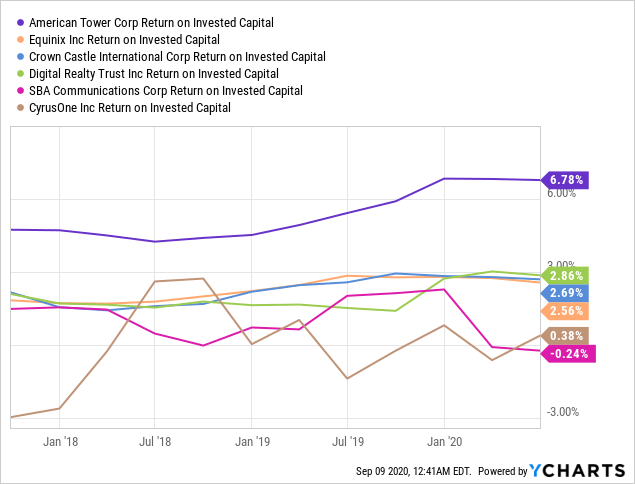 CCI has a diversified business model consisting of wireless towers and the fiber cable businesses. Recent underperformance in cable has prompted Elliott Management to push for a strategic review.
Looking at the wider picture, fiber is needed in a small cell strategy (as part of 5G) and CCI is balancing its macro tower business with a fiber/small cell infrastructure as revenue diversification as it believes this will support escalating mobile data usage demand.
For investors prepared to wait, the significant upfront cost and time CCI is dedicating to install a fiber/small cell based network could yield more than 10% EBITDA growth upon completion.
Looking further, the datacenter industry is well represented with the likes of Equinix (NASDAQ: EQIX) and Digital Realty Trust (DLR).
Here, the ongoing acquisitions and ability to maintain AFFO despite COVID challenges demonstrate strength. Some analysts estimate that this sector is overvalued but investors should take into consideration that these companies can capitalize on their existing infrastructure to grow both horizontally and vertically in the same way as AMT.
Looking into the future, I see vertical synergies like for example obtaining more interconnection revenues from the acquisitions as the drivers for growth more than just the actual physical expansion itself.
Moreover, the geographical expansion which the likes of AMT and DLR have undertaken should continue as there will be more tower and datacenter outsourcing opportunities in other developed and emerging markets as from 2021 due to mobile network providers being under pressure to sell non-core assets in order to invest in 5G.
Therefore, weakness in retail and office properties should be offset by industrials, tower and datacenter plays.
I now consider another real estate ETF which is an alternative to VNQ.
Competition, Volatility and risks
Compared to the Real Estate Select Sector SPDR ETF (XLRE), VNQ has more exposure to the residential REIT sector by about 2.5%.
In this respect, one of the features of this pandemic is people working from home. These homes can be take the form of apartments, single-family rentals or manufactured housing.
Additionally, the CARES Act includes provisions specifically aimed at protecting renters including unemployment benefits, one-time payment to households and tax relief for individuals.
These measures should indirectly support the residential REIT sector.
Also, while there may have been some temporary delays as to rent collection for apartments, concerns seem "overblown" according to a report by JP Morgan.
Figure 4: XLRE holdings by sector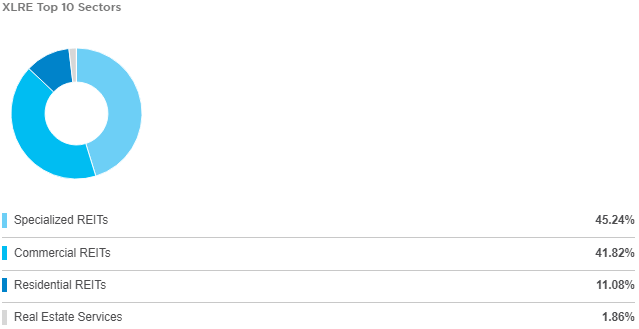 Source: etf.db
Moreover, Avalon Bay, a constituent of VNQ is a residential REIT specializing in apartment communities within major metropolitan areas. According to the last seven articles on SeekingAlpha for the company during the last six months, the analysts rate Avalon from bullish to very bullish.
Going forward into the crisis, residential REITs should outperform and contribute to the Vanguard ETF's performance.
In this context, while VNQ has underperformed XLRE during the last one year, it has proved to be less volatile as measured by the 30-day rolling volatility.
Now, it is my belief that going forward in this period of turbulence, the volatility parameter should be given more weight when investing in an ETF as an instrument of stock diversification. Volatility is a measure of an ETF's riskiness.
Figure 5: Total returns and volatility of VNQ, XLRE and XLK.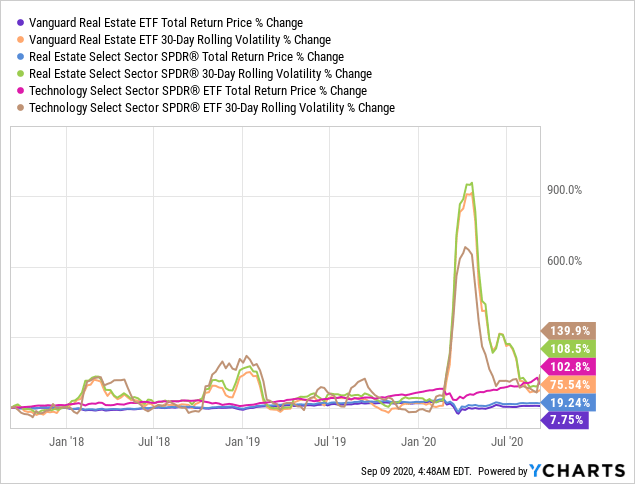 Continuing on the risk side, there has been these talks about rotation into and out of tech stocks as from July 1 as possibly being the reason of underperformance of VNQ from that date.
However, looking at this from the longer term, VGT has steadily progressed from end of February resulting in a 40% upside.
Summing up, investing in an ETF as opposed to an individual stock makes sense from a diversification point of view and extrapolating this further, it even makes better sense to opt for one exhibiting less volatility.
Valuations and Key takeaways
First, the techie XLK only provides a dividend yield of 0.9% which is peanuts when considering inflation. REITs on the other hand are required to distribute at least 90% of taxable income to shareholders annually in the form of dividends.
Second, some healthcare names which include Wellness Tower (WELL) and Ventas (VTR) are at a discount to a NAV and rightly so as both experienced significant selloffs in recent months due to the impacts of COVID-19 on their operations.
However, both when combined together just account for 2.7% of VNQ's value and the vaccine wildcard could be a game-changer.
Figure 6: US Real Estate Securities Valuation Metrics by Sector (%) as of March 31, 2020.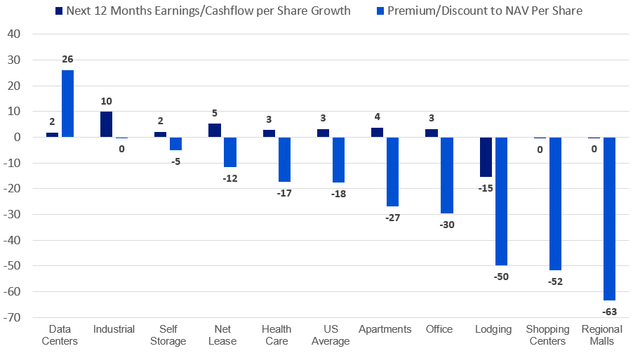 Source: invesco.com
This chart dates back to the period just after the February sell-off and as at today, most stocks have only recovered partly while specialized and industrial REITs are higher, now trading at above 60% off lows.
Valuations for retail and office should fall further with a recovery taking up to 12-18 months according to some sources. Office properties should recover faster. In this respect, there has been some initial demand for large and high-quality office spaces which are viewed less as a place of work and more for collaboration purposes.
Moreover, the surge in social interaction soon after confinement measures were lifted shows that people want to be surrounded by peers and therefore cities like NY and LA will continue to thrive.
During this recovery period, telecommunications and datacenter REITS will continue to grow by tapping in the opportunities provided by the next wave of cloud computing and acquisitions in emerging economies.
Additionally, self-storage at 5% of total value, appears to be a solid bet for VNQ with Public storage (PSA) being one of the big names.
Now moving to the broader economy, the real estate sector is better positioned compared to the 2008 recession. As a reminder, last decade's downturn resulted because of excessive indebtedness which caused the collapse of the financial system thus paralyzing the economy.
On the other hand, the COVID-19 pandemic is a health crisis that initially put a brutal stop on supply before impacting demand resulting in the financial markets falling, with a sell-off the very day the World Health Organization declared the coronavirus a pandemic.
As for the real estate market, the current situation is also healthier than in 2008 with lower debt levels going into the crisis, controlled supply and sustained demand driving rents as well as trust in financial institutions.
Moreover, lessons learned from the past have enabled the FED and congress to act swiftly and massively to support the economy.
As a result, interest rates are at extremely low levels favoring access to debt and real estate cap rates serving as an indicator for the property risk premium are mostly above historical levels.
Finally, the current monetary environment has a direct impact on demand, especially among institutional investors such as pension funds looking for yield.
Therefore VNQ, with an expense ratio of 0.12% and a Price to Earnings ratio of 41 is a buy for income seeking investors.
There should be some instinctive market reaction as a result of adverse rent collection news or woes impacting healthcare properties but there are some strong positives especially as from 2021.
Hence, my short term target is for a $77-83 price range.
Disclosure: I am/we are long MPW, VER.PF. I wrote this article myself, and it expresses my own opinions. I am not receiving compensation for it (other than from Seeking Alpha). I have no business relationship with any company whose stock is mentioned in this article.
Additional disclosure: This is an investment thesis and is intended for informational purposes. Investors are kindly requested to do additional research before investing.
Editor's Note: This article covers one or more microcap stocks. Please be aware of the risks associated with these stocks.