Both the US and EU have said they refuse to recognize Alexander Lukashenko after his Sept. 23 swearing in ceremony,  pulling in essence the same thing it did in Venezuela (where the US still sees Juan Guaido as valid "interim president" instead of Maduro).
"The United States cannot consider Aleksandr Lukashenko the legitimately elected leader of Belarus," the State Department said last month. "The path forward should be a national dialogue leading to the Belarusian people enjoying their right to choose their leaders in a free and fair election under independent observation."
Despite no clear or firm evidence of election rigging and Lukashenko's favor yet to emerge from the disputed early August vote, the United States on Friday imposed sanctions on eight Belarusian officials.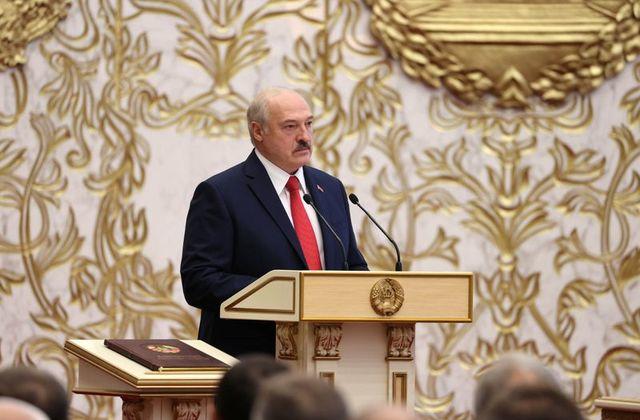 The eight are accused of corruption and vote-rigging, and the EU imposed its own similar sanctions on 40 Belarusian officials.
"The United States and our international partners stand united in imposing costs on those who have undermined Belarusian democracy for years," U.S. Treasury Secretary Steven Mnuchin said while unveiling the sanctions.
According to Reuters over 13,000 people have been arrested, including prominent opposition leaders and activists, in a crackdown which has left the streets calmer in the past week than it had been the two months prior.
The 26-year ruling strongman Lukashenko has actually already long been under select US sanctions going back to 2006, but Washington's newest round did not target him, only some officials around him. However, UK and Canada did target him specifically with sanctions of their own this week. The official election tally gave Lukashenko about 80% of the vote, giving him victory and the start of a sixth term.
Already there's talk of recognizing Lukashenko opponent Sviatlana Tsikhanouskaya, who fled to Lithuania:
People inaugurated Sviatlana Tsikhanouskaya as the President. More than 100k people participated in Minsk, 30-40 thousand participated in rallies in regions. Hundreds detained. People continue protesting despite repressions and lousy weather. pic.twitter.com/mFsUMm1QqL

— Franak Viačorka (@franakviacorka) September 27, 2020
Last Sunday French President Emmanuel Macron said he must step down. "We are witnessing a power crisis in Belarus with an authoritarian administration that is not able to accept democracy logic," Macron said. "It is clear that Lukashenko must go."