Urban Edge (UE) is a compelling play on New York real estate with a strong balance sheet. While there may be near-term fluctuations in rent due to the coronavirus, UE's three-year growth plan paints a promising outlook which does not appear to be reflected in the stock's 9% yield. I rate shares a buy.
Deep Value New York Retail Real Estate
UE is a concentrated play on retail real estate in the New York Metropolitan region and surrounding neighborhoods: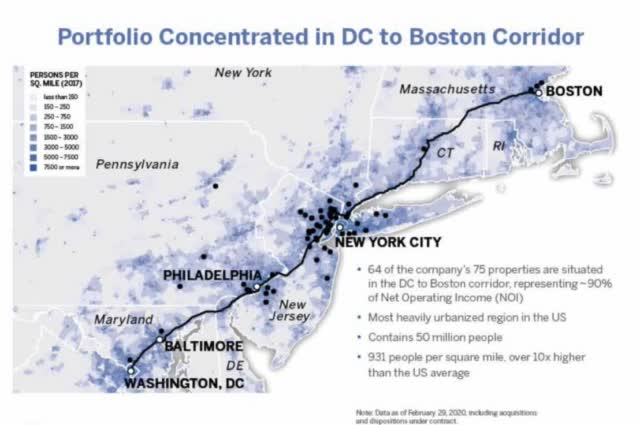 The New York Metropolitan region specifically makes up 80% of its portfolio value. In comparison with peers, UE may not own the highest quality assets, but it has positioned itself in a unique sweet spot between high household density and low retail supply: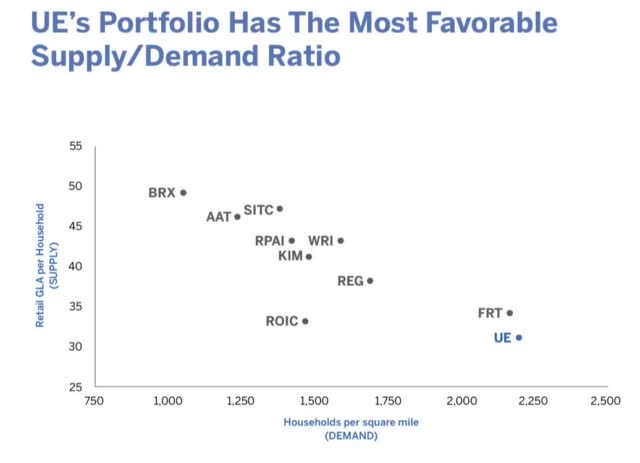 (2020 Presentation)
UE's tenant list features compelling e-commerce resistant concepts such as discount retailers, home improvement anchors, and grocers: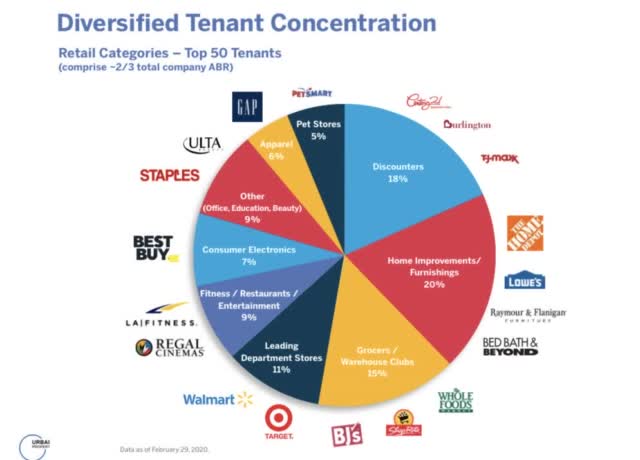 (2020 Presentation)
Home Depot (HD) is its largest tenant at 6% of total rent, followed by several other high-quality retail tenants: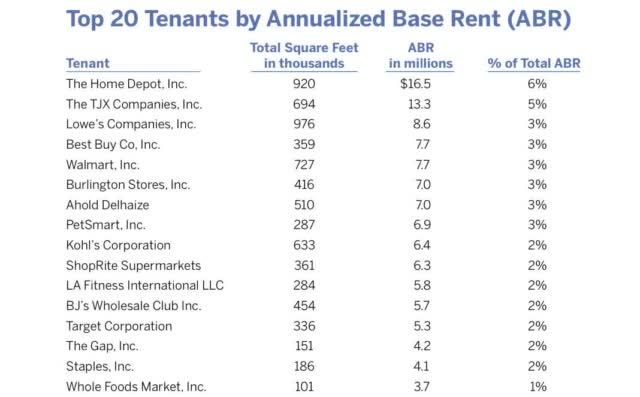 (2020 Presentation)
UE's grocers average $779 psf in annual sales, far outpacing the $450 psf national average. UE employs a different strategy than peers. In addition to its core portfolio, which has high occupancy at 98% and is expected to deliver 2-3% SS NOI growth annually in the next three years, UE also targets so-called "value-add" properties which feature substantially lower occupancy at 86% but have much higher SS NOI growth potential at 7-8% annually, due to the potential for improving occupancy and high value redevelopment projects: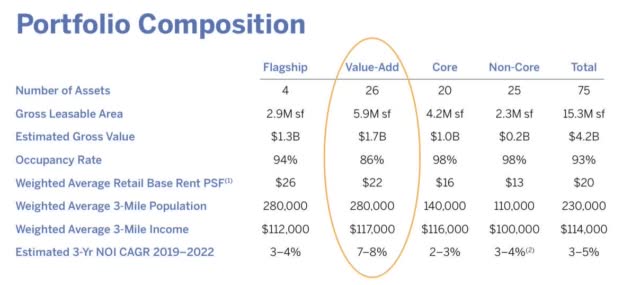 (2020 Presentation)
Many of these properties had been underperforming due to well-known bankruptcies such as Toys"R"Us and Sears (OTCPK:SHLDQ). In fact, UE reported -0.5% SS NOI growth in 2019, which was heavily impacted by bankruptcies. UE has been redeveloping these properties which should generate higher rent as well as greater foot traffic from the vibrant new replacement tenants: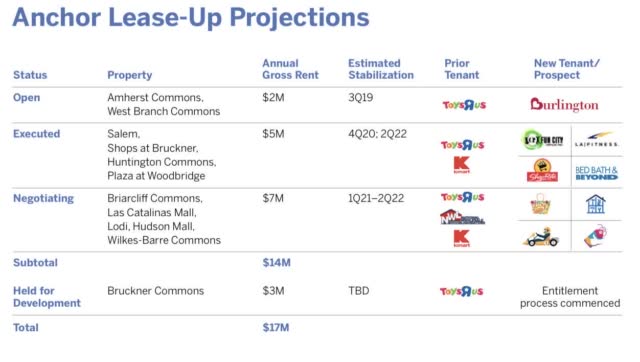 (2020 Presentation)
UE has disclosed a three-year development pipeline of over $300 million from which it is guiding for 7-8% NOI yields: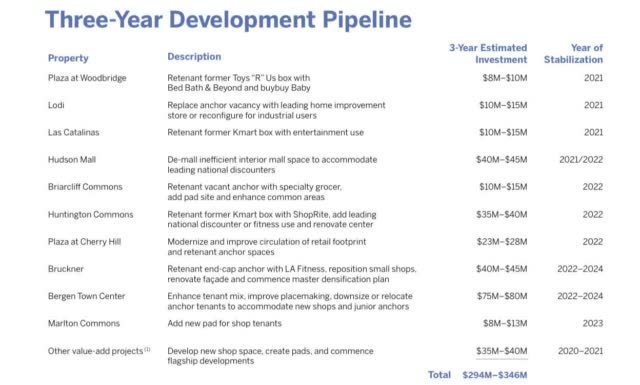 (2020 Presentation)
UE projects that it can improve overall occupancy from 93% to 97%, which, in addition to ongoing redevelopment projects and rent increases, may generate 3-5% SS NOI annual growth over the next three years: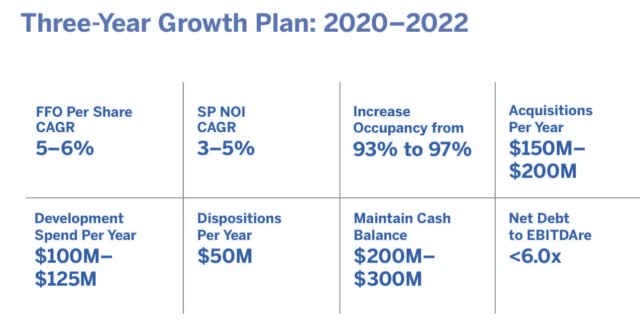 (2020 Presentation)
UE breaks down its 3-5% SS NOI growth projections below. While 3-5% is indeed a lofty goal, its underlying assumptions appear reasonable: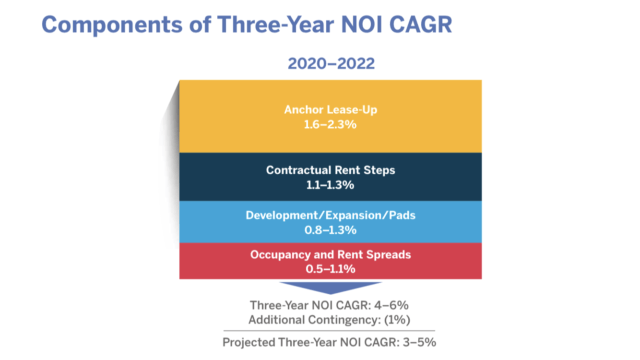 (2020 Presentation)
It is possible if not likely that 2020 will not see the projected growth rate due to headwinds from the coronavirus. Still, I view approximately 1.2% from annual lease escalators, 1% from development, and 1% from rent spreads and anchor lease-ups as being recurring in a ten-year time frame. If UE can show long-term 3% SS NOI growth, then I expect a significant expansion in its multiple.
Balance Sheet
The most important question nowadays: does UE have a strong balance sheet?
UE has no debt maturing in 2020 and has $1.085 billion of liquidity between cash on hand and its line of credit: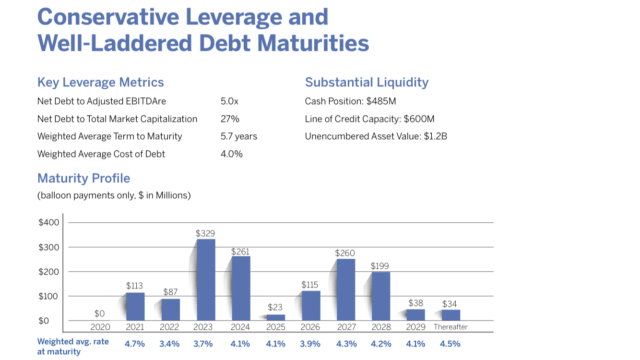 (2020 Presentation)
I note that its liquidity would theoretically be enough for the next five years' worth of debt maturities, if needed.
Debt to EBITDA stands at 5 times, which puts UE at the lowest as compared to shopping center peers: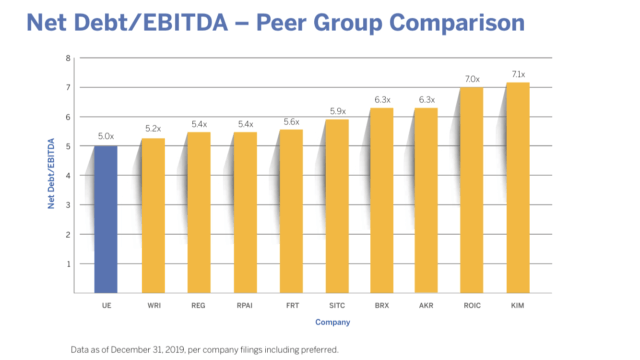 (2020 Presentation)
With virtually no risk from its balance sheet, UE has enough liquidity to ride out the storm. Some may be worried about buying REITs that might dilute shareholders like many did in the 2008-2009 Great Financial Crisis. UE does not look likely to dilute shareholders as it has no near-term debt maturity risk.
Valuation And Price Target
Perhaps due to its small size and concentrated positioning, UE trades cheaply at 8.4 times 2019 FFO of $1.16 per share and a 9% dividend yield. Shares trade much cheaper than the approximately 12 times FFO and 5.4% dividend yields seen at peers Federal Realty Investment Trust (FRT) and Regency Centers (REG). I view the entire sector as being tremendously undervalued, and UE's discount to FRT and REG as being exaggerated. My 12-month fair value estimate for UE is $16, representing a 5.5% dividend yield. I note that shares traded above $20 just a few months back. Shares have over 70% potential total return upside to that price target.
Risks
I warn that 2020 results for retail REITs may be pressured. I expect renewal and overall leasing spreads to be weak, occupancy rates to be depressed, and potential near-term rent concessions on a substantial portion of the portfolio. While these may not prove overly significant in the long term, if the investor base is overly focused on short-term results then shares may experience volatility. It is for this reason that I have purposefully focused on REITs with strong liquidity profiles such as UE.

If the coronavirus impacts result for an extended period of time, then UE's line of credit may prove inadequate in providing an important layer of safety. Unsecured debt tends to come with covenants which restrict leverage based on trailing twelve months EBITDA. If UE is unable to maintain a respectable amount of cash flow over an extended period of time, then these covenants may come into play. That said, such a result seems very apocalyptic in nature as the world would have much more serious problems if retail landlords aren't collecting rent for several months on end. I anticipate that loan covenants would be forgiven in such an environment, though there are no guarantees.

UE's planned disposition activity ($50 million per year) may be negatively impacted by current market conditions. In particular, it is doubtful that UE can dispose of properties at expected cap rates due to the fact that their own stock price has fallen 50% in a matter of months. At the same time, this environment makes acquisitions potentially worthwhile. UE's strong balance sheet may potentially allow the company to opportunistically acquire properties on the cheap.
Conclusion
It isn't every day that you get to invest in New York retail real estate at a 9% dividend yield. UE has a well-capitalized balance sheet that has adequate liquidity to ride out the current mess. I rate shares a buy.
(TipRanks: Buy UE)
25 Stocks I Like More Than UE
UE is only rated a buy – the Best of Breed portfolio features over 25 stocks rated strong buy or even conviction buy.
Some investors start by looking at valuation with a stock screener, and from these cheap companies try to find any that they can justify buying. I instead start with an assessment of quality, and only from the highest quality companies do I begin to search for value. My goal is to not only beat the market but to also do so with a high success rate.
Disclosure: I am/we are long UE, FRT, REG, HD. I wrote this article myself, and it expresses my own opinions. I am not receiving compensation for it (other than from Seeking Alpha). I have no business relationship with any company whose stock is mentioned in this article.
Additional disclosure: DISCLAIMER: Julian Lin is not a Registered Investment Advisor or Financial Planner. While the information in his articles and his comments on SeekingAlpha.com or elsewhere may seem like financial advice, it is not, and it is provided for information purposes only. Do your own research or seek the advice of a qualified professional. You are responsible for your own investment decisions.