After a week of violent protests following Belarusian President Alexander Lukashenko's re-election for a sixth term he issued a surprise concession on Monday, saying he'd be willing to hand over power after a referendum.
"We'll put the changes to a referendum, and I'll hand over my constitutional powers," Lukashenko said as cited in Reuters. However this is unlikely to pacify the demonstrators, given he emphasized "But not under pressure or because of the street" — though it's being widely interpreted as a sign he is indeed feeling the pressure given the rare potential compromise gesture. 
Lukashenko's face as dozens of workers chant "Leave!" He's never experienced anything like this before pic.twitter.com/tGesjmQ4Tf

— Matthew Luxmoore (@mjluxmoore) August 17, 2020
"Yes, I'm not a saint. You know my harsh side. I'm not eternal. But if you drag down the first president you'll drag down neighboring countries and all the rest," he added, apparently referencing the years-long political East-West tug-of-war centered on the pro-Russia vs. pro-EU fault line which fragmented Ukraine into bloody conflict.
He had previously told citizens in a separate address: "NATO troops are at our gates. Lithuania, Latvia, Poland and our native Ukraine are ordering us to hold new elections."
But ultimately his speech before a large state-run industrial plant was less of a concession than optimistic Western reports might make it out. He said this, still defiant and angered, amid heckles and chants demanding the end of the 26-year rule, something extremely unusual in the former Soviet satellite country.
"We held the election. Until you kill me, there will be no other election," he said.
Svetlana Tikhanovskaya, considered his main opponent, came in second with results showing 10.12% of the vote. Tsikhanouskaya fled to Lithuania where she's now giving video addresses to the country, urging that law enforcement and all security personnel refuse to recognize the Lukashenko government and "switch sides". There's been some level of anecdotal evidence captured in protest videos over the past days to suggest this has happened to a small degree.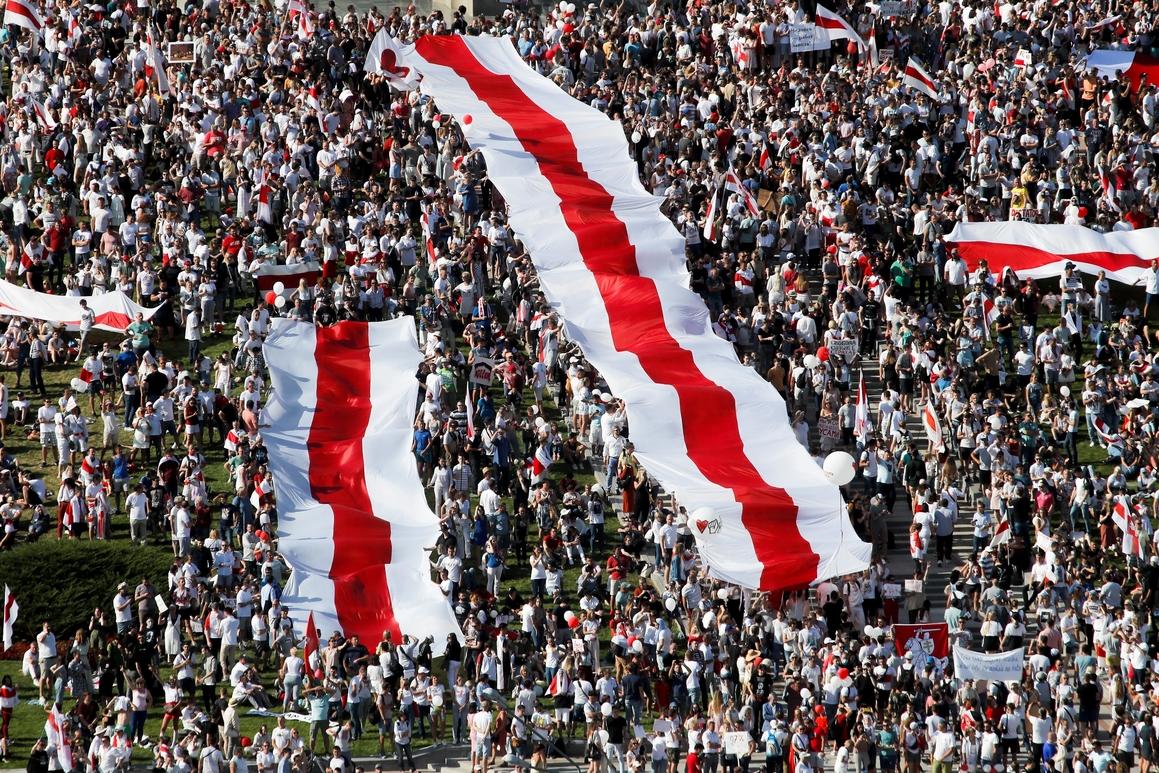 "I am ready to take responsibility and act as a national leader during this period," Tsikhanouskaya said in a direct challenge only likely to further entrench Lukashenko and his supporters. They've vowed not to let his fate be dictated from the outside or external interference in a crisis increasingly drawing in the US, Europe, and ally Russia.
Moscow has meanwhile offered military support should it be called upon by Minsk. "The Kremlin said Russian President Vladimir Putin had told Lukashenko Moscow was ready to assist Belarus in accordance with a collective military pact if necessary and that external pressure was being applied to the country," Reuters reported over the weekend, citing an official statement.
Critics have alleged the Aug. 9 election was rigged:
"Show us by hands those who voted for Lukashenko. Now show us who voted for Tikhanovskaya." Another factory strike. pic.twitter.com/Ol5KxxdFpU

— Christopher Miller (@ChristopherJM) August 13, 2020
But momentum is gaining against Lukashenko's rule, given also as of the weekend state TV employees walked off set and joined the growing tens of thousands of striking workers across the country.
Belarus's state TV is on strike today. Lukashenko's support keeps dwindling by the day pic.twitter.com/EbPb9oegJ7

— max seddon (@maxseddon) August 17, 2020
Should the street protests gain their desired momentum to force the whole country and infrastructure to essentially come to a halt, it will be hard to see where the embattled president can go from there, other than attempt to make as graceful and swift a political exit as possible.
At that point he would likely hasten to aforementioned referendum and choose to make a face-saving "transition" via political means.