Our economic situation
We're really rather sure that much of the loss from the coronavirus and lockdown has already been made back. Do note that we need to think of these as two different things, Closing down the economy certainly had an effect. But even without doing that behaviour would have changed in the face of the pandemic. The effect of the lockdown is distinct from that of the disease itself.
This matters because of course the costs of the lockdown end soon after we end the lockdown. We all go back to work and pick off where we left off. Yes, obviously, it's not quite and exactly like that but this is a useful enough rule of thumb. However, given that the virus is still out there we've still got the effects of the virus itself to work through. Even if the law changed not one whit there would still be those of us who won't go to a show, out to dine, and thus the economy has changed. Equally, there are growth areas, more online shopping for example.
So, if we've two different sets of things to recover from we're going to have two different recoveries.
It's not wholly true that we've recovered from the lockdown yet. But we're pretty close to it. The latest estimates are that 3 rd Q GP will rise by about 30%. That leaves 9 or 10% behind where we were in February. I would expect a bit more of that to be clawed back in October but this still leaves us short. And that amount we're short by is, I think it's useful to think of it this way at least, that amount due to the second recession, the one stemming from how we've got to change the economy, not just revive it.
Unemployment
Our latest initial claims numbers have arrived:
The advance number of actual initial claims under state programs, unadjusted, totaled 857,148 in the week ending September 5, an increase of 20,140 (or 2.4 percent) from the previous week. There were 160,342 initial claims in the comparable week in 2019. In addition, for the week ending September 5, 48 states reported 838,916 initial claims for Pandemic Unemployment Assistance.
We do need to use the unadjusted numbers. Firstly, the world is sufficiently topsy turvey that the usual seasonal adjustments don't make much sense at present. The other thing is that the DoL agrees with this and has changed the seasonal adjustments. This makes the adjusted numbers better but also means we can't compare them with those from anytime before a couple of weeks ago. And no, there is no set of the current numbers according to the old adjustments, or the new to the old.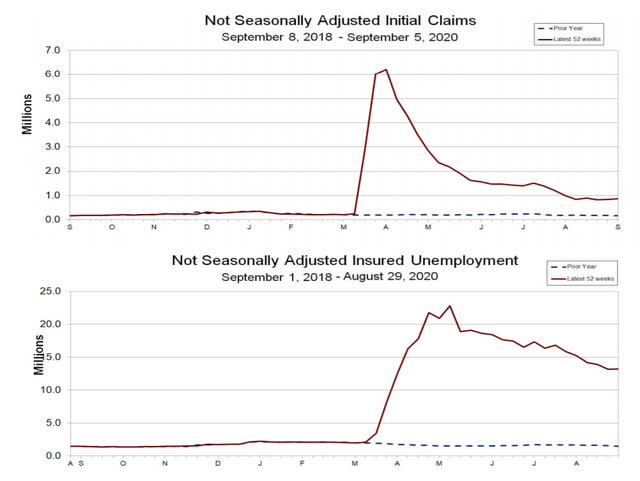 (Initial unemployment claims from Department of Labor)
This isn't good
We need to get out of the idea that a higher number of initial unemployment claims is a – necessarily – bad idea. Yes, if – as did happen – millions are doing this each week that's a pretty bad idea. But think about the idea that we're in this second part, where we're adjusting to the new reality rather than clawing back from a near depression. So, more people leaving jobs could be just fine. Because it means that we've got more change going on in the economy.
However, that does assume that those becoming unemployed also then go on to gain new jobs. That is, it's not the flow into unemployment that matters, it's the balance between that and the flow out. Or, if we prefer, the stock of unemployment which is important.
And that's not good:
The advance unadjusted insured unemployment rate was 9.0 percent during the week ending August 29, unchanged from the prior week.
Hey, at least it's not getting worse. But at this point we really do want to be seeing a consistent and substantial fall in that percentage there.
Not entirely gloom
No one number – certainly not a single, weekly, one – is going to tell us the state of the economy out there. However, this now becomes one of those numbers we want to keep an eye upon. A continuation of this no move in the unemployment rate would indeed be a negative signal.
My view
As I've been saying I expect a swift recovery from the recession. We have already had that, in part. We're back from 30% down to being – if we believe the projections – only 10%. But that 10% is going to be the bit more difficult to claw back. Because it requires changing, not just restarting, the economy.
Any one weekly unemployment number isn't sufficient to call anything either way. But if this continues, unemployment sticking at 9%, then we're going to have to recalibrate our suppositions. Or, rather, I am.
The investor view
Don't worry yet but this is where to look over the next few weeks as to whether we should start to worry. If the unemployment rate restarts its decline each week then we're good to go. If it remains static at or around this 9% then we've a problem.
The problem being that the markets are currently priced for that swift recovery. So, if it doesn't arrive we can expect to see a significant fall in the market indices. We don't know yet, it's too soon to be able to tell. But this is where the sign will be, in the unemployment rate stubbornly refusing to fall.
Disclosure: I/we have no positions in any stocks mentioned, and no plans to initiate any positions within the next 72 hours. I wrote this article myself, and it expresses my own opinions. I am not receiving compensation for it (other than from Seeking Alpha). I have no business relationship with any company whose stock is mentioned in this article.