Smartsheet (SMAR) recently released their first half 2021 financial results and it was a mixed bag. This article is a follow-up to my initial article a few months back that had a bearish tone. My pessimism with SMAR is that it is high-growth with no profitability in a highly competitive market. Within the latest earnings release, I am interested in checking in on revenue and billings growth, profitability, free cash flow and the general cadence provided by management.
Quick Overview
Revenue growth increased a strong 41% with growth in average domain ACV. The retention rate came in at 128%. Gross profit margin remained stable at 82% and free cash flow was only $(1.3MM). The results sent the stock down a wicked slide, declining nearly 8% after the conference call. To be fair, it did have an unjustifiable run-up along with many other tech companies.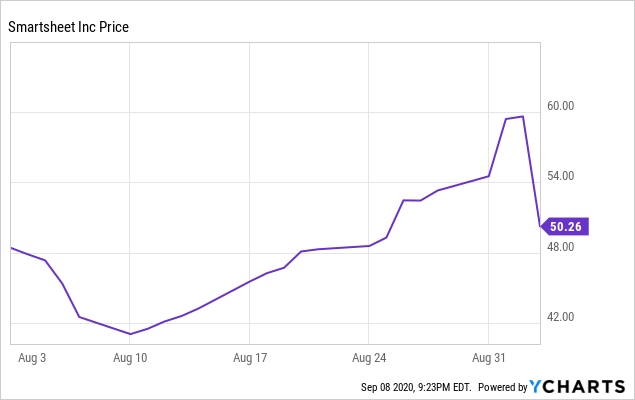 Revenue & Billings
Total revenue growth was still strong at 41% YoY but is deceiving because it slowed from 52% in 1Q21. This is due to aiding customers through the pandemic and other customers downsizing their spend or leaving. Similarly Calculated Billings increased 22%, which marks a decline from 30% in 1Q21 and 54% in FY20.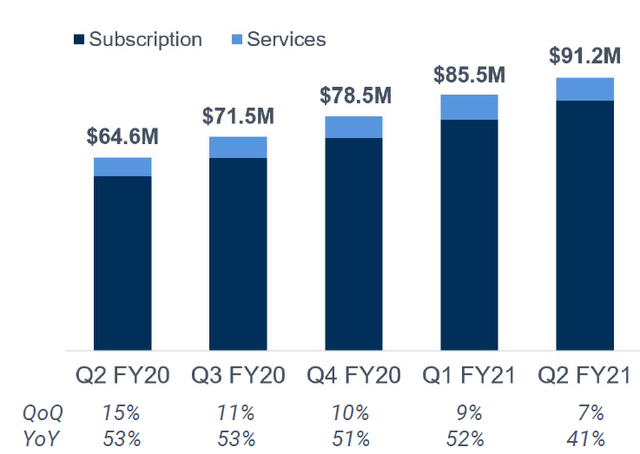 Source: Earnings Deck
What is interesting, though, is that the number of customers and the average ACV increased, showing that their ecosystem is sticky. This is important because this could help SMAR generate less expensive revenue and improve margins.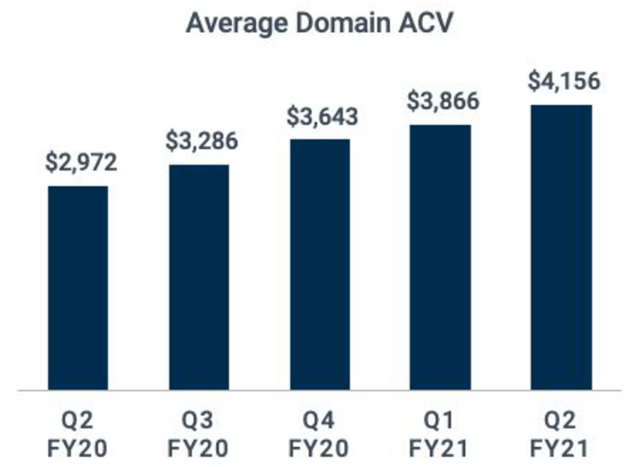 Source: Earnings Deck
While the retention rate of 128% appears strong, it actually represents a decline from 134% in 1Q20. This is concerning because it shows that customers are leaving or downsizing. It costs more to acquire new customers and will put pressure on operating margins that are already stressed.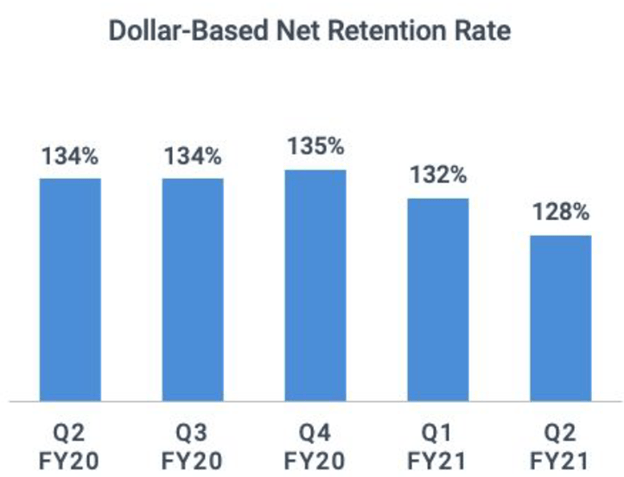 Source: Earnings Deck.
Jennifer Ceran, CFO, stated the following during the conference call:
"Full churn rate was stable and rounded up to 8%. We expect our dollar-based net retention rate to remain under pressure, until we lap the headwinds we've experienced this year. As such, we expect our dollar-based net retention rate to trend down to the mid-120s in Q3."
There was a question in the Q&A about the retention rate and here is Jennifer's response:
"And then with respect to the retention rate, we are still kind of in the midst of the initial – some of the initial downgrades and expansion pressures we saw starting in April as a result of COVID. So, we're going to need to get through the 12-month period before we start seeing dollar net retention rates improve, we do see that it will, it could improve, but we could see dollar net retention rate kind of coming into the end of the year somewhere in the low 120s to mid-120s."
The cadence on this is really tough, but management is setting expectations. I rather management be honest and lay it all out (see my USFD analysis).
Margins Margins Margins
SMAR does offer products that customers want and they pay a premium for it. Just take a look at the non-GAAP margins. They are real and they are spectacular. The improvement from the first quarter is due to favorable product mix. Their subscription business carries higher margins.

Gross margins were good but OPM… not so much.

The quarterly loss was better than guidance of $(19MM). We can keep dumping on management for lack of profitability, but look, they have done a better job managing OPM. Management never explicitly said that operating profitability is their goal, but I think we are seeing some operating leverage. For instance, R&D expense has increased, but has remained stable as a percentage of revenue. Now, the improvement is not all management. Due to the pandemic, marketing and T&E spending were reduced as a reactionary effort to preserve cash, so that helped margins. The improvement in OPM led to free cash flow coming in at $(4.4MM) versus guidance of $(9MM).
Guidance
The guidance continues to assume headwinds related to COVID and includes performance from the recently acquired Brandfolder. Guidance is disappointing outside of total revenue. Revenue growth is underwhelming and so is the operating loss and free cash flow. It looks like the company is going backwards. The premium valuation is not worthy as there is a slowing of revenue growth and operating loss keeps widening.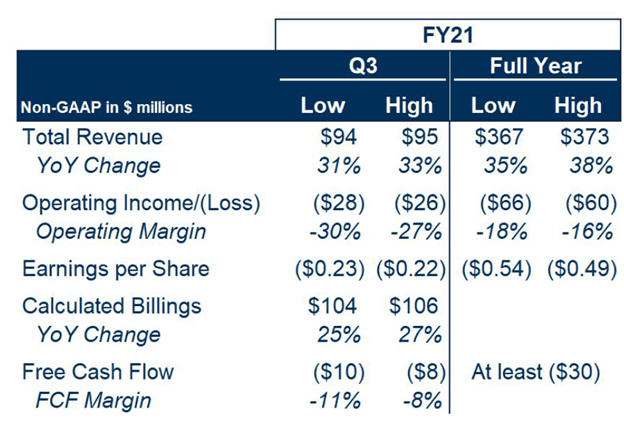 Conclusion
The stock price was smacked down towards reality due to slower revenue growth and negative free cash flow. COVID negatively impacted performance as customers trimmed back spending or left SMAR's ecosystem as evidenced by the decline in both revenue growth and retention rate. This is expected to continue in the near term. There are too many red flags to jump in right now. If revenue growth and retention rate can be shored up, investors may be willing to temporarily overlook the lack of cash flow. Now, by waiting on the sidelines, investors may miss out on stock price appreciation, but may feel better knowing that the company has stabilized its performance.
Disclosure: I/we have no positions in any stocks mentioned, and no plans to initiate any positions within the next 72 hours. I wrote this article myself, and it expresses my own opinions. I am not receiving compensation for it (other than from Seeking Alpha). I have no business relationship with any company whose stock is mentioned in this article.