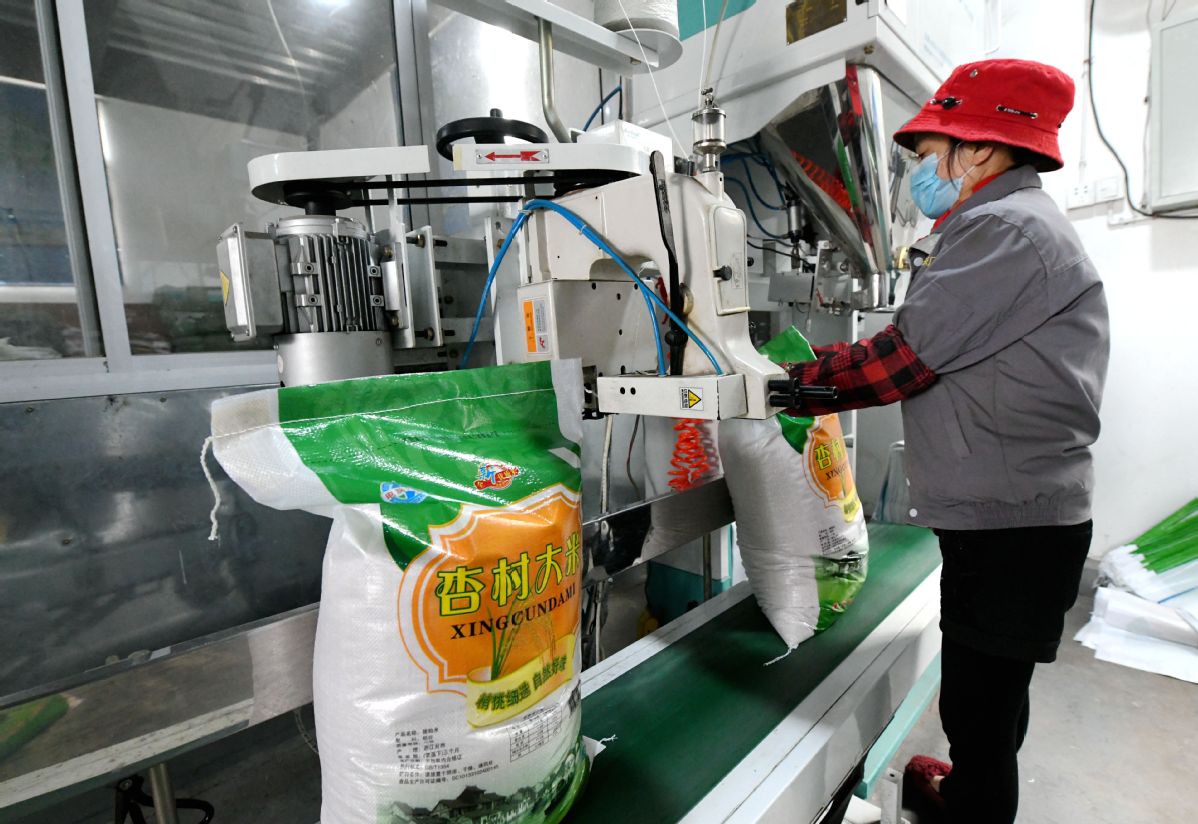 China should take advantage of the well-stocked and depressed price scenario in the global grain market to boost stocks of cereals and oilseeds, such as wheat, maize, and soybeans, a leading UN organization said on Wednesday.
According to the Food and Agriculture Organization of the United Nations, though China has ample stocks of grains, it must take steps to ensure the further smooth functioning of supply chains and procure enough supplies for mills and for the wholesale and retail markets.
"While we are confident that China has enough grain supplies, the priority should be on energizing the country's logistics and processing systems," the Rome-based FAO told China Daily in an e-mailed statement. This is necessary as the COVID-19 outbreak has imposed restrictions on movement and lockdowns in many countries, which in turn can cause disruptions in food supply chains.
At the same time, labor shortages due to the lockdowns will affect the harvest of crops and the operation of abattoirs, it said. The FAO has urged countries to undertake necessary measures to avoid any disruption to the food supply chain and ensure that food continues to flow smoothly from production, to processing and distribution, to markets and consumers.
The UN body is expecting to see a gradual recovery in China's pig stocks this year, with domestic supplies still not enough for the national demand. Pork imports are expected to continue, given that domestic prices are high and international prices are rather low, the FAO said.
According to UN data, China is not a large importer of cereals. The country carried forward over 400 million metric tons of cereals into this year, specifically nearly 200 million tons of coarse grains, or maize, some 115 million tons of wheat and about 105 million tons of rice. China imported less than 5 percent of its annual grain needs in 2019.
Relative to the total use in China, these figures are about 70 percent of the cereals needed for a whole year in China. Furthermore, with a new crop expected to come in later this year, there are no reasons to believe that the country would face a shortfall of cereals, it said.
China's annual grain output has exceeded 6.5 billion tons for five consecutive years. By putting in place a modern reserve management system and a variety of other measures to boost grain output, China is now in a better position to ensure its food security, said Robert Aspell, president for Asia-Pacific at Cargill Inc.
"China is also a major player in the global food industry, both for imports and exports. One thing we have learned from the epidemic is the critical importance of robust infrastructure and supply chains, both in and out of China, for the merchandising and transport of food products," said Aspell, who is also the US company's group leader for the agricultural supply chain.
"This is not about a food shortage. We have enough food to feed everyone in the world but we have to be able to move it-and alter the supply chain to meet increased grocery and retail and individual demand as food service and restaurant demand lessens," he said, stressing it is vital that infrastructure is prioritized to deliver essentials during the outbreak, including food and medical supplies.
In addition to installing digital equipment and adopting new technologies to monitor and store grain reserves in the country's grain depots, the government has also issued a number of favorable policies to encourage farmers to conduct spring farming, including setting the minimum purchase price and offering subsidies to farmers, said Shen Leihai, a spokesperson for China Grain Reserves Group Ltd, the country's largest grain storage and transportation operator.