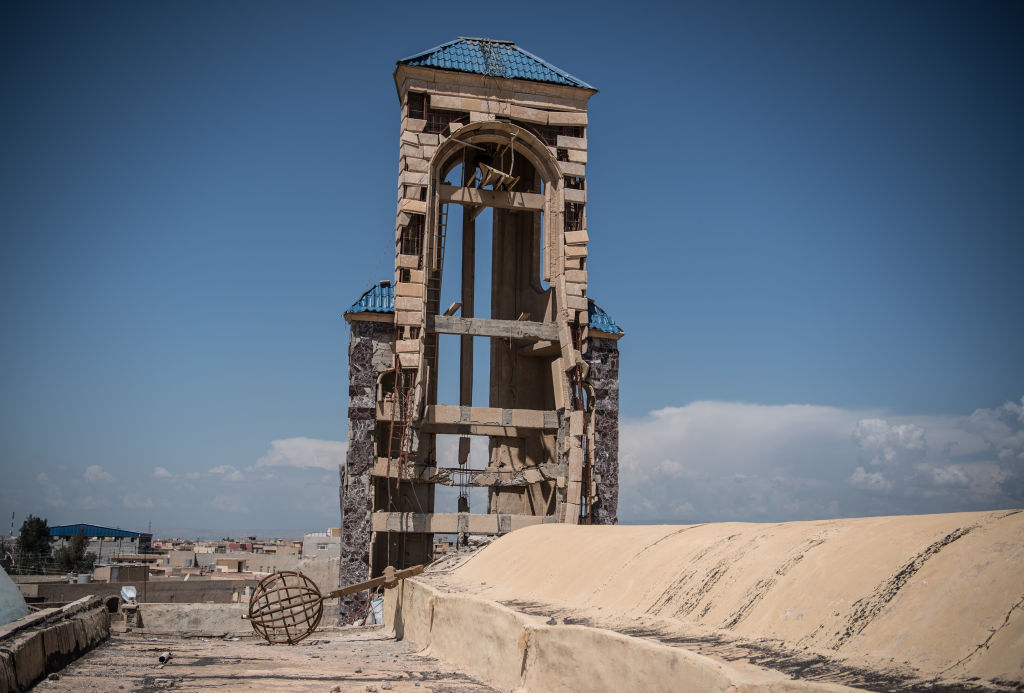 De fleste kristne kirker i og omkring Mosul, Irak, blev vanhelliget eller tilintetgjort af ISIS. Billedet: Det stærkt beskadigede klokketårn på Skt. Johannes Kirken (Mar Yohanna) i byen Qaraqosh nær Mosul den 16. april 2017. (Foto ved Carl Court/Getty Images)
Konvertér, betal eller dø. For fem år siden var det "valget," som Islamisk Stat (ISIS) gav de kristne i Mosul, dengang Iraks tredjestørste by: enten tag islam til jer, underkast jer religiøs skat eller mød sværdet. ISIS markerede derefter de kristnes huse med det arabiske bogstav ن (N), som er det første bogstav i det arabiske ord "nasrani" ("nazarensk" eller "kristen"). Kristne kunne ofte ikke tage andet med sig end de klæder, de gik og stod i, og så flygte ud af den by, som havde udgjort kristnes hjem gennem 1700 år.
For to år siden blev ISIS nedkæmpet i Mosul og dens kalifat knust. Men det var lykkedes ekstremisterne at "udrense" de kristne. Før ISIS voksede frem, var der mere end 15.000 kristne i byen. I juli 2019 afslørede den katolske velgørenhedsorganisation Aid to the Church in Need (Hjælp til den Nødstedte Kirke), at kun omkring 40 kristne var vendt tilbage. For ikke så længe siden fejrede Mosul "jul uden kristne".
Dette kulturelle folkedrab virkede desværre, takket være ligegyldigheden hos europæere og mange vestlige kristne, som var mere optaget af ikke at virke "islamofobiske" end af at forsvare deres egne brødre. Fader Ragheed Ganni, katolsk præst fra Mosul, havde for eksempel netop afsluttet sin festmesse i sin kirke, da nogle islamister myrdede ham. I et af sine sidste breve skrev Ganni: "Vi er på kanten af sammenbrud." Det var i 2007 – næsten ti år før ISIS udryddede de kristne i Mosul. "Har verden 'set den anden vej,' mens kristne bliver myrdet?" spurgte Washington Post. Så afgjort.
Spor efter en tabt jødisk fortid er også dukket op i Mosul, hvor et jødisk samfund også havde eksisteret gennem tusinder af år. I dag, 2.000 år senere, er både jødedommen og kristendommen i realiteten blevet udslettet dér. Det liv er forbi. Avisen La Vie indhentede et vidneudsagn fra en kristen, Yousef (navnet er ændret), som flygtede om natten den 6. august 2014, lige før ISIS ankom. "Det var en sand exodus," sagde Yousef.
"Vejen var sort af mennesker, jeg kunne ikke se hverken begyndelsen eller afslutningen på denne procession. Der var grædende børn, familier som trak af sted med små kufferter. Gamle mænd på skuldrene af deres sønner. Folk var tørstige, det var meget varmt. Vi har mistet alt det, vi havde opbygget gennem et helt liv, og ingen kæmpede for os".
Nogle samfund, så som de små kristne lommer i Mosul, er næsten med sikkerhed tabt for altid," skrev to amerikanske videnskabsfolk i Foreign Policy.
"Vi befinder os på kanten af en katastrofe, og hvis ikke vi handler hurtigt, inden for få uger, kan størsteparten af disse smårester af kristne samfund i Irak være udslettet i det folkedrab, som finder sted på kristne i Irak og Syrien".
Alene i Mosul blev 45 kirker vandaliseret eller ødelagt. Ikke en eneste blev sparet. I dag er der kun én kirke åben i byen. ISIS ønskede tilsyneladende også at udslette den kristne historie dér. De angreb klosteret Saints Behnam and Sarah (Helgenerne Behnam og Sarah), som var blevet grundlagt i det 4. årh. Klosteret havde overlevet det 7. århundredes islamiske sejre og efterfølgende invasioner, men i 2017 blev krucifikser ødelagt, celler plyndret og figurer af Jomfru Maria fik kappet hovedet af. Den irakiske præst Najeeb Michaeel, som reddede 850 manuskripter fra Islamisk Stat, blev i januar ordineret som ny kaldæisk-katolsk ærkebiskop i Mosul.
Sammen med Al Nusra, en udløber af al-Qaeda i Syrien, fulgte ISIS et lignende mønster, da dens militser angreb den kristne by Maaloula. "De huggede ar i ansigterne på helgenerne, på Kristus, de smadrede statuerne", fortalte fader Toufic Eid for nylig Vatikanets agentur Sir.
"Altrene, ikonostasis og døbefont blev hugget itu. Men det, der ramte mig mest, var afbrændingen af dåbsregistrene. Det virker, som om de ønskede at udslette vores tro".
På kirkegården ved kirken for Skt. Georg i Karamlesh, en landsby øst for Mosul, gravede ISIS et lig op og huggede hovedet af det, tilsyneladende udelukkende fordi der var tale om en kristen.
De kristnes skæbne i Mosul ligner den andre steder i Irak. "Den Internationale Forening til Naturbevarelse har adskillige kategorier til at definere de farer for udslettelse, som forskellige arter står over for i dag", skriver Benedict Kiely, stifteren af Nasarean.org, som hjælper forfulgte kristne i Mellemøsten.
"Ved brug af en procentvis angivelse af arternes tilbagegang går kategorierne fra 'sårbare arter' (en nedgang på 30-50 procent) til 'truede arter' (80-90 procent) og til sidst udslettelse. Den kristne befolkning i Irak er skrumpet med 83 procent, hvilket placerer den i kategorien 'truede arter'."
På skammelig vis har Vesten været og synes stadig at være fuldkommen ligeglad med de kristnes skæbne i Mellemøsten. Eller som den syrisk-ortodokse ærkebiskop i Mosul, Metropolitan Nicodemus, udtrykker det:
"Jeg tror ikke på de[t] ord [menneskerettigheder], der findes ingen menneskerettigheder. Men i vestlige lande er der dyrerettigheder. I Australien drager de omsorg for frøer…. Betragt os som frøer, vi vil acceptere det — beskyt os blot, så vi kan blive i vores land."

"Disse mennesker er de samme, som kom hertil for mange år siden. Og vi accepterede dem. Vi er den oprindelige befolkning i dette land. Vi accepterede dem, vi åbnede dørene for dem, og de tvinger os til at blive minoriteter i vores land, og derefter flygtninge i vores land. Og sådan vil det gå hos jer, hvis I ikke vågner op."
"Kristenheden i Irak, en af de ældste Kirker, om ikke den ældste Kirke i verden, er faretruende tæt på udslettelse," bemærkede Bashar Warda, ærkebiskop i Irbil, hovedstad i irakisk Kurdistan, i London i maj måned. "De af os, som er tilbage, må berede os på martyriet." Warda gik videre til at beskylde Storbritanniens ledere for "politisk korrekthed" over for emnet af frygt for at blive beskyldt for "islamofobi." "Vil I blive ved med at se gennem fingre med denne aldrig ophørende, organiserede forfølgelse af os?" spurgte Warda. "Når den næste bølge af vold begynder at ramme os, er der så nogen på jeres universiteter, som vil afholde demonstrationer og bære skilte, som siger 'Vi er alle kristne?'"
Disse kristne synes kun at få indpas på vore tv-skærme og i vore aviser ved at betale med deres blod, deres forsvinden og deres lidelser. Deres tragedie kaster lys over vores moralske selvmord. Som den fransk-libanesiske skribent Amin Maalouf bemærkede: "Det er det store paradoks: man beskylder Vesten for at ønske at påtvinge andre dens værdier, men den egentlige tragedie er dens manglende evne til at overføre disse…. Sommetider får man det indtryk, at Occidentens [Vestens] befolkninger én gang for alle har taget kristendommen til sig… og at de siger til sig selv: Vi er de kristne, og resten er blot arkæologiske rester, som er bestemt til at forsvinde. Trusler mod pandaer fremkalder flere følelser" end trusler om udslettelse af kristne i Mellemøsten.
Giulio Meotti, kulturredaktør ved Il Foglio, italiensk journalist og forfatter.