A true teacher would never tell you what to do. But he would give you the knowledge with which you could decide what would be best for you to do. − Christopher Pike
Guru Screens have a massive cult following among investors because they are used by the world's most successful investors. Most new and inexperienced investors blindly apply these screens to pick winners without reconciling the filters with the economic and stock market trends.
Last week, I spoke about two stock screens used by legendary investors that have delivered solid returns in 2020. This post details two guru screens that have underperformed in this period and the lessons learned therefrom.
A. The O'Shaughnessy All Cap Core Screen
O'Shaughnessy is the CEO of O'Shaughnessy Asset Management company that manages $4.8 billion assets of institutions and high-net-worth individuals. He keeps it simple and his All Cap Core Screen focuses largely on the price-to-sales and price-to-earnings ratios to filter stocks with potential. The O'Shaughnessy All Cap Core Screen picks stocks mainlyin the Russell 3000 Index (RUA). Its managers then manually filter some more and invest in stocks that are better in quality, available at a low valuation, and have momentum potential.
Despite a solid stock-picking strategy, the screener's picks have underperformed the RUA both from the short-term and the long-term points of view.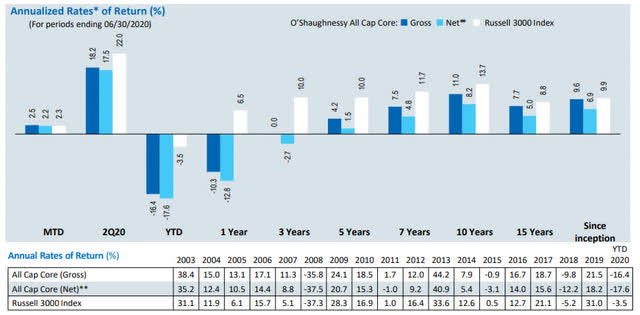 Image Source: O'Shaughnessy Asset Management Site
Let's check the screener formula to figure out the reasons:
The O'Shaughnessy All Cap Core Screen Formula
1. Price/Earnings Ratio less than Average Price/Earnings Ratio of RUA
2. Price/Sales Ratio less than Average Price/Earnings Ratio of RUA
3. One-Year Earnings Growth Rate greater than Average RUA Earnings Growth Rate
Reasons for failure
The Screener has delivered negative 17.6% returns on a year-to-date basis as compared to positive 6.5% returns generated by the RUA. In fact, this screener has been consistently underperforming against the RUA ever since 2017 (see the image above).
Here are the reasons:
1. In 2020, indices have been propelled by tech and giant caps stocks – especially after the pandemic struck. Small companies across diverse sectors have been suffering from the slowdown. The lesson is to reconcile the on-ground situation with a company's business models to ascertain if it has the firepower to survive extreme situations.
2. Not just in 2020, the screener's picks have been consistently underperforming the RUA ever since 2017. This could have been because investors may have been chasing growth without bothering about the price/earnings and price/sales ratios that this screener largely relies on.
3. The third lesson is that large caps are more fancied by global investors than small caps. So, it makes sense to allocate a smaller percentage of your capital in small caps.
2. The Piotroski F-Score Screen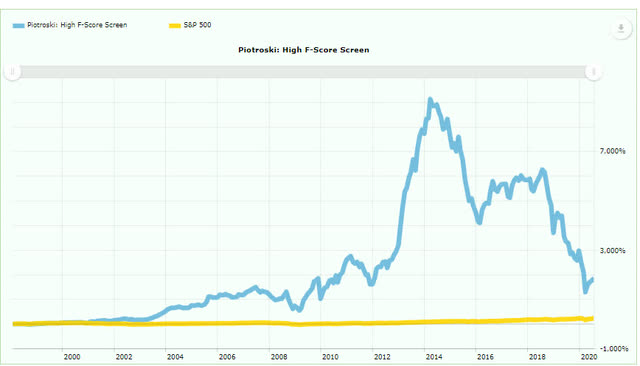 Image Source: AAII.com
The Piotroski F-Score is an extremely popular and powerful screener that is used by many investors to filter out quality stocks available at a low valuation. Despite it being powerful, the screener has underperformed the S&P 500 (SP500) in 2020. Let's check out why:
The Piotroski F-Score Screen Formula
The screener allocates a score of 9 points to profitability, funding, and operating efficiencies, and then filters out low price-to-book stocks.
a. Profitability
Is the TTM ROA (Return on Assets) positive? – Award 1 point if positive, and 0 if negative.
Compute CFO by dividing the TTM operating cash flow by TTM total assets at the beginning of the year – award 1 point if positive, and 0 if negative.
Compare TTM ROA with the previous year's ROA – award 1 point if higher, and 0 if lower.
Compare TTM CFO with TTM ROA – award 1 point if CFO>ROA, and 0 if CFO<ROA.
b. Funding
Calculate the leverage by dividing the TTM long-term debt by TTM average total assets. Next, compare the TTM year's leverage with that of the previous year's – award 1 point if leverage is lower, and 0 if it is higher.
Compare the TTM current ratio with that of the previous year's – award 1 point if higher, and 0 otherwise.
Calculate the number of outstanding shares on a TTM basis and compare with the previous year's number – award 0 points if the number is higher, and 1 otherwise.
c. Operating Efficiency
Compare TTM gross margin with the previous year's gross margin – award 1 point if higher, and 0 if it is lower.
Divide TTM sales by TTM total assets. Compare with last year's number – award 1 point if higher, and 0 if it is lower.
Companies that score 7 or more points make the grade.
Reasons for failure
The Screener has delivered negative returns year over year compared to the SP 500. These could be the reasons:
1. It is a very tough screener to ace, especially after COVID-19.
2. Many growth companies operating in drug research, those operating in software development, cloud companies that are expanding, and other young companies with good potential that are raising capital for acquisitions, will not qualify for being captured by the screener because of its stringent filters.
Final Steps
Though both these screeners are powerful, the O'Shaughnessy All Cap screener is too simplistic while the Piotroski F-Score is too tough to ace, especially in this COVID-19 age. That's why these screeners could not capture growth stocks. Also, even if these screens had filtered good stocks, it wouldn't have meant much because the current market is being driven by technology heavyweights.
These are the key reasons why the screeners have underperformed.
In my opinion, these screeners should be suitably edited and manual checks should be introduced to ensure that they adapt to a market that's chasing growth in the post-COVID-19 era. They can also be combined with momentum technical factors to generate powerful signals. Plus, you need rigorous manual checks for every stock that passes through these filters.
*Like this article? Don't forget to hit the Follow button above!

Subscribers told of melt-up March 31. Now what? 
Sometimes, you might not realize your biggest portfolio risks until it's too late.
That's why it's important to pay attention to the right market data, analysis, and insights on a daily basis. Being a passive investor puts you at unnecessary risk. When you stay informed on key signals and indicators, you'll take control of your financial future.
My award-winning market research gives you everything you need to know each day, so you can be ready to act when it matters most.
Click here to gain access and try the Lead-Lag Report FREE for 14 days.
Disclosure: I/we have no positions in any stocks mentioned, and no plans to initiate any positions within the next 72 hours. I wrote this article myself, and it expresses my own opinions. I am not receiving compensation for it (other than from Seeking Alpha). I have no business relationship with any company whose stock is mentioned in this article.
Additional disclosure: This writing is for informational purposes only and Lead-Lag Publishing, LLC undertakes no obligation to update this article even if the opinions expressed change. It does not constitute an offer to sell, a solicitation to buy, or a recommendation regarding any securities transaction. It also does not offer to provide advisory or other services in any jurisdiction. The information contained in this writing should not be construed as financial or investment advice on any subject matter. Lead-Lag Publishing, LLC expressly disclaims all liability in respect to actions taken based on any or all of the information on this writing.