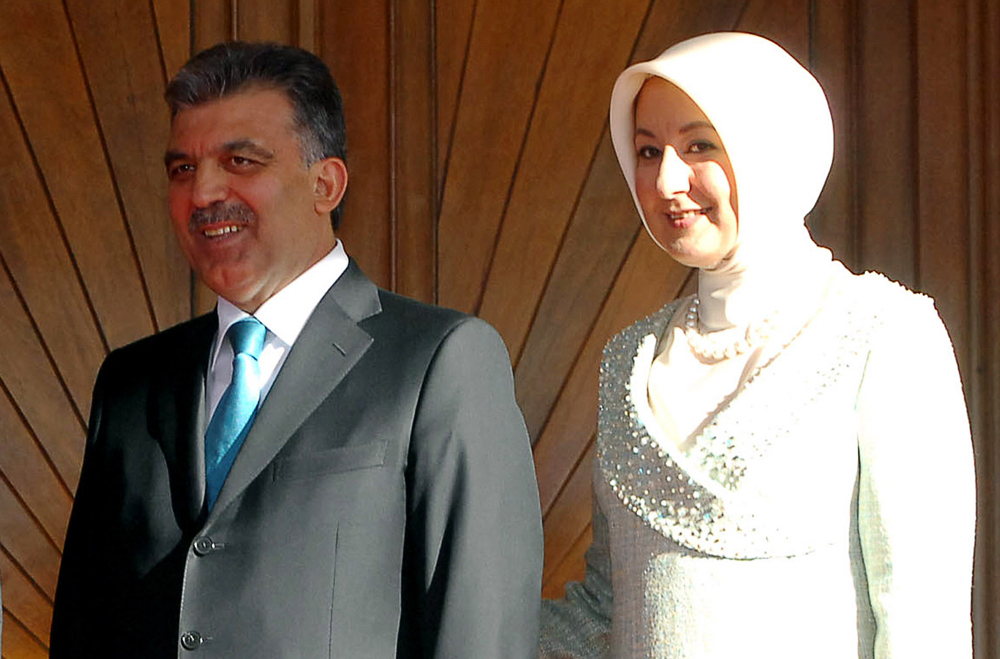 What in the modern world is widely viewed as sexual abuse of minors is standard social behavior for Turkish Islamists. For instance, President Recep Tayyip Erdoğan's one-time staunchest ally and his choice for president (when Erdoğan was prime minister), Abdullah Gül, married his wife, Hayrunisa, when she was 15 years old and he was 30. Pictured: Abdullah and Hayrunisa Gül on May 13, 2008 in Ankara, Turkey. (Photo by Getty Images)
When, in 1925, Mustafa Kemal Atatürk, the founder of modern Turkey, banned all Islamic sects, dervishes, lodges and other religious cults dating from the Ottoman times, he publicly said, "The Turkish Republic cannot be a republic of sheiks, dervishes and their disciples. The only right sect is the sect of civilization." Almost a century after the birth of a modern nation, nevertheless, the Turkish Republic has indeed become a republic of sheiks, dervishes and their millions of disciples.
The findings of an academic from Izmir's September 9th University are worse than scary. The following is from Professor Esergül Balcı's alarming report:
Islamic sects, cults and orders in Turkey have flourished in coalition with [President Recep Tayyip Erdoğan's] Justice and Development Party (AKP) as their members have successfully built networks in public service.
The number of madrassas [Islamic schools] has risen sharply [since the AKP came to power in 2002].
The Treasury's financial support for schools run by Islamic sects has reached TL 1 billion [approximately $126 million].
About one million pupils attend schools run by sects.
A total of 2.6 million Turks have some kind of connection with a religious order.
There are primarily 30 sects, their 400 branches and 800 madrassas.
Parents enroll children as young as three years old at religious schools. A third of Turkey's 10,000 private schools have links with at least one sect. So do 2,800 of the country's 4,000 private dormitories.
The school curriculum teaches boy students that the female sex is inferior and second-class, while it teaches girls to be a slave to a man.
There is always the not-so-peaceful side of the story of Islamic sects. Cüppeli Ahmet Hoca, himself a cult leader, claimed recently that there were about 2,000 Salafi associations with armed members. "If prosecutors invite me to testify I can name 150 of them," he said. After he testified to the police, he said: "The police were not surprised by what I said in my statement."
What in the modern world is widely viewed as sexual abuse of minors is standard social behavior for Turkish (and other) Islamists. For instance, Erdoğan's one-time staunchest ally and his choice for president (when Erdoğan was prime minister), Abdullah Gül, married his wife, Hayrunisa, when she was 15 years old and he was 30.
Tribe mentality, mixed with conservative Islamist thinking, started to poison the country in the early years of AKP rule. In 2010, a scandal in Siirt, in southeast Turkey, revealed serial rapes in the conservative town, including cases of adults raping minors and minors raping toddlers, even killing one. "This is a small town," the mayor said about that horror story. "Almost everyone is related to everyone. We have closed the case after consultations with the governor, the police and the prosecutor." No one was prosecuted.
Turkish investigative journalist Ismail Saymaz published a book in 2019, "The Sect of Lust" ("Şehvetiye Tarikatı"), in which he documented judicial reports detailing sexual abuse at several cults. Some of the chapters in the book include: The Cloister of Sex; I'd Be Happy if the Sheik Had Sex With My Wife; Two Sisters, One Husband; A Sheik's Penis Is Like a Mother's Nipple; Abuse of Mentally-Handicapped Child.
Most recently, Sheik Fatih Nurullah, leader of the Uşşaki Islamic cult, was arrested in September for repeated sexual abuse and deprivation of liberty for sexual purposes. The victim of the sheik was a 12-year-old girl whose mother was a cleaning lady at the cult's premises. The sheik, whose real name is Eyyüp Fatih Şağban, is facing a prison term of up to 55 years.
Some tapped phone conversations revealed an exchange between Sheik Nurullah and the abused child's father, mentioned by his initials, F.A., in judicial reports. In one conversation Sheik Nurullah admits having kissed the 12-year-old girl on her lips, but said he did that "with the affection of a grandfather." Sheik Nurullah is also heard trying to persuade F.A. to cover up the incident "in the name of Allah." In a second voice recording, Sheik Nurullah recommends to F.A. that he kill his daughter and disguise it as suicide.
After the father filed a complaint about the sheik, the father was badly beaten by a disciple of Sheik Nurullah. Other followers later contacted F.A. and offered him TL 50 million (approximately $6.3 million) if he agreed to withdraw his complaint.
Sheik Nurullah will not be the last Islamic cult leader to abuse children. But is it only about a perverted religious individual? Or a few? Or a few dozens, or hundreds? What about millions of devoted followers? A Turkish proverb notes: "The sheik cannot fly but his disciple lets him fly" — followers tend to attribute characteristics to a cult leader that he does not possess.
Burak Bekdil, one of Turkey's leading journalists, was recently fired from the country's most noted newspaper after 29 years, for writing in Gatestone what is taking place in Turkey. He is a Fellow at the Middle East Forum.
© 2020 Gatestone Institute. All rights reserved. The articles printed here do not necessarily reflect the views of the Editors or of Gatestone Institute. No part of the Gatestone website or any of its contents may be reproduced, copied or modified, without the prior written consent of Gatestone Institute.