Libya was once a key embarkation point for jihadists headed to foreign battlefields – first in the 1980s Afghan-Soviet War where they supported the CIA-backed mujahideen, and more recently in Syria, where both massive jihadist manpower and heavy weaponry were transferred to the killing fields of Aleppo and Idlib (also, it should be noted, in support of CIA regime change efforts against Assad).  
But as we described after a recent New York Times report unveiled that US anti-tank missiles have been found in "unknown" Libyan rebel hands fighting within warlord Khalifa Haftar's ranks, the once stable formerly Gadaffi-ruled Arab North African country which was in 2011 "liberated" at the hands of US-NATO forces has once again become ground zero in a grinding proxy war which has allowed jihadists to run rampant amid the chaos.
Whereas a jihadi "rat line" previously ran from Libya into Syria via Turkey, we now have an exact reversal of the prior Syria situation given Turkey is becoming more heavily involved militarily in support of Tripoli's GNA government, currently under siege by UAE and US-backed Haftar's LNA.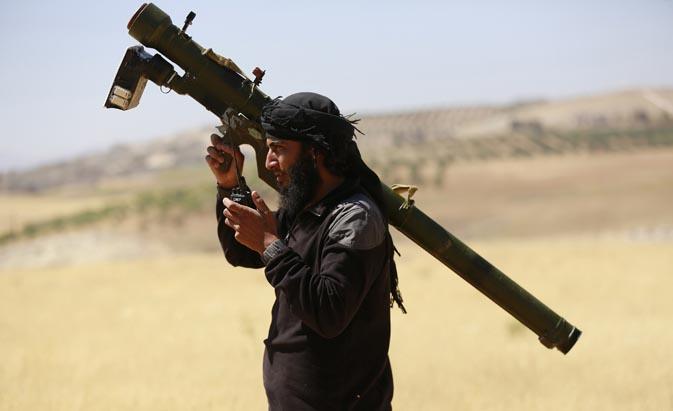 A Libyan official representing the rival Libyan government loyal to Haftar has alleged in a Russian state media interview that Turkey is actively transferring terrorists to fight in Libya. According to Beirut-based Al-Masdar News:
A Libyan official told the Arabic language version of Russia's Sputnik News Agency on Saturday that Turkey is transferring foreign terrorists to Libya to fight the Benghazi-based Libyan National Army (LNA).

Speaking to Sputnik from Tobruk, Libyan parliamentarian 'Ali Al-Sa'eedi Al-Qaidi said that Turkey has been sending terrorists to Libya for quite some time now, highlighting the fact that these militants only attack the [Tripoli-based] Libyan National Army.
"The transfer of terrorists is not new. This is a long story. Many terrorists come from Turkey through Tripoli and Misrata to fight the Libyan National Army in Tripoli and obstruct its advance into the center of the Libyan capital of Tripoli," Al-Qaidi said further.
Al-Qaidi is a member of the Tobruk-based Libyan House of Representatives, the rival government to the UN-recognized GNA in Tripoli. It should be noted further that Russia has emerged in recent years as a supporter of Gen. Haftar (as has the White House only months ago). 
A 2017 map showing regions of Libya with the highest recent concentrations of jihadists via Middle East Institute:
The official said further of the foreign jihadists that "these groups are now fighting in [Tripoli's] Libyan National Army under the protection of the civil state," and stressted that "on Saturday, a Tunisian terrorist was arrested at the Wadi Al-Rabea, south of the capital Tripoli," according to the Al-Masdar translation. 
However, many reports have noted that jihadists are fighting on both sides of the LNA-GNA conflict; with most foreign fighters possibly supporting Tripoli with Turkey's assistance, and with many homegrown jihadists among Haftar's ranks, despite the CIA-linked commander presenting himself as "secular" and a nationalist. 
Haftar's LNA has recently declared war on any Turkish military vessel or plane found in Libyan territory, given Ankara's close military support role to Tripoli.