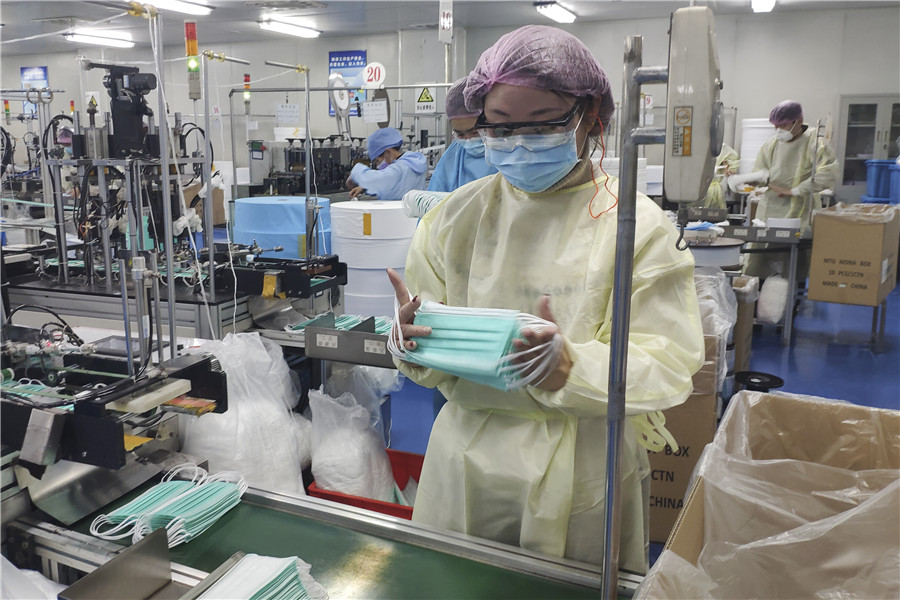 China's top market regulator is fighting price gouging on medical supplies related to the novel coronavirus and any violation may result in a fine or even criminal penalty, a senior government official said.
Chen Zhijiang, a senior official with the State Administration for Market Regulation, said at a news conference in Beijing on Thursday that special investigation teams were set up to tackle boosted prices regarding fabric used for making facial masks and non-contact digital thermometers.
He said prices for the fabric have seen abnormal hikes recently because production of the fabric lags behind that of masks.
In a recent case the administration investigated, a company raised the price of the fabric from 20,000 yuan ($2,866) per metric ton before the outbreak to a maximum of 450,000 yuan per ton.
In another case in Yuncheng, North China's Shanxi province, a medical device company sold non-contact digital thermometers for 800 yuan each, nearly 10 times the purchasing price. The company was fined 500,000 yuan for illegally pushing up prices.
To date, market regulators have investigated five price-hiking cases on the fabric and transferred about 250 cases on non-contact digital thermometers to the police.
"We will strengthen supervision on the prices of epidemic-related products and have zero-tolerance for price gouging," he said.