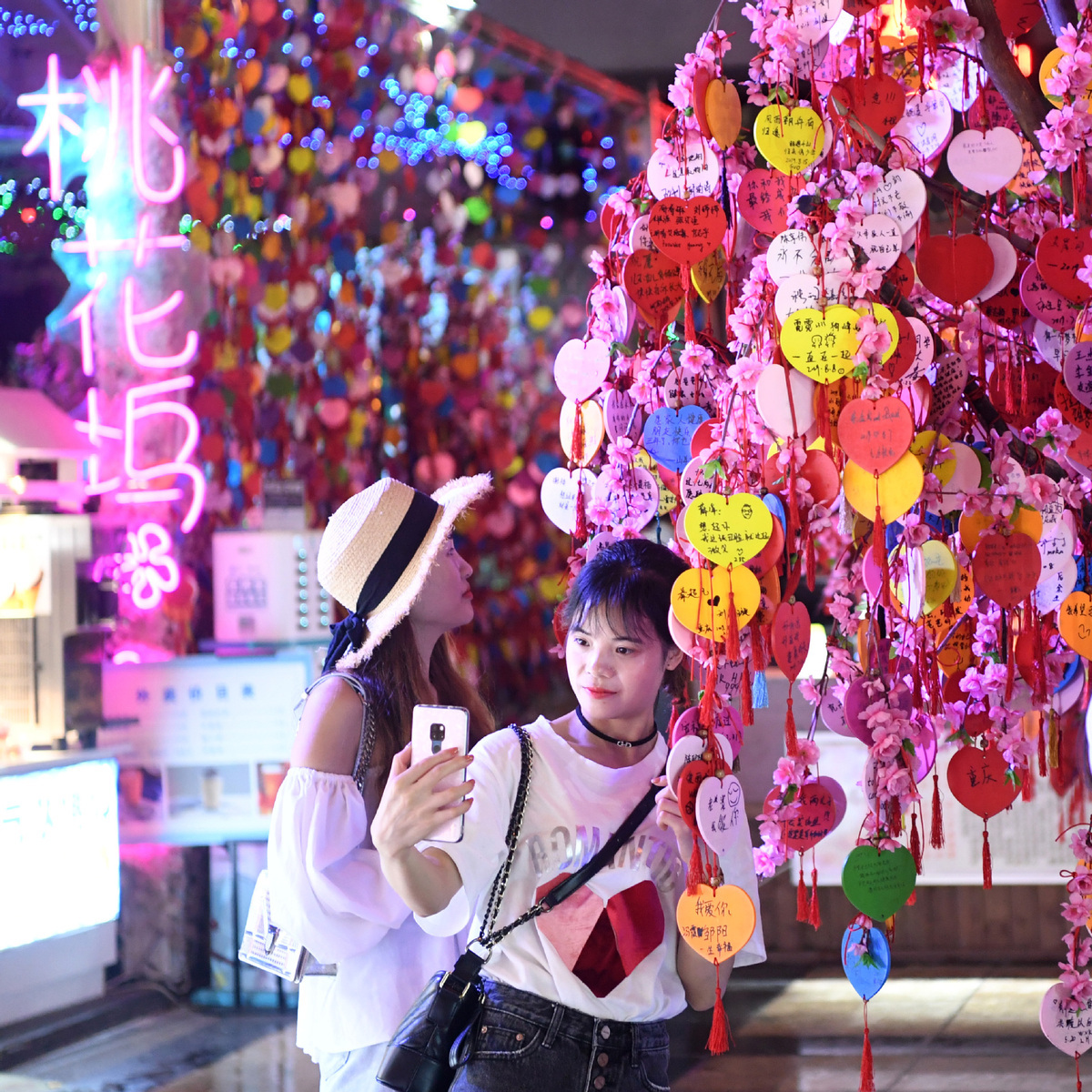 11 pm. With light music playing in the background, I light a fragrant candle, drape my face with a moisturizing mask, and rub lotion on my body. This is no daily bedtime ritual but a wake-up call of sorts. For a busy 'day' awaits. The night's young, as they say-it's time to shop. Online, that is.
Taobao is the first app I hit to check on the day's hot deals. My shopping record on the app shows I spent roughly 2,000 yuan ($285) in October. About 80 percent of the purchases were made during evenings. My top three favorites are: clothes, skincare products and cosmetics.
Money also flows out into online orders for food. With a few quick taps on my nifty smartphone, I can choose from a variety of delivery apps. Within minutes, my favorite foods arrive in thermal packaging boxes, hot, aromatic, and fresh.
Call me an old-fashioned couch potato, if you must, but I'd not like to move an inch on my cozy soft while watching movies at home. This is my favorite time of the day. I am the sole owner, boss, manager of this time-slot. Me-time, as they call it these days. I love spending quality time with myself every day. Thank heavens for nighttime e-commerce.
A latest report from market consultancy iiMedia Research showed that China's nighttime economy, or business activities between 6 pm and 6 am in the services sector, reached 22.9 trillion yuan in 2018, up 11.5 percent from 2017. With an average annual growth rate of over 16 percent, the sector is estimated to surpass 42 trillion yuan by 2022.
Besides food and personal products, my nighttime consumption includes services of a neighborhood beauty salon, which I visit every Friday evening, after the work week. For facial and body care, I pay around 10,000 yuan for a half-year subscription.
Saturday and Sunday evenings, I often hang out with my friends. Our regular routine is to eat out-Japanese, South Korean and Thai restaurants are our preferred haunts. Dinners are followed by visits to a KTV center or a sober bar. We chat, sing, drink, or just sit in silence, taking a breather to relax.
Compared to daytime, I prefer evenings to go out, which invariably involves spending some money. Why? I don't know. Maybe it is the dazzling lights, the serene atmosphere, and the fact that there is no work pressure weighing on my mind at that time. Whatever it is, I think evenings are more romantic.
Perhaps, Fu Yifu, a senior researcher at the Suning Institute of Finance, knows more. "In modern society, with the development of global economy and the accelerated pace of work of urban populations, people need more space to find release, and nighttime provides that with recreation and entertainment."
With the general increase in household income and the rise of the young generation, more and more people want to free themselves from the clutches of modern hectic lifestyles. So, nighttime activities are gradually becoming a fashion trend and economy-boosters in Asia, he said.
Fu suggested that cities should develop the sector based on local cultural elements, with support from local governments. Besides, urban public transportation system should be improved, to meet people's transport needs, so that they are willing to go out and consume during nights.