Risk comes from not knowing what you're doing. – Warren Buffett
Hospitals and healthcare have never been as important to society as they are now in the midst of a pandemic. Many hospitals, however, have suffered financially, and have had their resources used to their limits. Despite that, there is a diversified healthcare company based in Dallas, Texas, that has not only shown how important it is to a functioning society, but also shown how it has adapted in the face of long odds. This is a stock trading at a significant discount with a strong upside that is more likely to surge in the near future. That company would be Tenet Healthcare (THC). COVID-19 has economically affected all industries across the globe, and hospitals have been no exception. However, because of Tenet's multifaceted business model, and crucial contributions to healthcare, it is a strong bet to recover along with the greater healthcare industry and the US economy. While Tenet Healthcare is down ~23% YTD to September 16, it has performed significantly better than some of its competitors in the prior year, as compared to HCA Healthcare (HCA), Universal Health Services, Inc. (UHS) and Acadia Healthcare Company, Inc. (ACHC), as pictured below.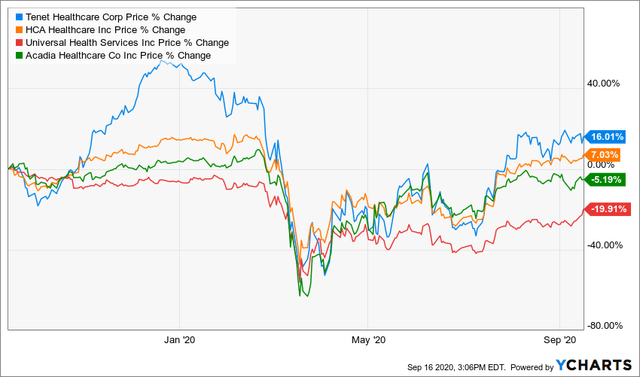 While other healthcare stocks have performed better, and those with lots of exposure to hospitals have largely suffered, just basing any evaluation of Tenet on this is misleading. Unless healthcare stocks focus on telemedicine, innovation, or biotech, they have been largely hurt from COVID. One of the major byproducts of COVID were patients cancelling elective procedures and appointments, with hospitals losing significant revenue as a result. However, as things get back to normal, and normal hospital operations return, stocks such as Tenet Healthcare, which has already been pursuing strategic initiatives to recover, should perform well.
Triangular Business Model
Tenet Healthcare has a unique business model based on three facets: Hospital Operations, United Surgical Partners International (USPI), and Conifer Health Solutions. With Hospital Operations, the company operates 65 acute care and specialty hospitals, which also include primary and specialty care clinics, diagnostic imaging centers, micro-hospitals and off-campus emergency departments. USPI has the largest ambulatory platform in the country with over 400 facilities, and includes ambulatory surgery centers, surgical hospitals, imaging centers and urgent care centers. Conifer Health Solutions provides healthcare-management services and provides services such as revenue cycle management and value-based care services to 660 clients across the country. Conifer's clients include hospitals and health systems, physician groups, health plans, and self-insured organizations, as well as the management of $25 billion in net patient revenue annually and the care of 5.9 million people.
These are all very crucial services to healthcare, and one could understand why these services would be so adversely affected by a pandemic. Despite the anticipated revenue drop, which has been accurately priced into the stock, Tenet's earnings report from Q2 was considerably better than expected. Though revenue dropped by 20%, the rest of its earnings signified recovery and an upward trajectory. Earnings per share beat by $1.97, net income from continuing operations was $88 million compared to net income of $24 million in Q2 2019, adjusted EBITDA showed a 9% year-over-year increase, and same-hospital adjusted admissions dropped 27.3% vs. an estimated -31.8%.
(Source: 10Q Filing)
Strong Strategic Management
While hospitals have lost significant revenue, and Tenet has been no exception, its management has strategically restructured the company's operations to be more conservative. Operating expenses fell 12.1% year over year to $3.4 billion. Furthermore, the company has built up its cash reserves to unprecedented levels.
As of June 30, 2020, Tenet Healthcare had cash and cash equivalents of $3.5 billion, up from $262 million at the end of 2019, along with net cash provided by operating activities at $2.4 billion by the end of Q2 2020 compared to $294 million in the same period one year ago.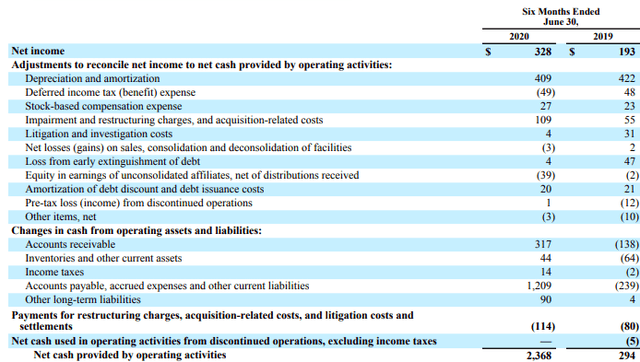 (Source: 10Q Filing)
Furthermore, the company has taken even more measures to enhance liquidity and strengthen cash flow. Based on the actions management took to reduce expenses, on top of Conifer's strong collection performance, it did not burn through a significant amount of cash. As of August 3rd, Tenet also had no borrowings outstanding under its $1.9 billion line of credit facility, and the company reduced planned CAPEX spending by $300 million. None of these metrics even considered the receipt of $850 million of federal stimulus funds nor the $350 million proceeds from the sale of its Memphis hospitals in 2020.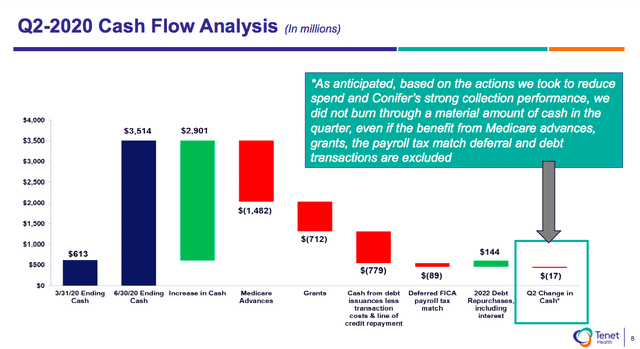 Source: Tenet Q2 Investor Presentation
Strong Technical Indicators
Tenet's technical setup looks extremely attractive at this price point as well. While the stock is about 23% off its highs from earlier in 2020, it is trading at very attractive values compared to 2014 levels. And of course, it did have a massive spike in the early 2000s as well. The technical setup now, with the 50-day moving average looking to move above its flat-to-increasing 200-day moving average, is very attractive from a momentum-based indication. If it can hold these levels and move higher, it may move quickly. Tenet has moved this way in the past, and has been known to spike higher in a very short period. Additionally, according to several metrics, Tenet is trading up to 38% below its Intrinsic Value.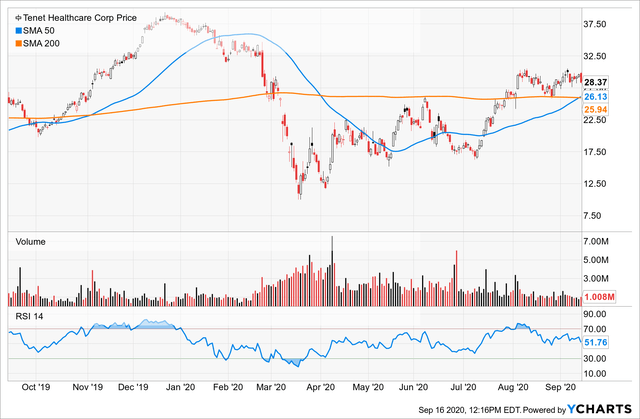 Summarizing the financials and valuation level
While THC reported a loss in revenue, every other metric from last quarter points to strong upside potential. Earnings per share beat, net income from continuing operations grew, adjusted EBITDA surprisingly grew, and same-hospital adjusted admissions dropped less than expected. Furthermore, the company is significantly slashing expenses, and has grown its cash reserves by over 1200%. The company has managed to keep its Current Ratio at a solid 1.42x and has conservatively and effectively managed its cash flow. It has no borrowings outstanding under its $1.9 billion line of credit facility and has proactively taken steps to enhance liquidity. THC is well-managed, and despite the headwinds of the pandemic, has maintained a strong balance sheet.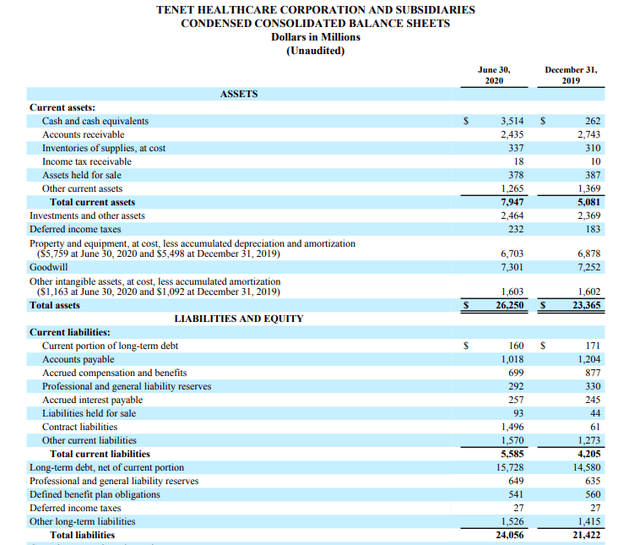 (Source: 10Q Filing)
While its Income Statement indeed reflects the effects of the pandemic, it is important to note that the company has still outperformed expectations and other hospitals. While Revenue declined, because of the company's prudent cost-cutting methods, and decrease of expenses, Operating Income surprisingly actually slightly grew. It cannot be stated enough that the company, all things considered, has weathered the storm of the pandemic, and will be in a good position to grow further as hospital operations return to normalcy.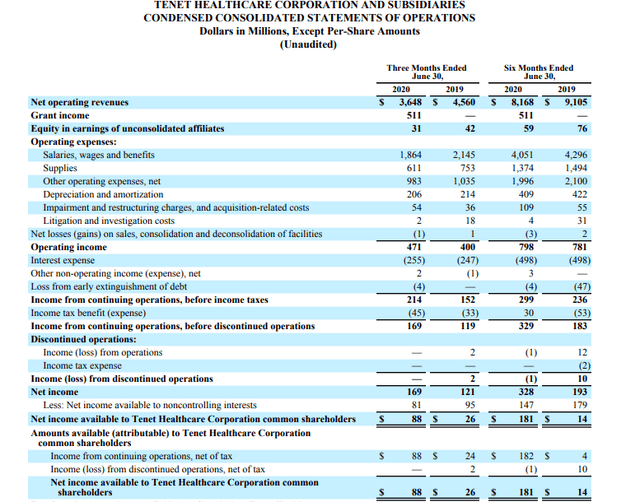 (Source: 10Q Filing)
In comparison to three of its most direct competitors – MEDNAX, Inc. (MD), Universal Health Services, and HCA Healthcare – THC shows that it has distinctly more upside than these three competitors can offer, and is largely better positioned to do well in the future.
Tenet Health (THC)

MEDNAX, Inc.

(MD)

Universal Health Services, Inc.

(UHS)

HCA Healthcare, Inc.

(HCA)

Forward P/E

12.64

8.97

11.38

11.65

P/S

0.17

0.45

0.87

0.93

P/B

N/A

1.95

1.69

N/A
While there was no Price to Book ratio available for THC, this is how many of its valuation ratios compare to competitors. THC has a higher Forward P/E ratio than its peers, while at the same time, having the lowest Price to Sales ratio. All of these things considered make THC an attractive buy. Its low P/S ratio shows that investors are paying less for each unit of sales than the competitors, while its higher Forward P/E ratio than the competitors shows that investors are willing to pay more for the stock today because of growth expectations tomorrow. These are extremely enticing numbers for investors.
Risks involved in Extended Stay
Economic Shock Of COVID: While THC through strategic moves positioned itself well to handle the economic shock of the coronavirus, that did not necessarily make the company immune to economic damage. Revenue still dropped 20%, and the stock is still down around 24% YTD. While this was a sharp, quick, and relatively short-term shock to the economic system, macroeconomic shocks of this level still cannot be ignored.
Flu Season+COVID: What's even a bigger risk than the previous economic shock of COVID is what could happen if there is ANOTHER wave of COVID. With Flu Season coming up, it is expected to be an especially messy situation and a potential public health crisis. While the initial wave of COVID caused hospital revenues to suffer greatly, largely due to the cancellation of elective procedures, what will happen when flu season comes around plus a second COVID wave? All there needs to be is a second COVID wave for hospital revenues to plummet yet again. The real questions that need to be answered are is Tenet prepared for this, is the public health ecosystem prepared for this, and is our government prepared for this? Hospital operations can be on the trajectory of normalcy, right now all they want to be. But unless the system is prepared for the potential shock of flu season+another COVID wave, it may be all for nothing. The bottom line is nobody knows when life will truly get back to normal and the pandemic will end. Until that happens, any stock has some semblance of risk.
Can It Compete with Telemedicine? If there is a second COVID wave, can THC and the broader healthcare industry compete with telemedicine? Telemedicine's growth was already astronomical. But due to COVID, it is now expected to grow faster than any other form of healthcare by 2025. Unless THC really takes note of this, innovates, and adapts to the potential disruption of telehealth, this could seriously harm its business model.
Takeaway for investors
For investors looking to bet on hospital operations returning to normalcy, a COVID recovery, and a stronger response to a potential second wave during flu season, THC is an opportunist's dream. It appears greatly undervalued and has outperformed its most direct competitors. It also has strong upward momentum, and a very shrewd and strategic management team which has positioned the company for stability, recovery and success. THC's business model has never been as important as it is today, and with an upside that has yet to be fully priced in by the market, it is a company that should perform strongly and benefit from life returning to normal. However, the company and the public health system need to make sure that they are prepared for any scenario moving forward. What happened in March and April with hospitals being pushed to their very limits cannot happen again.
*Like this article? Don't forget to hit the "Follow" button above!

Subscribers told of melt-up March 31. Now what? 
Sometimes, you might not realize your biggest portfolio risks until it's too late.
That's why it's important to pay attention to the right market data, analysis, and insights on a daily basis. Being a passive investor puts you at unnecessary risk. When you stay informed on key signals and indicators, you'll take control of your financial future.
My award-winning market research gives you everything you need to know each day, so you can be ready to act when it matters most.
Click here to gain access and try the Lead-Lag Report FREE for 14 days.
Disclosure: I/we have no positions in any stocks mentioned, and no plans to initiate any positions within the next 72 hours. I wrote this article myself, and it expresses my own opinions. I am not receiving compensation for it (other than from Seeking Alpha). I have no business relationship with any company whose stock is mentioned in this article.
Additional disclosure: This writing is for informational purposes only and Lead-Lag Publishing, LLC undertakes no obligation to update this article even if the opinions expressed change. It does not constitute an offer to sell, a solicitation to buy, or a recommendation regarding any securities transaction. It also does not offer to provide advisory or other services in any jurisdiction. The information contained in this writing should not be construed as financial or investment advice on any subject matter. Lead-Lag Publishing, LLC expressly disclaims all liability in respect to actions taken based on any or all of the information on this writing.