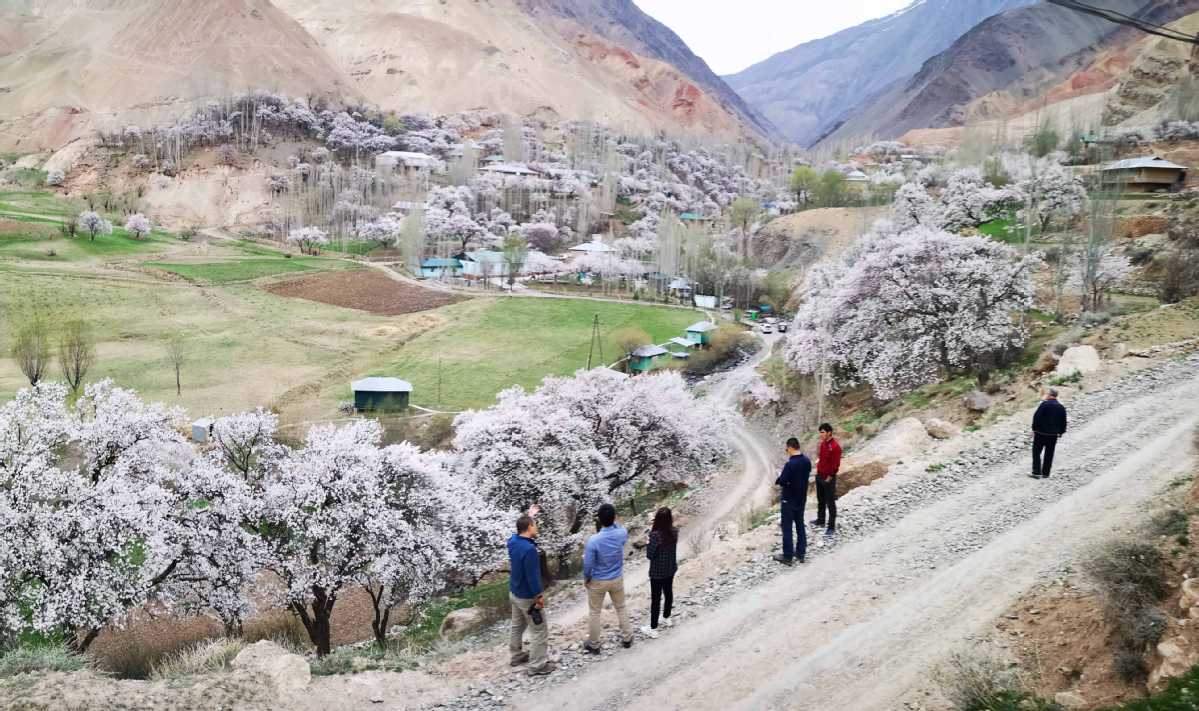 Having seen the successful opening of the China-Tajikistan-Uzbekistan highway last August, the Tajikistan ambassador to China said in Beijing that his country plans to open the China-Tajikistan-Afghanistan highway as soon as possible in a bid to boost regional transport.
Parviz Davlatzoda said Tajikistan and Afghanistan also signed an agreement on Dec 30 last year on constructing a railway line between the two countries.
He said the pact will help lay a solid foundation in building a future Turkmenistan-Afghanistan-Tajikistan railway line, which can lead to a larger China-Kyrgyzstan-Tajikistan-Afghanistan-Iran rail project.
The railway line is expected to reach the ports of Gwadar in Pakistan, Bandar Abbas and Chabahar in Iran, key trading outposts along the Belt and Road Initiative.
The ambassador noted that currently, China and Tajikistan are enjoying a new level of "further deepened comprehensive strategic partnership." It helps to link Tajikistan's national development strategy up to 2030 with the BRI.
While Tajikistan has gained international prestige since its independence in 1991, he said its real growth rate in gross domestic product reached 7.5 percent last year.
"In the past seven years, Tajikistan's annual GDP growth rate has remained at 7 percent. We are determined to maintain a stable socioeconomic development and strive to see a sustained GDP growth exceeding 7 percent," he said.
At this time, there are some 350 Chinese enterprises doing business in Tajikistan, the ambassador said, noting that his country puts attracting more Chinese visitors as one of its priorities.
Tajikistan has a pleasant climate and many beautiful scenic spots. The country intends to develop tourism projects involving ecotours, medical care, leisure and mountaineering, he said.
The country intends to open direct flights between the Tajikistan capital of Dushanbe and Beijing, and will also consider flights between Tajikistan and China's southern regions.
Chinese travelers can stay up to 45 days in Tajikistan as tourists with a single-entry visa. This can be extended to 45 days for multiple entries. It will also allow them to visit Tajikistan's neighboring countries.
"We want to see the number of Chinese tourists to our country increase manifold," he said.
In addition to major achievements in the political, economic, and security fields, the two countries have also seen satisfying achievements in cultural and humanities cooperation, including in culture, education, science, media, sports and tourism.
"These are all positive phenomena that help to bring people closer and make our friendship last forever. This is our common wealth," he added. The two neighbors established diplomatic ties in January 1992.
At present, there are some 3,500 people from Tajikistan studying in China either on scholarships or on individual expenses, the ambassador said.
Besides learning the Chinese language, he said, he hopes they can learn more specialized knowledge, which can be used to help build a better Tajikistan.