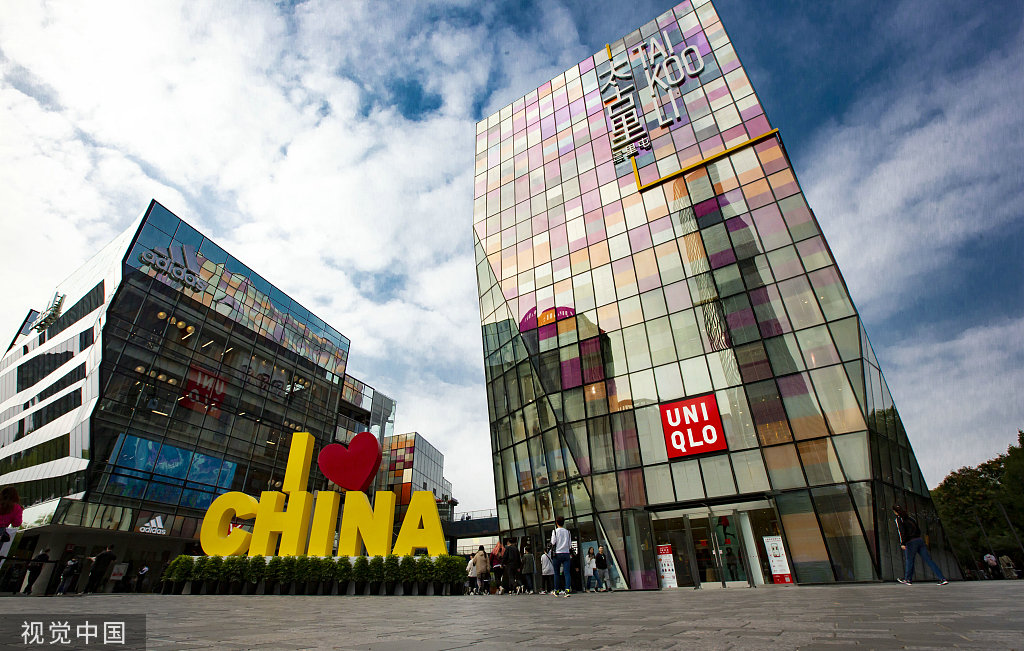 Fashion landmark TaiKoo Li Sanlitun is presenting a new concept, "Happy Hour 2.0", to encourage more consumers to shop, dine out and enjoy their leisure time by extending operating hours, jumping on the night economy bandwagon.
Taikoo Li Sanlitun, situated in the heart of the capital's Chaoyang district, is an iconic, trendy shopping center with 19 low-density buildings in southern and northern zones. It is home to various designer brands and some flagship stores. It also is a conglomerate of artworks, fashion, dining and culture. Given its sizable influx of trendsetters and huge commercial value, this fashion hub was designated as one of Beijing's four landmarks to boost night life economy. The move was made against the backdrop that China, the world's second largest economy, has seen its growth rate slow down.
"It is a comprehensive work to build a sound night life economy. It requires more than extending operating hours. Complementary facilities, such as infrastructure, transit system, and the lighting installation should be in place," said Ma Zedan, the head of TaiKoo Li Sanlitun.
TaiKoo Li Sanlitun is no stranger to such an event; for example in 2016 and 2017, two lighting festivals were presented, earning much applause. The great density of population will liven up the night life economy and bring forth new opportunities for retailers.
"Happy Hour 2.0" is from 8:30 to 11:30 pm, during which time the bar street, display of artworks and lighting installations will envelop pedestrians into an immersive and interactive atmosphere.
The number of vendors selling food and beverages outdoors has increased to 22 from six. "We hope that through all these events, we could make it a lifestyle and fully tap the potential of night life economy. TaiKoo Li Sanlitun is ready to take the lead in building a city with a booming night economy," Ma said.
Many white collar workers who have tight schedules during the daytime need to find a way to escape after work. For them, entertainment such as shopping, dining out at popular restaurants, going to bars or reading books at around-the-clock bookstores will make them willing to pay.
As China's consumption upgrade unfurls further, there will be more consumers with respectable incomes looking for quality, unique and trendy services. They value diversification and convenience. With China's night life economy springing up, it has fueled growth by further unleashing residents' consumption potential. Such upgraded trends in the demand side call for more changes on the supply side. Retailers or service providers will see their sales surge if they take advantage of such trends and launch their customized and quality services in a timely way.
Zheng Hao contributed to this story.