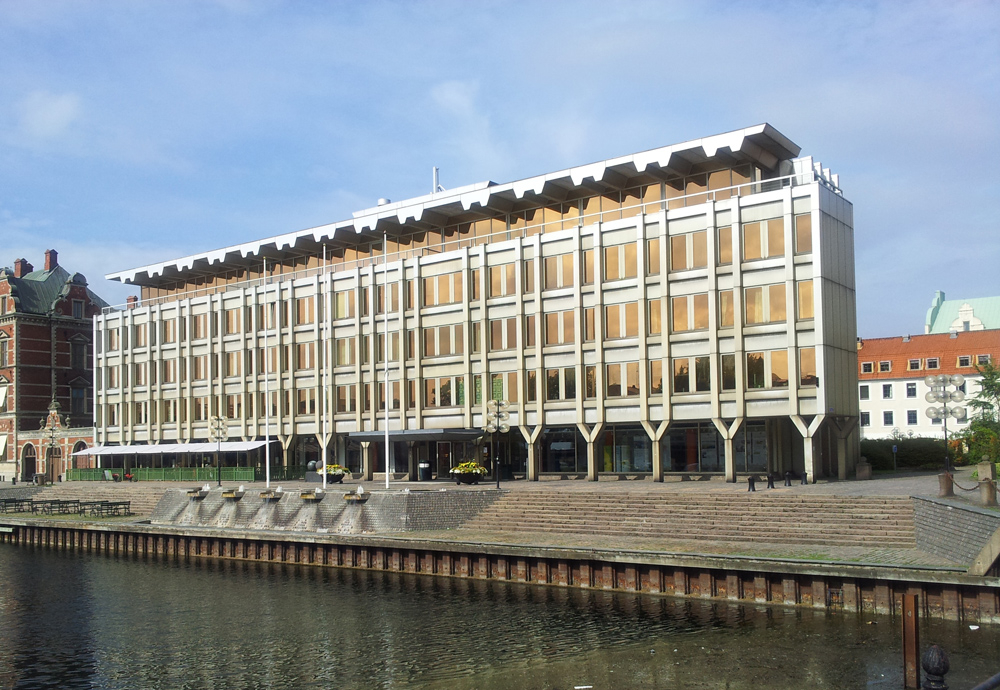 I den sydsvenske by Landskrona, der har ca. 35.000 indbyggere, har der siden december 2018 været syv eksplosioner eller bombesprængninger. Indgangspartiet til Landskronas rådhus (billedet) blev sprængt i august. (Billedkilde: Mrkommun/Wikimedia Commons)
"Löfven, du har mistet kontrollen over Sverige", skrev Ulf Kristersson, der er leder af det største oppositionsparti, centrumhøjre-partiet Moderaterne, for nylig i en artikel i avisen Aftonbladet, hvori han kritiserede den svenske statsminister Stefan Löfven for ikke at løse Sveriges største problemer. Kristersson skrev:
"To områder, som vi [Moderaterne] prioriterer højt, er lov og orden og integration. For det er der, hvor Sveriges største problemer er nu.

"Der var sidste år 306 skudepisoder og 45 personer blev skuddræbt. Ifølge politiet er antallet af dræbte fordoblet siden 2014. I den samme periode er antallet af personer, der er blevet udsat for seksuelle overgreb, tredoblet ifølge BRÅ [det svenske kriminalpræventive råd]…

"Det er nødvendigt med konkrete reformer. Vi har foreslået dem – Socialdemokraterne siger nej…

"Samtidig har vi en integrationskrise: Mere end halvdelen af alle arbejdsløse er født uden for Sverige. Der er i vores parallelsamfund [utanförskapsområden] skoler, hvor mindre end halvdelen af eleverne består i alle fag… Mange børn født i Sverige taler dårligt nok svensk, og der er en udbredt æresrelateret undertrykkelse. Også på det område har vi opfordret til reformer, men socialdemokraterne siger nej.

"Integration og indvandring hænger sammen. Det er derfor nødvendigt med en langsigtet og stram indvandringspolitik. Hovedreglen bør være midlertidige opholdstilladelser og krav om økonomisk uafhængighed ved familiesammenførsler.

"For at få permanent opholdstilladelse bør det være en betingelse, at man kan svensk og er økonomisk uafhængig."
Kristerssons kritik viser, at det politiske etablissement i Sverige er fuldt ud vidende om landets grundlæggende problemer. Det er især bemærkelsesværdigt, at kritikken kommer fra Moderaterne: Kristerssons forgænger Frederik Reinfeldt, der var statsminister i Sverige fra 2006 til 2014 og gruppeformand for Moderaterne fra 2003 til 2015, delte ikke disse bekymringer. Reinfeldt opfordrede i 2014 svenskerne til at "åbne deres hjerter" for verdens flygtninge.
"Nu beder jeg det svenske folk om at have tålmodighed med dette. At have solidaritet med verden udenfor… På lang sigt skaber vi på den måde en bedre verden… Det kommer til at koste penge, vi kommer ikke til at få råd til så meget andet, men det er virkelig mennesker, der flygter for deres liv."
Kristersson virker, i modsætning til den nuværende svenske regering, til at være vågnet op til Sveriges realiteter.
En af disse realiteter er ifølge den svenske beredskabsstyrelse (MSB) – den statslige myndighed for samfundsbeskyttelse og beredskab – at terror nu er en trussel overalt i Sverige. Selv små kommuner er derfor nødt til at forberede sig på, at der kan komme terrorhandlinger.
Jonas Eriksson, der er MSB's ansvarlige for sikkerheden i det offentlige rum, udtaler: "Man skal først og fremmest være klar over, at det kan ske i små byer… Man må dernæst overveje, hvad der kan være sårbart og følsomt i kommunen." Udtalelsen faldt, efter at politiet i august havde forpurret en potentiel terrorhandling i Östersund. Den mistænkte forsøgte at køre ind i en menneskemængde og køre folk over, skrev Aftonbladet. Det undersøges desuden, om han har forbindelse til terroristen Rakhmat Akilov, der blev dømt for at dræbe fem personer ved at pløje en lastbil ind i et stormagasin i det centrale Stockholm i april 2017.
Fra begyndelsen af 2019 til slutningen af juli var der ifølge politiets statistikker 120 eksplosioner i Sverige. Det svarer til en stigning på 45% i forhold til samme periode sidste år, hvor der var 83 eksplosioner. Det sydlige Sverige er særligt hårdt ramt, med 44 eksplosioner. "Man kan på nuværende tidspunkt kun spekulere på årsagerne. Vi har et voksende problem med kriminalitet og parallelsamfund", siger efterforskningsleder Petra Stenkula fra politiets region syd. "Det er muligt, at forsyningen af dynamit er god, mens forsyningen er noget mere begrænset, når det kommer til våben i forhold til tidligere."
I den sydsvenske by Landskrona, der har ca. 35.000 indbyggere, har der siden december 2018 været syv eksplosioner eller bombesprængninger. Indgangspartiet til Landskronas rådhus blev sprængt i august.
"Dem, der gør dette, ønsker at nedbryde samfundsordenen; Vi vil ikke lade det ske", siger byrådsmedlem Torkild Strandberg fra De Liberale.
I august blev en anden by i det sydlige Sverige, Linköping, udsat for sin anden eksplosion i år. Politiet fandt en genstand, som de formodede, kunne være sprængstof. Da den nationale bombebeskyttelsesenhed destruerede den, skete der en kraftig eksplosion, hvorved en af politiets lagerbygninger og flere andre bygninger blev ødelagt. I begyndelsen af juni var der, også i Linköping, en eksplosion, der bortsprængte store dele af en beboelsesejendom. Ganske mirakuløst blev ingen dræbt, men 20 personer blev såret. Politiet har en mistanke om, at hændelsen var banderelateret.
Den konstante utryghed, som disse hændelser giver anledning til, betyder, at efterspørgslen på sikkerhedsvagter og andre sikkerhedstjenester er steget voldsomt. Både private virksomheder og kommuner har villet ansatte flere sikkerhedsvagter. Ifølge pressechefen ved den svenske handelsorganisation, Hans Tjernström, bruger en gennemsnitlig købmand omkring 600.000 svenske kroner (419.000 danske kroner) om året på vagter og andre ting, der vedrører sikkerheden. Ifølge en kilde fra sikkerhedsbranchen får sikkerhedsfirmaer brug for at ansætte 5.300 mere i løbet af de kommende tre år.
Voldtægter og seksuelle overgreb vil fortsætte i en lind strøm. Alene i den smukke svenske universitetsby Uppsala, hvor 80% af pigerne ikke føler sig trygge i bymidten, var der inden for fire dage i begyndelsen af august fire voldtægter eller forsøg på voldtægter. I Stockholm skete der under ungdomsfestivalen "We are Sthlm" i august to voldtægter og en snes andre seksuelle overgreb. Ved sommerfestivalen "Piteå dansar och ler" i Piteå medvirkede ti mænd i en voldtægt.
Parlamentsmedlem fra Moderaterne Josefin Malmqvist opfordrede for nylig i en kronik i Aftonbladet justits- og indvandringsminister Morgan Johansson til at "Stoppe voldtægterne – du svigter kvinderne". Malmqvist skrev i artiklen:
"Udsatheden for seksualforbrydelser er steget kraftigt i Morgan Johanssons (S) tid som justitsminister: For tredie år i træk steg antallet af anmeldte voldtægter i 2018 til næsten 20 anmeldte voldtægter om dagen. I år er antallet af anmeldte voldtægter indtil nu steget med 14%… I Sverige – et af verdens fremmeste lande hvad angår ligestilling – mindskes kvinders frihed. Det, at kvinder ikke har den samme mulighed for at bevæge sig frit på gader og stræder uden af skulle bekymre sig om at være udsat for en forbrydelse, er en alvorlig indskrænkning af kvinders frihed og selvbestemmelse. Mens flere kvinder anmelder seksuelle krænkelser, er opklaringsraten for voldtægter stadig skræmmende lav. En oversigt over anmeldte voldtægter i de seneste år viser, at kun 5 ud af 100 anmeldte voldtægter fører til en domsfældelse."
Hun konkluderede:
"Det er nu på høje tid at holde inde med snakken og begynde at handle. Moderaterne og Kristdemokraternes budget øgede bevillingen til politiet, men der skal mere til. I maj 2018 vedtog et flertal i Rigsdagen Moderaternes forslag om at skærpe straffen for voldtægt. Der er ikke sket noget siden da. Det er nu på høje tid, at justitsministeren (S) begynder at gøre noget for Sveriges kvinder."
En anden befolkningsgruppe, der har lidt under manglen på lov og orden i Sverige, er børnene. Ifølge BRÅ er der sket en betragtelig forøgelse af røverier mod unge mennesker i de senere år. På ganske få år er antallet af anmeldelser af røverier mod personer under 18 år steget signifikant, fra 1.084 anmeldte røverier i 2015 til 1.896 i 2018 – en forøgelse på 75%. Der har allerede været foreløbigt 1.247 anmeldelser om røveri mod unge mennesker i 2019. Ifølge kriminolog Sven Granath fra svensk politi kan det stigende antal røverier mod enge mennesker skyldes, at det er blevet sværere at berøve ældre mennesker og at stjæle fra butikker. "Det er blevet sværere, og så går de efter en gruppe, der ikke kan beskytte sig selv så godt. De har desuden, hvad andre unge ønsker sig, såsom knallerter, telefoner og smykker", siger Granath.
Det ser ud til, at statsminister Löfven helt har mistet kontrollen over Sverige.
Judith Bergman er klummeskribent, jurist og politisk kommentator samt Distinguished Senior Fellow ved Gatestone Institute.