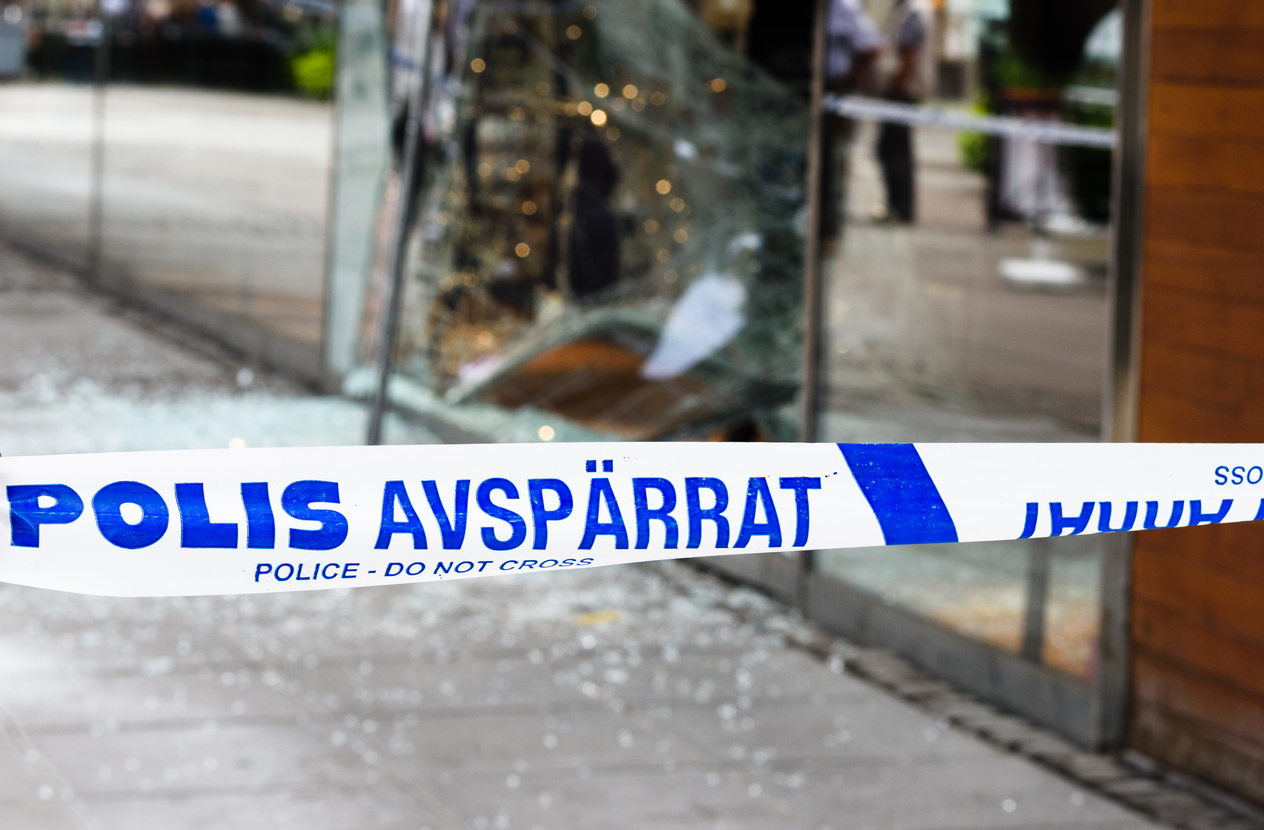 Sveriges nationale kriminaltekniske center vurderede i marts, at antallet af skyderier klassificeret som mord eller mordforsøg er steget næsten 100% siden 2012. (Billedkilde: iStock)
Der var i 2018 et rekordhøjt antal skyderier i Sverige, 306 i alt. På landsplan blev 45 dræbt og 135 såret, og de fleste skuddrab skete i Region Syd, hvor Malmø ligger. Sveriges nationale kriminaltekniske center vurderede i marts, at antallet af skyderier klassificeret som mord eller mordforsøg er steget næsten 100% siden 2012. Centret fandt også, at det mest populære våben benyttet ved skyderierne er Kalashnikov-stormgeværet. Det er et af verdens mest producerede våben, og det anvendes i mange krige", siger centrets gruppechef Mikael Högfors. "Når der ikke længere er brug for dem… smugles de ind i Sverige."
I de første seks måneder af 2018 fandt næsten hvert andet skyderi sted i et "udsat område", også kendt som no-go zoner, ifølge politiet. I 2017 viste den svenske politirapport "Utsatta områden 2017" ("Udsatte områder 2017"), at der i Sverige er 61 af sådanne områder. Områderne omfatter 200 kriminelle netværk, der vurderes at bestå af 5.000 kriminelle. Størstedelen af beboerne er ikke-vestlige indvandrere og deres efterkommere.
Politiet skrev i rapporten for 2017, at globale etniske konflikter gentages i de udsatte områder:
"… [det svenske] retsvæsen og resten af [det svenske] samfund forstår ikke disse konflikter og har ingen svar på, hvordan de kan løses. Politiet har derfor brug for at få mere viden om verden og forståelse af begivenheder for at kunne tolke, hvad der sker i områderne. Tilstedeværelsen af hjemvendte, folk, der sympatiserer med terrorgrupper såsom Islamisk Stat, al Qaeda eller al-Shabaab og repræsentanter for salafist-orienterede moskeer bidrager til spændinger mellem disse grupper og andre beboere i de udsatte områder. Siden sommeren 2014, hvor et kalifat blev proklameret i Syrien og Irak, er sekteriske spændinger øget, særligt mellem sunnier, shiiter, mellemøstlige kristne og nationalister af kurdisk oprindelse." (s. 13)
Politiet offentliggjorde den 3. juni en ny liste, hvoraf det fremgik, at der nu er 60 af sådanne områder, mod tidligere 61. Det betyder dog ikke, at meget er blevet bedre. Tværtimod.
Skyderierne fortsætter i 2019 i en lind strøm. I Malmø – en by med mere end 300.000 indbyggere, hvoraf en trediedel ifølge byens statistikker blev "født i udlandet" – blev en 25-årig mand skuddræbt udenfor et socialkontor den 10. juni, mens politiet samme dag ved Malmøs centralstation skød en mand, der sagde, at han havde en bombe i sin taske, og han skulle have opført sig truende. Samme aften blev to mænd beskudt i Malmøs bydel Lorensborg. Senere, samme nat, rystede to eksplosioner byen.
På grund af det stigende antal skyderier er kommunalt ansatte nu tilsyneladende så utrygge ved at arbejde i Malmø, at kommunen har udstukket retningslinier for, hvordan kommunalt ansatte – især dem, der arbejder i hjemmeplejen, med rehabilitering og midlertidig boliganvisning – sikrest færdes i byen i forbindelse med deres arbejde.
Under overskriften "Personlig sikkerhed – tips og råd til, hvordan du undgår at havne i uønskede situationer" giver kommunen sine ansatte råd som "Planlæg din færden – kend dit område…. Forsøg at minimere tiden fra du parkerer din cykel/bil til du går indenfor hos brugeren". Endvidere: "Inden du forlader en trappeopgang, kig da først ud og vurder omgivelserne for at undgå at havne i en uønsket situation…. hold afstand til personer, der vurderes som potentielt truende eller farlige og øg afstanden, hvis der ikke er andre personer i nærheden".
En kommunalt ansat, der modtog retningslinierne, beskylder kommunen for hykleri: "I medierne går kommunen ud og siger, at alt er godt, selv om det ikke er det. Derefter udsender de denne slags mail til sine ansatte".
Kommunens retningslinier vedrørende sikkerhed ville være passende i et område hærget af borgerkrig, sådan som Beirut engang var, fremfor i den engang fredelige by Malmø.
Tanken falder også på Beirut i forbindelse med den svenske by Linkøping, hvor en eksplosion i begyndelsen af juni bortsprang dele af en boligblok, så man skulle tro, at den lå i en krigszone. Som ved et mirakel blev ingen dræbt ved eksplosionen, men der var 20 sårede. Politiet har mistanke om, at det er bande-relateret. Få uger senere blev to mænd beskudt i Linkøbings bydel Skäggetorp, der er på politiets liste over "udsatte områder" eller "no-go zoner".
Herefter var der den 30. juni igen banderelaterede hændelser, hvor tre skyderier fandt sted i tre forskellige forstæder til Stockholm. To personer, hvoraf den ene blev skudt i hovedet, døde. En af de myrdede mænd var rapperen Rozh Shamal, der tidligere var blevet dømt for blandt andet overfald, røveri og narkoforbrydelser. I år er 11 mennesker allerede blevet skuddræbt bare i Stockholm – det er samme antal som for hele 2018. I år er mere end 20 mennesker foreløbigt blevet skuddræbt i Sverige.
"Udviklingen er uacceptabel", udtaler lederen af politiets nationale operative afdeling (Noa) Mats Löfving. "I mange tilfælde bruges der militære automatvåben. Vi ser en nedgang i antallet af sårede ved skududvekslinger, men antallet af drab går ikke ned".
Den 1. juli udtalte rigspolitichef Anders Thornberg, at situationen er "overordentlig alvorlig". Han hævdede imidlertid, at politiet ikke har mistet kontrollen over banderne og at den vigtigste opgave er at standse væksten i antallet af unge kriminelle. "For hver unge mand, der bliver skudt, er der 10-15 nye, der er rede til at træde til", sagde han. Blot få dage senere tilføjede han dog, at svenskerne skal vænne sig til skyderierne i de næste mange år:
"Vi mener, at det her [skyderierne og den grove vold] kan fortsætte fem-ti år i de særligt udsatte områder", sagde Thornberg. "Det handler også om narkotika. Narko er udbredt i samfundet, og det er almindelige mennesker, som køber det. Der findes et marked, som banderne vil fortsætte med at slås om".
Lederen af oppositionspartiet Moderaterna, Ulf Kristersson, kalder situationen for "ekstrem for et land, der ikke er i krig".
Det er ikke kun bombede bygninger og skyderier, der plager Sverige. Herudover bliver der jævnligt sat ild til biler. Den lille idylliske universitetsby Lund, der ligger tæt på Malmø, har for nylig været udsat for omfattende bilbrande. Politiet har endnu ikke identificeret mistænkte. "Vi ser en stigning i antallet af bilbrande lige nu, det er naturligvis bekymrende", siger Patrik Isacsson, der er det lokale politis områdechef i Lund. Han bemærker, at antallet af bilbrande normalt stiger i sommermånederne, men antallet er også steget hen over årene. "Vi ved endnu ikke, hvem gerningsmændene er, så jeg kan kun spekulere, men denne type ildspåsættelser begås normalt af unge mennesker. At det sker i sommerperioden kan skyldes, at unge mennesker er arbejdsløse og færdes meget udendørs".
Retssociolog ved Malmø Universitet Ingela Kolfjord, udtaler: "Jeg tror bestemt at det her er unge mennesker, som ikke har fundet deres plads i samfundet. Som føler, at de ikke accepteres, at klimaet er blevet hårdere og at de konstant betragtes som 'de andre'. Bilbrande er ikke kun en måde at vise sin utilfredshed, men også en måde at vise, at man er frustreret, fortvivlet og vred."
Den svenske forfatter Björn Ranelid er uenig. "Sverige befinder sig i krig, og det er politikerne, der bærer ansvaret", skriver han i Expressen.
"Fem nætter i streg er biler blevet sat i brand i universitetsbyen Lund. Sådanne vanvittige handlinger er foregået ved hundredvis af lejligheder forskellige steder i Sverige de seneste femten år. Fra 1955 til 1985 blev der formodentlig ikke sat ild til en eneste bil i Malmø, Gøteborg, Stockholm eller Lund… Når en kvindelig sociolog ved Malmø Universitet forklarer forbrydelserne med, at de unge er frustrerede… så vrøvler hun… Hun gentager ting, der kunne være blevet sagt af en papegøje. Ingen af disse kriminelle sulter eller mangler adgang til rent vand. De har tag over hovedet og de er blevet tilbudt gratis skolegang i ni eller tolv år. De bor ikke i faldefærdige huse. De har alle… en højere materiel standard i deres hjem end adskillige tusind børn og unge mennesker, der voksede op i Ellstorp i Malmø, hvor jeg boede med mine forældre og to søskende på 47 m2 i to små rum og et køkken fra 1949 til 1966″.
Ranelid konkluderer:
"Det kaldes opdragelse, og det savnes for tusindvis af piger og drenge i svenske hjem i dag. Det handler ikke om penge eller hvor man måtte være født i verden. Det har ikke noget at gøre med politik eller ideologi. Det handler om etik, moral og samværet mellem mennesker".
De jævnlige og udbredte bilbrande er blot et af de nye aspekter ved livet i den førhen så idylliske by Lund. I januar prøvede en såkaldt uledsaget mindreårig fra Afghanistan, Sadeq Nadir, at myrde adskillige mennesker i Lund ved at køre ind i dem med en stjålet bil. Selvom han påstod, at han var konverteret til kristendommen, viste materiale fundet i hans lejlighed, at han ønskede at begå jihad og blive en martyr. Han fortalte politiet, at hans intention havde været at dræbe. Hændelsen blev oprindeligt klassificeret som et forsøg på en terroristisk forbrydelse, men det blev senere ændret til en sigtelse for ti mordforsøg. Selv om Sadeq har indrømmet, at det var hans intention at slå ihjel, fandt den svenske byret ikke, at Sadeq kunne dømmes for hverken terrorisme eller mordforsøg. Retten fremførte som argument, at han ikke havde kørt "hurtigt nok" til at forårsage en konkret risiko for dødsfald. På samme vis fandt retten heller ikke, selv om det var påvist, at Sadeq havde skrevet tekster om jihad og martyrdøden og påstod at kæmpe Allahs sag, at han havde handlet ud fra noget religiøst terrormotiv. Han blev kun dømt for at være til fare for andre og true dem.
Hvad er den svenske regerings vurdering af den voldelige og ustabile situation? Sveriges statsminister Stefan Löfven fordømte de seneste skyderier:
"Vi har skærpet flere straffe betragteligt, inklusiv straffen for ulovlig besiddelse af våben og sprængstoffer såsom håndgranater. Vi har også givet politiet øgede beføjelser til for eksempel kameraovervågning og informationsindsamling."
Den 2. juli præsenterede regeringen forslag til bekæmpelse af væbnede angreb, herunder hårdere straffe for ulovlig besiddelse af sprængstoffer og nye beføjelser til toldere, så de kan tilbageholde pakker, der mistænkes for at indeholde våben eller sprængstoffer. Forslagene er ifølge oppositionen kommet for sent. "Dette kunne også have været gjort for et år siden. Der har aldrig været så mange skyderier i Sverige. Jeg tror, at det for de fleste er åbenlyst, at det, som regeringen har gjort, ikke er nok", sagde Johan Forssell fra oppositionspartiet Moderaterna.
Så sent som den 6. juni, på Sveriges nationaldag, bemærkede statsminister Stefan Löfven, mens han anerkendte, at Sverige "stadig har alvorlige samfundsmæssige problemer", at "Meget få ting var bedre i Sverige førhen":
"Men selv om vi kan tænke på gamle dage som en idyl med røde hytter og grønne enge, så var meget få ting bedre førhen. Ved fejringen af nationaldagen synes jeg, at vi skal fejre netop det, hvor meget vi har opnået som land. Vi har opbygget et stærkt land, hvor vi tager hånd om hinanden. Hvor samfundet tager ansvar og ingen svigtes."
Desværre føler mange svenskere sig nok frygteligt svigtet i et land, der i stigende grad ligner en krigszone.
Judith Bergman, klummeskribent, jurist og politisk kommentator, er Distinguished Senior Fellow ved Gatestone Institute.