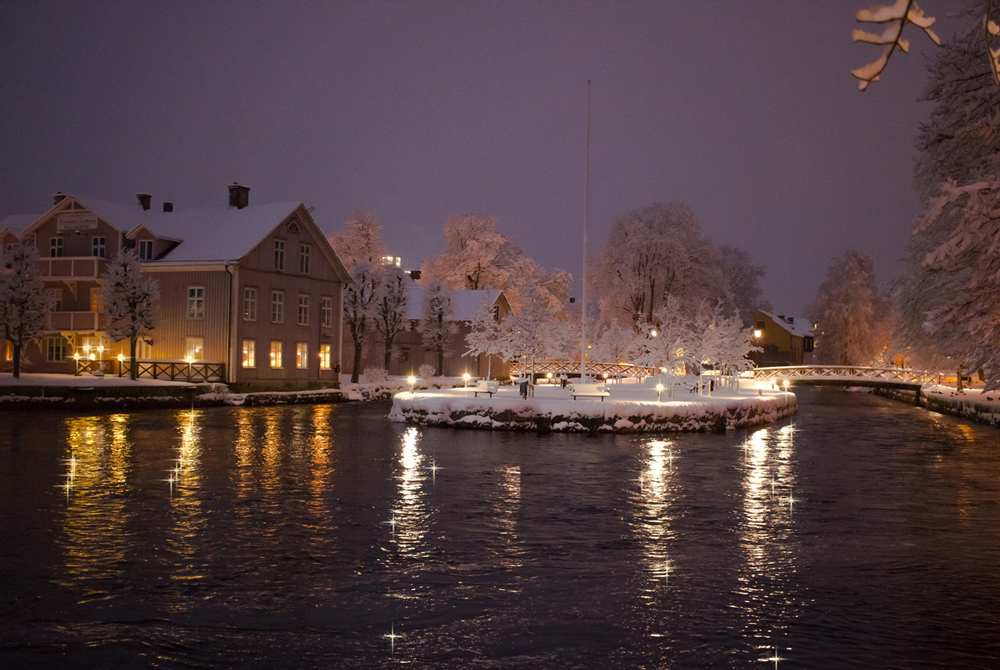 Problemer i mange kommuner får svenskere til at flytte til andre områder med færre socioøkonomiske problemer. Imellem 2012 og 2018 forlod 640 etniske svenskere den lille by Filipstad (10.000 indbyggere), mens 963 udenlandskfødte flyttede dertil. Kommunens integrationsleder Jim Frölander udtaler: "Vi oplever en befolkningsudskiftning… det er ganske enkelt en konstatering af kendsgerningerne…" Billedet: Filipstad i Sverige. (Billedkilde: iStock)
Svenskere flytter. Problemer i mange kommuner får svenskere til at flytte til andre områder med færre socioøkonomiske problemer. Emnet har for nylig vakt de etablerede svenske mediers interesse.
Tag for eksempel den lille, smukke by Filipstad (10.000 indbyggere). Svensk TV lavede for nylig en dokumentar om byen, der både befinder sig i en økonomisk og eksistentiel krise. "Vi oplever en befolkningsudskiftning. Du kan mene om det, hvad du vil… Men det er ganske enkelt en konstatering af kendsgerningerne: Det er faktisk det, som vi gennemlever, og vi skal håndtere det", siger Filipstad kommunes integrationsleder Jim Frölander i dokumentaren. Imellem 2012 og 2018 forlod 640 etniske svenskere byen, mens 963 udenlandskfødte flyttede dertil. Dem, der forlod byen, er folk i den arbejdsdygtige alder (20-64 år), hvilket betyder, at kommunens skatteindtægter falder og dermed forværrer byens økonomiske krise.
Den største tilstrømning af migranter kom under migrationskrisen i 2015. Ifølge dokumentarudsendelsen var Filipstad en af de kommuner, der procentvist modtog det største antal migranter i forhold til befolkningstallet. Filipstads kommunaldirektør Claes Hultgren skriver i Filipstads seneste økonomiske rapport:
"I Filipstad bor der cirka 750 voksne fra Syrien, Somalia, Eritrea, Afghanistan og Irak… I denne gruppe er arbejdsløsheden og afhængigheden af sociale ydelser stor, samtidigt med at uddannelsesniveau'et er meget lavt. Denne gruppe risikerer at havne i en evig marginalisering, som allerede nu belaster den kommunale økonomi tungt."
Hultgren forklarer, at mange af de nytilkomne ikke har forudsætninger for at komme ind på arbejdsmarkedet.
"[De] er måske for gamle og er analfabeter eller har et meget lavt uddannelsesniveau. Vi må så acceptere, at der bliver en del mennesker, der får behov for samfundets hjælp til deres forsørgelse."
Ifølge dokumentarudsendelsen ligger arbejdsløsheden på 80% blandt byens ikke-vestlige indvandrere, selv om byen har en alvorlig mangel på lærere og sygeplejersker. På ti år er Filipstads velfærdsudgifter steget 200% — fra 10 mio. svenske kroner (6,9 mio. DKK) i 2009 til næsten 30 mio. SEK (20,7 mio. DKK) i 2018. Prognosen for 2019 lyder på 31 mio. SEK (21,4 mio. DKK). Filipstad har ganske enkelt ikke de 30 mio. [svenske] kroner i sit budget i år.
Filipstad er langt fra den eneste svenske kommune, der har disse problemer.
Ifølge Jim Frölander kæmper kommunerne med høj arbejdsløshed, stigende fattigdom blandt børn og stigende sociale velfærdsydelser, fordi der blev lukket så mange migranter ind på relativt kort tid – ikke kun under den ekstraordinære migrationskrise i 2015, men generelt i årene 2012-2017.
"Det bliver meget mere synligt i små kommuner. Der kan man ikke isolere det [problemet] i en forstad og så [lade som om at] 'alt er som det plejer', for det påvirker samfundet som helhed, og det er også, hvad der vil ske med hele Sverige."
Frölander understreger, at han ikke er imod indvandring, og han mener, at indvandrere er "gode mennesker".
Hver fjerde kommune og hver tredie region havde ifølge en rapport fra Sveriges Kommuner och Landsting (SKL) budgetunderskud i 2018, skrev journalisten Lotta Gröning for nylig i en kronik i den svenske avis Expressen. Kommunerne skulle modtage en merbevilling på 5 mia. kr. (3,5 mia. DKK) årligt i tre år, men Gröning skriver, at det beløb slet ikke er nok, eftersom der stadig "mangler" 22 mia. kr. (15,2 mia. DKK):
"Der er ganske enkelt ikke penge nok til skoler og sundhedsvæsen – kernen i en socialdemokratisk velfærdsstat. Flygtningestrømmen skaber et enormt pres, ikke mindst på fattige kommuner, og nu stiger udgifterne til velfærd. Herudover bliver befolkningen ældre, og læg hertil en kommende recession…

"Kritikken [af regeringen] kommer ikke kun fra lokale politikere, den kommer også fra tidligere den tidligere [socialdemokratiske] partileder Göran Persson, der advarer om kommunernes sårbare situation. LO's formand Karl-Petter Thorwaldsson, der også er medlem af partiets ledelse, advarer [statsminister] Stefan Löfven om kommunernes krise og kræver handling…"
Svenskere forlader også deres byer af andre årsager, såsom en manglende personlig sikkerhed. De ofte rapporterede bandeuroligheder, overfald, skyderier, eksplosioner og bilafbrændinger har krævet sin pris. Aftonbladet havde den 31. august en historie om Emma Zetterholm, der valgte at forlade Malmø med sin familie efter at have boet i byen i 18 år. "Jeg holder stadig meget af Malmø, men min familie og jeg kan ikke leve her", sagde hun til avisen. "Volden kom tættere og tættere på mig, min familie, venner og kolleger."
Zetterholm flyttede for seks år siden til et idyllisk område med gamle villaer. Snart blev nætterne imidlertid fyldt med bilafbrændinger, skyderier og eksplosioner. Der var en ulovlig natklub i nærheden, og larmen ved den – eksplosioner og skyderier – fortsatte natten lang. Naboer, der klagede, fik verbale trusler og sten kastet ind gennem vinduet. En dag blev en mand myrdet ved højlys dag tæt på en legeplads fuld af mennesker. Andre gange er børn næsten blevet ramt af kugler, der er gået gennem vinduer.
Zetterholm forklarer, at hun følte, at hendes families situation var usædvanlig, men hun blev ved med at prøve at overbevise sig selv om, at det ikke var så farligt endda. Hun fortæller, at det føles "forfærdeligt" at være en del af en tendens, hvor "veluddannede, hvide middelklassemænd flygter fra problematiske områder."
"Jeg har forsøgt at forsvare Malmø," sagde hun, "men efterhånden som tiden går, uden at man ser nogen forbedringer, ender man med at miste modet". Hun fortalte, at mindst ti familier nu har forladt området, hvoraf mange er flyttet til andre områder i det sydlige Sverige.
Mange svenskere forlader deres byer, og nogle har sågar besluttet helt at forlade landet. Der var den 4. september en eksplosion foran et lejlighedskompleks i Malmø. Braget kunne høres i mange dele af byen. En dansker i nabolaget, Magne Juul, fortalte Kvällsposten at han efter denne seneste eksplosion nu overvejer at flytte tilbage til Danmark efter at have boet i Malmø i 15 år.
Den tidligere arbejdsminister Sven Otto Littorin, der nu bor og arbejder i Dubai, skrev for nylig på sin Facebookside:
"Jeg kan ikke sige at jeg fortryder beslutningen om at flytte udenlands. Vi kom til et land med et af de laveste antal anmeldte forbrydelser i verden… Spørgsmålet er, om man tør og vil flytte tilbage [til Sverige]".
Littorin, der tidligere også var partisekretær for Moderaterne, følte sig kaldet til at skrive sit indlæg efter at have læst om en svensk dreng, der blev mishandlet, berøvet og truet på livet af bander, mens de svenske myndigheder fortalte ham, at han ikke skulle melde det til politiet, da det ville gøre tingene 'værre' for ham. "Dette var en af de mest modbydelige tekster, som jeg længe har læst", skrev den tidligere minister om historien.
"Som forælder bliver man vred, desperat… Konsekvensen bliver, at dem, der kan og har råd til det, flytter. Fra Uppsala eller Saltjö Boo. Til en mere fredelig del af landet eller udenlands. Dem, der ikke har den mulighed [at flytte], bliver tilbage. Det er forfærdeligt…"
Som det er blevet dokumenteret af det statistiske centralbureau, er Sverige dog blandt de lande, der har den højeste procentandel af beboere, der oplever problemer i det område, hvor de bor. Det statistiske centralbureau fortæller om år 2017, at: "Omkring 13% af befolkningen i Sverige oplever i deres eget boligområde problemer med kriminalitet, vold og hærværk. Det er en af de højeste andele i Europa." Til sammenligning var de andre nordiske lande placeret blandt de lande, hvor den laveste andel af befolkningen oplevede sådanne problemer i deres eget boligområde. I Norge oplever omkring 4% problemer med vold, kriminalitet og hærværk. Den tilsvarende andel for Danmark og Finland var henholdsvist 8% og 6%.
Der er derfor ikke noget at sige til, at mange svenskere vælger at forlade deres hjem – enten for at søge svenske byer, der fungerer bedre, eller helt andre lande.
Judith Bergman, klummeskribent, jurist og politisk kommentator, er Distinguished Senior Fellow ved Gatestone Institute.