I recently re-watched the movie, Moneyball, on Netflix (NFLX), and it reminded me on how much I enjoyed watching it the first time. For those who are unfamiliar with this Brad Pitt movie, it's a portrayal of Billy Beane in 2002 as the general manager of the Oakland Athletics major league baseball team.
The premise of the movie is that he took a differentiated and unorthodox approach towards the recruitment and fielding of players. For him, it was less about assembling a roster of multi-million dollar all-stars, and more about assembling on-base percentages, which leads to runs, which leads to wins.
This reminded me a lot about STORE Capital (STOR). Like Billy Beane, Christopher Volk, the CEO, takes a differentiated, more fundamental metrics-oriented approach towards how he assembles STORE's property portfolio. In this article, I evaluate what I like about his approach, and show why I believe the stock is worth owning at the current valuation; so let's get started.

(Source: Company website)
STORE Is A Differentiated REIT
STORE Capital is a net lease REIT that focuses on owning profit center real estate, leased to middle-market and larger companies across the U.S. Its portfolio currently consists of 2,554 properties leased to 503 tenants. While STORE Capital may be a relative newcomer to the net lease space, its CEO is not. Prior to founding STORE, Christopher Volk founded and sold Franchise Finance Corporation of America, and founded Spirit Realty Capital (SRC), another publicly-traded net lease REIT.
What differentiates STORE from other net lease REITs is its focus on operationally-essential profit center real estate. Like in the movie, Moneyball, it's all about the numbers from the "ground up" (pun intended) for STORE's management. Hence, the company requires unit-level profit and loss reporting from virtually all (98%) of its tenants.
This extraordinary level of visibility allows management to consistently assess the health of its portfolio. I see this data-oriented approach as being a big advantage, as it takes the guesswork out of trying to estimate tenant health. It also makes the company more nimble, in that it can address tenant issues at the outset, before they get bigger.
While investment-grade rated tenants are often prized with low cap rates, STORE's CEO sees pricing inefficiencies in this coveted space. In his recent article, he noted that the landlords of these tenants pay more for those properties with short lease durations, and a "near universal absence of property-level financial reporting". In addition, he noted that paying for this perceived quality may not be worth it in the end, as "the odds of having a BBB- rated tenant retain their investment-grade credit rating after ten years are less than five in ten."
STORE takes a differentiated approach in assembling its portfolio by targeting non-rated tenants, who have been largely overlooked by traditional net lease landlords. By having access to unit-level reporting, management is able to come up with an internal method for evaluating credit-worthiness. As of the end of Q2, 71% of STORE's tenants were rated as investment-grade quality.
I see STORE's numbers-focused approach as being a key advantage, as it doesn't have to sacrifice contract quality for higher cap rates. This is evidenced by the high 7.9% cap rate that the company has averaged since 2017. This high cap rate on a quality tenant base provides STORE with a strong margin of safety, compared to other REITs that may acquire properties at much lower cap rates for the same perceived credit quality.
This, combined with a long runway for industry consolidation (management estimates a $3 Trillion market size), translates into strong shareholder returns. As seen below, in the period 2015 – 2019, AFFO has grown at a 7.5% CAGR, and dividend growth hasn't been too far behind, with a 6.9% CAGR over this time frame.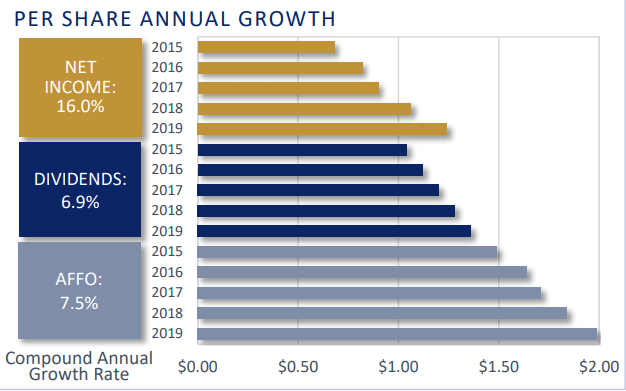 (Source: Q2'20 Earnings Presentation)
It goes without saying that COVID-19 has been challenging for all commercial REITs, with STORE Capital being one of them. However, I'm encouraged by the strong pickup in rent collection rates, since the depths of the pandemic. As seen below, the rent collection rate has followed that of the rate of STORE openings since May. Looking forward to Q3 results, I expect to see far better results, as the rent collection rate has continued to trend up. This is supported by the 88% and 90% rent collection rates that STORE has seen for the months of September and October.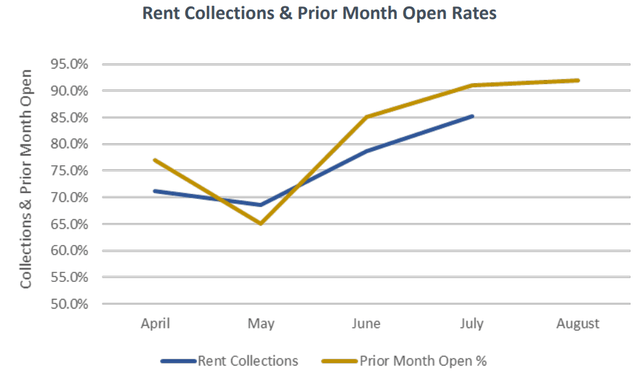 (Source: Q2'20 Earnings Presentation)
In the meantime, STORE has the benefit of employing master leases on the vast majority (93%) of its portfolio, with a weighted average annual lease escalation rate of 1.9%. As seen below, a 1.8% lease escalation rate translates into a 2.8% annual AFFO/share growth. This, combined with reinvested cash flows helps the company to target a greater than 5% internal growth rate.

(Source: Q2'20 Earnings Presentation)
Based on this information, and analysts' 2020 FFO/share estimate of $1.82, I wanted to calculate what the shares are worth using an NPV analysis. As seen below, I apply a modest 5% FFO/share growth rate, with a discount rate of 2%. Applying a 15 year time-frame, I arrive at what I consider to be a fair value of $33.70 per share. This equates to a 25% upside, based on the current price of $27.01.

(Created by author)
Investor Takeaway
STORE Capital's differentiated, numbers-oriented approach towards assembling a winning portfolio reminds me of Billy Beane's approach towards running the Oakland Athletics in the movie, Moneyball. Although the Oakland A's didn't win the World Series in 2002, it's remarkable what they were able to accomplish with their level of resources. What's interesting is that STORE's CEO actually referenced one of Michael Lewis' (author of Moneyball) other books in his recent article. While STORE has had some near term challenges from the pandemic, I'm encouraged by the recent rent collection rates, and see the strategy paying dividends in the long run.
Meanwhile, I find the current 5.3% dividend yield to be attractive in this low-yield environment, with a safe 79% payout ratio based on the 2020 FFO/share estimate. As the NPV exercise demonstrated, I see a strong 25% upside for the shares, based on my $33.70 price target. The shares are a Buy for both income and growth.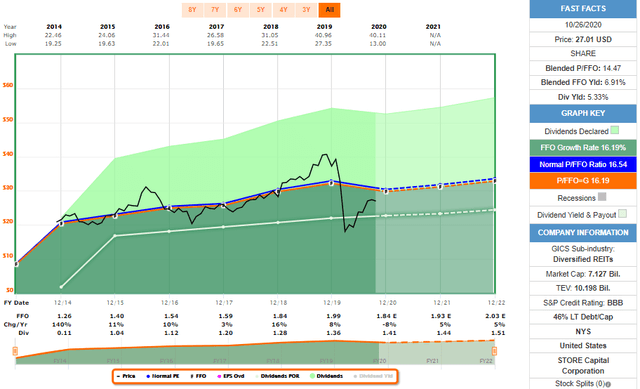 (Source: F.A.S.T. Graphs)
Thanks for reading! If you enjoyed this piece, then please click "Follow" next to my name at the top to receive my future articles. All the best.
Disclosure: I am/we are long STOR. I wrote this article myself, and it expresses my own opinions. I am not receiving compensation for it (other than from Seeking Alpha). I have no business relationship with any company whose stock is mentioned in this article.
Additional disclosure: This article is for informational purposes and does not constitute as financial advice. Readers are encouraged and expected to perform due diligence and draw their own conclusions prior to making any investment decisions.