The no-premium merger between SSR Mining (SSRM) and Alacer Gold (OTCPK:ALIAF) (OTC:ALACF), initially announced in May, is now complete. This combination has created a new emerging heavyweight precious metals producer that is worth a look with gold prices near all-time highs.
Some investors have shied away from the name now that a large amount of their production will come from one operation in Turkey, but we think this hesitation is unwarranted and that the merged company provides one of the better value opportunities among intermediate gold producers.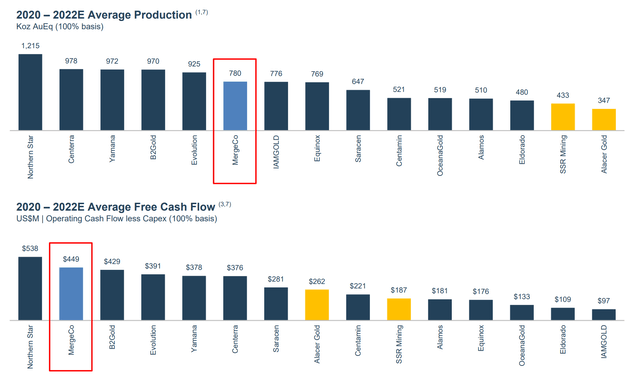 Pro-forma company estimates (Source: Company presentation)
Combined Company Shows Strong Fundamentals and High Margins
The newly bulked-up miner will have an estimated annual production profile of roughly 750,000 gold-equivalent ounces per year at all-in sustaining costs around $900/oz, making it one of the larger gold producers with one of the best cost profiles in the intermediate-sized group.
The company will continue to be called SSR Mining but will be run by Alacer's management team based out of Alacer's original office in Denver, Colorado. This is a similar outcome to the Barrick-Randgold combination, a zero-premium merger where the smaller company's management team ends up running the show, with SSR's Paul Benson making way for Alacer CEO Rodney Antal and his core group.
SSR 2.0 will have a unique mix of low-cost production assets across four jurisdictions, from an underground mine to heap leach, flotation and even pressure oxidation open-pit operations. The portfolio going forward includes three primary gold mines (Copler in Turkey, Marigold in the US, and Seabee in Canada) and the silver-lead-zinc Puna operation in Argentina.
Copler and Seabee, in particular, have very low costs, despite relatively complex processing and mining methods. It is a testament to the management teams that they could turn each operation into consistent cash cows after others dismissed their full potential. Alacer's Copler mine will provide about 50% of the combined company's total output, which will concentrate more risk in this one operation.
A healthy balance sheet of over $700 million in cash and manageable long-term debt levels under $500 million, along with projected annual free cash flow generation over $400 million, will give management options when it comes to developing assets or acquiring new ones. They may also look at ways to return capital to shareholders through a dividend or share buybacks.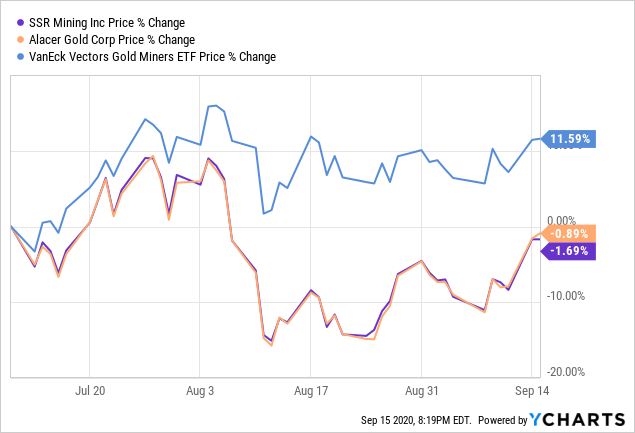 Share performance versus index since shareholder vote (Source: YCharts)
Stock Price Has Lagged Peers Since Deal Was Approved
SSR, formerly known as Silver Standard Resources until 2017, has transformed itself quite remarkably over the years. From a storage warehouse of silver exploration and development assets to a single-asset silver producer and now a majority gold miner, the company is closing in on becoming one of the largest precious metal producers in the industry.
After a good year for the company in 2019, management made a surprise move to complete a no-premium merger of equals with Alacer Gold, diversifying away from the Americas and into Turkey. Many investors preferred SSR's previous geographical focus, which was one of its defining traits over other mid-tiers, which typically had more exposure in Africa and other emerging mining jurisdictions.
The stock initially sold off but then recovered as part of the broader strength in the gold sector. Since the merger was approved on July 10th, however, the stock has underperformed its peer group. It is down 2% versus a 10% gain for the GDX Gold Miners ETF (GDX) over the same period.
Both current and potential new investors concerned over Turkey should know that they're in good hands. The geopolitical risk factor is offset by a partnership at Copler with local company Lidya Madencilik that owns 5% of the mine. Lidya is part of a large Turkish conglomerate called Calik Holding and is active in the mining industry. They are also Sandstorm Gold's (NYSE:SAND) 70% partner and operator of the Hod Maden project in Turkey. As well, Alacer had been working in the country on the Copler project since 1998 and has been partnered with Lidya on it since 2009 before beginning construction of the mine. This long time period without any issues points to management's ability to develop strong local ties and operate there successfully.
As with many other recent deals like Equinox (OTC:EQX)-Leagold (OTCQX:LMCNF) and Endeavour (OTCQX:EDVMF)-Semafo (OTCPK:SEMFF), one of the main motivations behind this merger seems to be size and liquidity. The larger company will have a better capital markets presence, and by adding an Australian listing will attract even more investment flows as more generalists start to look at adding gold to their portfolio amid the ongoing COVID-19 pandemic.
The recent weakness in the share price presents an opportunity for investors to take advantage and get gold and silver exposure through a well-run, profitable and liquid vehicle.
Balance Sheet and Scale Provide Platform for Further Acquisitions
SSR has grown into what it is today by acquiring mines already in production and finding ways to improve them. While the current market may be difficult for other deals in the near term due to record valuations for many precious metals companies, opportunities may present themselves for this growing gold miner.
Before the Alacer deal, SSR was also an early strategic investor in SilverCrest Metals (SILV). Many speculated that they would eventually go from their initial 10% position to a full takeover as the high-grade project in Mexico progressed through a maiden resource, economic study, and permitting. Ultimately, SSR sold its entire interest for a C$90 million profit after the stock had run up 170% since its initial investment. The sale was announced just days after the proposed merger with Alacer became public, making it clear where their priorities were going forward.
Instead of Alacer, market observers might have expected SSR's target to be more likely to be a company in Canada or the US. A prime candidate would have been Pretium Resources (PVG) and its high-grade Brucejack mine in British Columbia, a former asset of SSR's which has long been touted as a takeover target, being a sizeable single-asset producer in a premium jurisdiction. A tie-up between the two could still make a lot of sense, and investors would be happy to see an additional asset in Canada being added to the portfolio.
Management will likely take some time before eyeing up further opportunities. Still, the enlarged company has the resources to make the right deal happen and continue SSR's track record of growth by acquisition.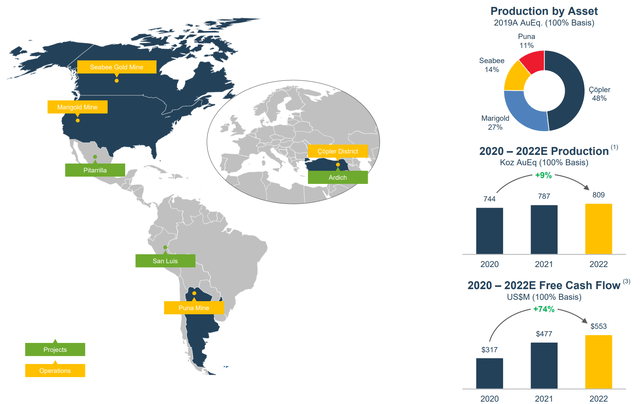 Merged company asset portfolio (Source: Company presentation)
Growth Opportunities Add Further Upside
After closing the transaction and officially handing things over, management will outline their near-term plans. These could include a new dividend or investments in some of their development projects, either of which would easily be supported by projected cash flow margins.
The silver-lead-zinc Chinchillas expansion project in Argentina is now in operation and 100% owned by SSR after they paid $32 million to buy Golden Arrow Resources for its 25% stake in the asset last fall. Management's timing appears to be good, with silver prices running higher than the $19.50/oz used in the economic study to justify the mine's construction in 2018. The Pitarrilla silver project in Mexico also provides additional exposure to the precious metal through its large resource of 500 million ounces of silver in measured & indicated categories. A large capex bill and complex metallurgy limit its potential, however, the project could be feasible at current prices or could be sold to another group looking for silver assets in a hot market.
On the gold side, the company is exploring the sulphide potential at Marigold, with drilling programs targeting the recently-acquired Trenton Canyon land package. Initial results from earlier this year included an eye-popping 5.19 g/t gold over 94.5 metres. Another growth option includes the San Luis project in Peru. San Luis is small but very high-grade at 22.4 g/t gold, although the project seems to have been put on hold for an extended time. Management has not commented much on this asset recently, but it would be an exciting exploration project for investors in the future if they can reactivate it.
Concluding Thoughts
After a surprise move to acquire a significant new production asset in Turkey, SSR's shares have underperformed the sector. We believe this discount is unwarranted due to an experienced management team with a long history there and a local partner that will help them navigate this emerging mining jurisdiction. The lagging share price provides an excellent window to consider adding this newly-enlarged gold producer with high margins that should deliver outsized performance over the coming quarters and years.
Several organic growth opportunities are available to management at current gold and silver prices, and the merged company could also look at further M&A ideas given their financial liquidity and size. Initiating a dividend will not only reward shareholders but could also be a catalyst for attracting more generalist investors who are just starting to look at the sector with metal prices near all-time highs.
Disclosure: I/we have no positions in any stocks mentioned, and no plans to initiate any positions within the next 72 hours. I wrote this article myself, and it expresses my own opinions. I am not receiving compensation for it (other than from Seeking Alpha). I have no business relationship with any company whose stock is mentioned in this article.