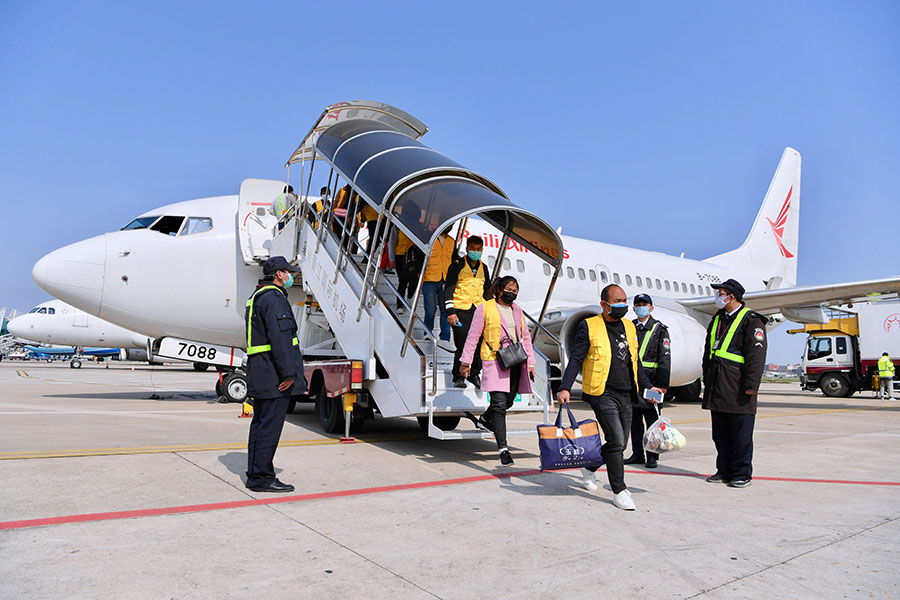 Governments at various levels in China are innovating several modes of transport to enable workers to return to their jobs after the Lunar New Year holiday that got extended due to the COVID-19 outbreak.
Their spirited efforts appear to be paying off. Tang Qiayou, a migrant worker from Wenshan in Southwest China's Yunnan province, will probably agree. "I am excited to travel back to Guangdong by charter trains," he said.
Tang, who had been working in a hardware factory in Dongguan, a manufacturing hub in the Pearl River Delta, went to a hospital for a physical check-up before he was sent to the railway station in a designated bus arranged by the local government.
"All of us on the chartered train have undergone health check-ups. We are happy that we could return to Guangdong and resume work," said Tang.
Tang was one of the 496 migrant workers traveling on the first chartered high-speed train on Tuesday between Yunnan and Guangdong, as part of the favorable policies from the local governments to help enterprises resume operation.
As the major destinations of the country's migrant workers, many cities, such as Hangzhou and Ningbo in Zhejiang province, Dongguan and Shenzhen in Guangdong province, Xiamen in Fujian province, and Xi'an in Shaanxi province, have launched a series of policies to help enterprises resolve employee shortage in resuming work. Local governments are now using chartered buses, trains and airplanes to bring migrant workers back to work.
In Yiwu of Zhejiang province, which is dubbed the world's small commodities hub, the local city government is offering subsidies to exporters who are using chartered buses to ferry workers, to help reduce the impact of the epidemic and ensure early production resumption.
According to the city's information office, by Feb 20, 626 scaled industrial enterprises in Yiwu had resumed production, accounting for 97 percent of the total.
With increasing demand from enterprises for chartered planes, on Feb 18, China Eastern Airlines launched a customized chartered plane service. Enterprises or groups outside Hubei with demands of carrying 50 employees and above can now apply for the service.
By 11 pm on Feb 19, the company received 60 orders for chartered flights, involving around 8,000 passengers.
Tang Shemin, an official at the National Development and Reform Commission, said that at present, resumption of work in an orderly manner is an important measure to guarantee the smooth running of the economy and society.
According to the NDRC, currently, the reopening ratio for industrial enterprises in developed regions, including Guangdong, Jiangsu and Shanghai, surpassed 50 percent. However, during the process of work resumption, medium, small-and micro-sized companies still face problems, such as labor shortage, impeded transportation and logistics, and insufficient industrial chain support.
"The government will continue to take active steps to help enterprises overcome difficulties and resume operation," Tang said.
Apart from sending out chartered transport for workers, local governments are offering subsidies to related human resource departments and enterprises who expand recruitment.
On Feb 19, the Xi'an Municipal Human Resources and Social Security Bureau launched 10 measures. Among the measures, one is subsidies up to 3,000 yuan ($426.8) per person which will be offered to enterprises that recruit new employees, sign a labor contract for more than one year and pay social security.
Xia Qingfeng, director of the Bureau of Publicity of the State-owned Assets Supervision and Administration Commission of the State Council, said that the commission is stepping up recruitment efforts to stabilize employment and economic operations.
"By promoting work resumption in an orderly manner, more employees are brought back to workplaces. The industrial chain may also drive employment. The commission will pay close attention to the employment situation of enterprises, taking advantage of various measures to further stabilize employment," he said.