Oil prices rise and fall based in large part on the perception of the future more so than on the reality of today. Recent months have seen crude prices rise nicely as it appears the worst of the COVID-19 pandemic is past us (economically at least, though the death toll tells a different story). Unfortunately, a new set of data provided by the EIA (Energy Information Administration) in its STEO (Short-Term Energy Outlook) reveals that while the picture is still likely bullish in the long run, it's not quite as appealing as previously anticipated. This goes to show how quickly expectations in the industry can change and it underscores how cautious investors should be when making investment decisions here.
Some mixed changes
When it comes to data, it can sometimes be illustrative to start zoomed in and to zoom out from there. Case in point, consider production figures from two of the three major sources of global oil output: the US and OPEC. In the table below, you can see US production expectations and OPEC production expectations compared to what the EIA anticipated one month ago. No revisions were made to either group for 2019. At this point in the year, any changes for last year are unlikely to occur. This year, however, is different. If the EIA is accurate, output this year in the US should average around 11.38 million barrels per day. This is substantially lower than the 12.25 million barrels per day seen in 2019, but it's still 0.12 million barrels per day above the 11.26 million barrels per day the organization forecasted in its August report.

Created by Author
The US isn't the only nation seeing an increase in production expectations. OPEC as a group should now produce around 25.78 million barrels per day. This is 0.03 million barrels per day higher than what the EIA thought it would be a month ago. Put together, the US and OPEC should see collective oil production rise by 54.9 million barrels this year. Next year, however, this should change, with US production expected to average 0.06 million barrels per day less and OPEC's expected to average a hefty 0.32 million barrels per day less. This collectively translates to 138.7 million fewer barrels on the market next year, netting out for this year and next to 83.8 million barrels is lower output compared to what would have been produced had the EIA's August numbers been accurate.
At first glance, these data points might be encouraging, but it's important to keep in mind that there's more to the equation in the supply/demand balance than just supply. Demand is just as important. In the table below, you can see the breakdown of these on a global scale compared to August's figures. This year, the expectation is for global supply to average 94.60 million barrels per day, about 0.38 million barrels per day higher than previously anticipated, but for demand to fall to 93.07 million barrels per day. This is weaker prior to expectations to the tune of 0.07 million barrels per day. In all, this should result in the supply/demand balance tilting even more in favor of excess output for the year. Current forecasts now call for this excess to average 1.53 million barrels per day. This works out to nearly 560 million barrels of extra crude. Next year, the picture doesn't really look much better. On a net basis, we should see the picture worsen even more next year, this time by 193.45 million barrels compared to prior expectations.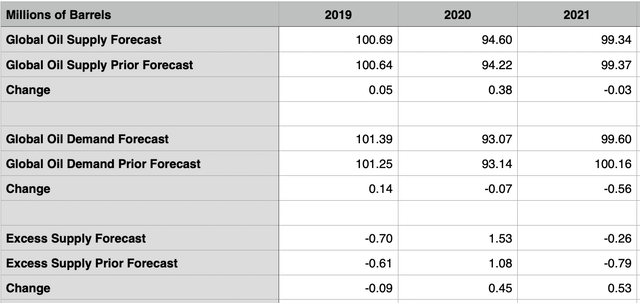 Created by Author
There is no doubt that, if these figures are accurate, the global picture for oil will be worse than previously anticipated. This much is reflected in the estimate for OECD commercial inventories. If the EIA is accurate in its assumptions, OECD inventories should end this year at 2.939 billion barrels. This is 80 million barrels greater than expected. That covers 2020 alone. In 2021, commercial crude inventories among OECD nations should be around 2.895 billion barrels. This does represent a decrease over the 2.939 billion expected at the end of the current fiscal year, but it's still 138 million barrels higher than August's report that called for inventories to end at 2.757 billion barrels.

Created by Author
Takeaway
Based on the data provided, it seems pretty clear to me at the moment that the picture for oil has just worsened some. Given current forecasts, by the end of next year, we should have an OECD glut of around 110.4 million barrels. This is enough to stop pricing from moving materially higher from here, but crude pricing of around $50 per barrel shouldn't be unrealistic. We also need to consider that a lot can happen in the following months and a change in expectations (from the start of the third quarter this year through the end of next year) of as little as 0.20 million barrels per day in favor of a lower supply/demand imbalance can completely offset this glut. Of course, this possibility extends in both directions, but with OPEC and some of its non-OPEC allies paying attention to the crude markets, it's hard to imagine them not stepping in to deal with such a modest amount of excess output.
Crude Value Insights offers you an investing service and community focused on oil and natural gas. We focus on cash flow and the companies that generate it, leading to value and growth prospects with real potential.
Subscribers get to use a 50+ stock model account, in-depth cash flow analyses of E&P firms, and live chat discussion of the sector.
Sign up today for your two-week free trial and get a new lease on oil & gas!
Disclosure: I/we have no positions in any stocks mentioned, and no plans to initiate any positions within the next 72 hours. I wrote this article myself, and it expresses my own opinions. I am not receiving compensation for it (other than from Seeking Alpha). I have no business relationship with any company whose stock is mentioned in this article.