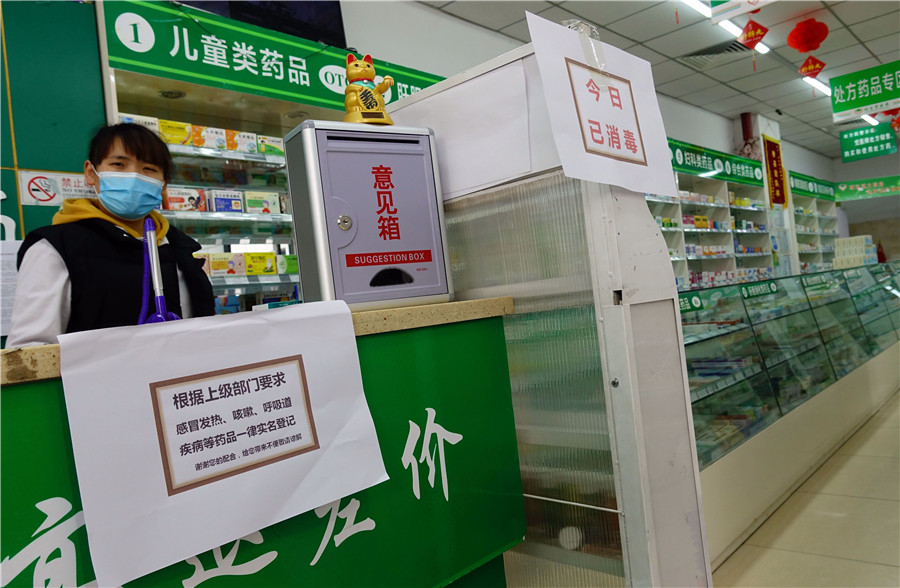 A number of cities in China have stipulated measures to oversee-or even halt-the sale of cough and cold remedies to screen out all potential novel coronavirus carriers.
On Saturday, Hangzhou, Zhejiang province, temporarily halted the sales of cough and cold remedies at all retail drugstores in the city.
On Sunday, the city of Shiyan and the Huangshigang district of Huangshi city in Hubei province implemented similar measures, urging people with symptoms to go to hospitals for proper checks and treatment.
"Taking these drugs without medical checks will pose challenges in thoroughly screening out all virus carriers. Such moves will ensure all potential patients get checks and verification," said an official in charge of epidemic control in Shiyan.
In Jinan, Shandong province, drugstores were ordered to suspend the sales of antibiotics and cough medicines, but people can still buy cold medicine as long as they are registered at drugstores.
In Beijing, the local authority issued a notice on Saturday, urging stricter supervision of drugstores by launching a daily reporting system of cold medicine buyers, with each buyer able to purchase no more than two packs of drugs.
In one case, a Beijing patient who returned from Wuhan took cold medicine without going to a clinic in early January and infected 11 family members and colleagues.
The capital has stepped up inspection and screening efforts, particularly at the community level, to detect cases of possible infection among people returning to Beijing and put them under treatment.
Infection with the novel coronavirus can cause mild symptoms in the early stage including a running nose, sore throat, cough and fever, which are similar to the symptoms of a cold.