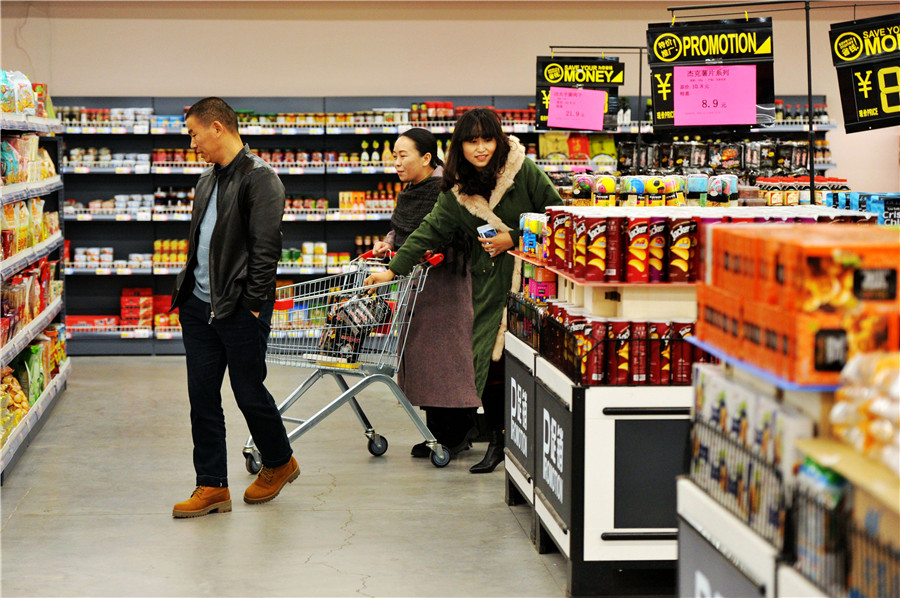 Online, offline promotions of products to trigger increases in holiday sales
This Spring Festival, three new flavors-cranberry yogurt, purple sweet potato and milk, and coconut-will make the Chinese sweet-and-crispy pastry called sachima from confectionery company Hsu Fu Chi International Ltd special.
According to market watcher iiMedia Research, several new varieties of various snacks are expected to flood the 1.1 trillion yuan ($157.7 billion) Chinese consumption market during the traditional Lunar New Year, which falls on Jan 25 this year.
For, food firms are eager to exploit the changing tastes of the younger generation, the largest consumer group that is powering the growth of the market.
Much is at stake, and snack-makers such as Hsu Fu Chi are roping in celebrities as brand ambassadors and product endorsers to boost sales.
For instance, Zhao Liying, a popular actress idolized by many of the young generation in China, will promote Hsu Fu Chi's products this Spring Festival.
"By inviting popular superstars to represent the brand, we get a better chance to communicate with and connect with consumers," said Su Qiang, CEO of Hsu Fu Chi.
Such a connect is necessary because Chinese consumers buy loads of snacks during the festive period, which typically account for a huge chunk of annual sales.
A Nestle survey showed that last year, consumers in China spent an average of 791 yuan on snacks during the New Year holiday, accounting for 40 percent of full-year consumption.
Sales of snacks grew nearly 4 percent year-on-year during last year's weeklong Spring Festival holiday. Market insiders are expecting similar growth this year as well, according to consultancy Kantar Worldpanel.
According to Kantar, China's annual snack consumption usually peaks during the Spring Festival holiday as people have more leisure time during that period and may also need to offer presents when visiting friends and relatives.
So, sales of snacks in gift packs tend to surge during the holiday period. In addition, given the ongoing consumption upgrade in China, rising living standards and increasing disposable incomes, sales of high-end snacks are receiving a big boost, the report from Kantar said.
To exploit the trend, snack producers from home and abroad are expanding their business in China.
"The Spring Festival holiday period represents a peak season for the fast-moving consumer goods (FMCG) industry. We attach great importance to the sales during the holiday and will focus on two growth points: high-end products and e-commerce," said Su.
For this Spring Festival, Hsu Fu Chi has teamed up with the Summer Palace to launch five high-end gift packages. Integrating classical Chinese elements with modern design, the gift packages serve as a great choice as presents during the holiday.
In addition, Hsu Fu Chi got brand-new packages for its traditional candies and chocolates, giving consumers a sweet tooth cause for celebration.
For their part, e-commerce platforms such as Tmall, JD and Suning have launched Spring Festival shopping carnivals, offering discounts on holiday treats such as snacks and beverages. Some online snack stores are offering "buy one, get one free" deals, while others offer deep discounts on large purchases.
Industry experts said the first quarter of a year, which witnesses Spring Festival, will continue to be a busy selling season even amid global economic uncertainties.
Small wonder, the FMCG industry is still experiencing rapid growth as consumers always long for tasty food and a better user experience, they said.
According to Hsu Fu Chi, in the second half of last year, its sales growth increased. Specifically, during the fourth quarter, it achieved double-digit growth for two consecutive months. Its lollipop growth contributed 30 percent of the total market, while the sales of its KitKat chocolate bars surged by 450 percent year-on-year.
"We are confident of maintaining our growth momentum this year," Su said.
A report from Tencent Financial Technology showed that during the 2019 Spring Festival holiday, consumers who were born after 1970 accounted for 90 percent of consumption. Those born after 1980 accounted for 40 percent of overall transactions.
Another report from Alibaba on last year's Spring Festival holiday consumption trends showed that among the consumer groups, the 1980s and 1990s generations took up 33 percent and 27 percent of consumption respectively.