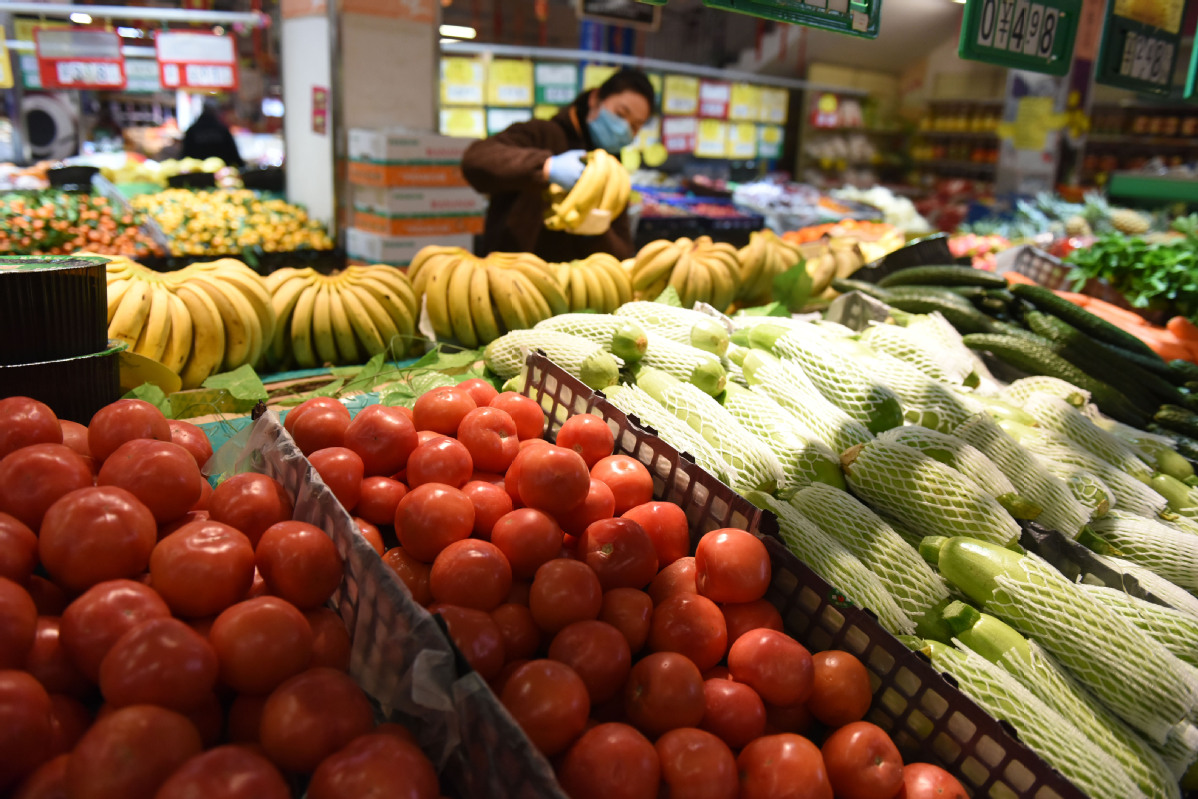 China's consumer price index, a main gauge of inflation, rose at a slower pace in February as the government rolled out measures to facilitate production resumption and ensure supplies to stabilize prices amid the novel coronavirus outbreak.
Economists said that the country's whole-year inflation pressure is limited as the growth in food prices is likely to taper off and there is hardly any momentum for industrial product prices to grow while the epidemic has been gradually contained in China.
The country's CPI rose 5.2 percent year-on-year in February, edging down from 5.4 percent in the previous month, the National Bureau of Statistics said on Tuesday.
Zhao Maohong, an NBS official, said that the novel coronavirus outbreak has had a complicated impact on prices and the country has been able to maintain generally stable prices as the government has been actively facilitating production resumption and ensure supplies to stabilize prices.
Food prices were the main contributor to CPI growth, rising 21.9 percent year-on-year in February. Pork prices soared 135.2 percent year-on-year. The surge in food prices was mainly due to the supply disruption and higher distribution and transportation cost as a result of the preventive measures to contain the epidemic, according to the NBS.
"February CPI is in line with our expectations. While weaker demand has depressed nonfood prices, the supply disruption and transportation factors have contributed to food price rises. The overall CPI remained at a high level despite the slower growth pace," said Steven Zhang, chief economist at Morgan Stanley Huaxin Securities Co, in a research note.
"Given the declining base effect and the depressed demand due to the epidemic, CPI growth is likely to gradually decelerate for the rest of the year," he said.
Pan Xiangdong, chief economist at the New Times Securities, said that as business activities are gradually recovering, the supply gap will be narrowed and prices will return to normalcy.
Xu Hongcai, deputy director of the economic policy committee of the China Association of Policy Sciences, said that China's policy priority will continue to be stabilizing growth and employment, and tightened monetary policy is unlikely despite rising CPI pressure.
In fact, China's core inflation, which excludes food and energy prices, saw substantial decline in February on a monthly basis, shifting from a 0.5-percent rise to a 0.1-percent decline, according to the NBS. On a yearly basis, core inflation rose 1 percent, edging down from 1.5 percent in the previous month. This may indicate that demand remains weak amid the epidemic outbreak and the rising economic downward pressure, economists said.
Meanwhile, China's producer price index declined 0.4 percent year-on-year in February, affected by the sharp drop in the prices of crude oil and natural gas in the international markets. Economists forecast that China's PPI in March may continue to decline.
Zhang said that the drop in oil prices could exacerbate consumer concern about an economic recession, which could lead to more savings instead of consumption, raising the risks of deflation in prices of industrial products.