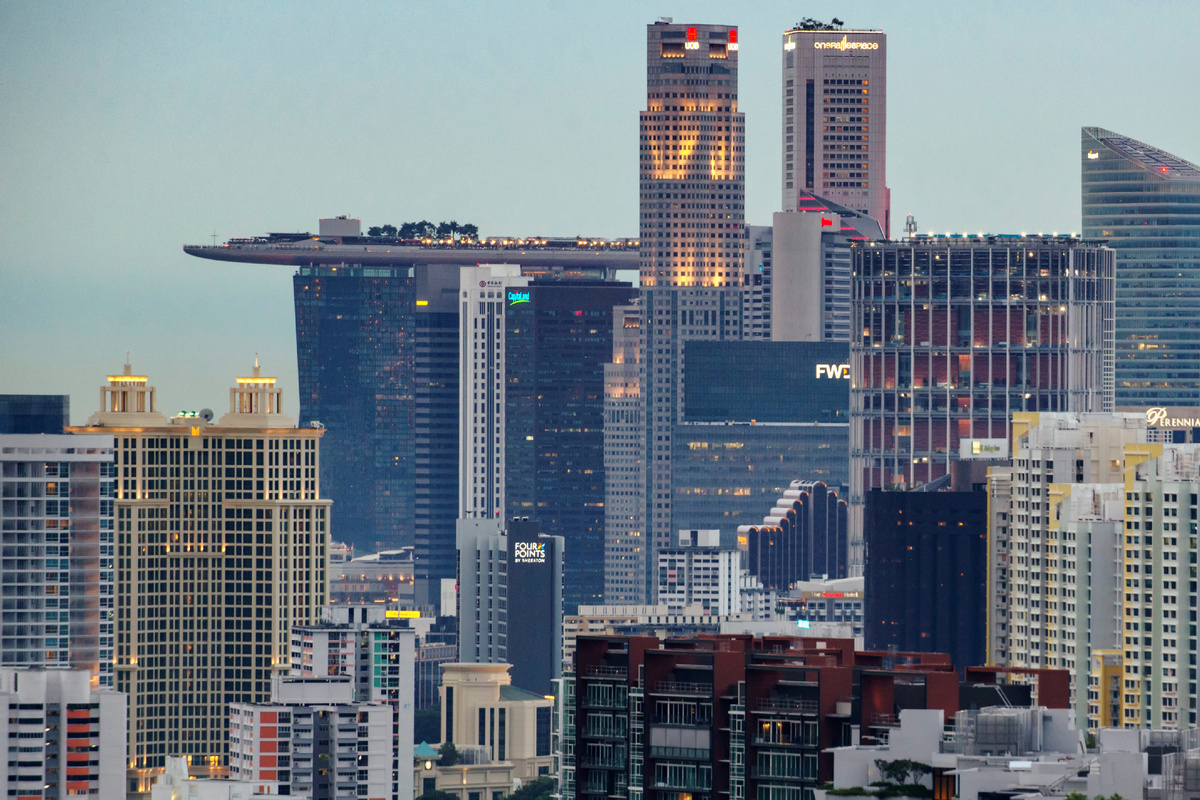 SINGAPORE — The Singapore-China trade relations will remain strong and robust despite the COVID-19 outbreak, Singapore Business Federation (SBF) Chairman Teo Siong Seng has said.
As this year marks the 30th anniversary of the establishment of Singapore-China diplomatic relations, "business communities in both countries are enjoying a long-standing and mutually-beneficial relationship that extend beyond trade and commerce," Teo said in a written interview with Xinhua on Thursday.
The COVID-19 outbreak does not affect the Singapore-China trade relations and "SBF is confident that our trade relations will remain strong and robust after COVID-19," he said, adding that the SBF is optimistic about the future of the Chinese economy, as China remains the prime engine of global growth by contributing 30 percent to global economic growth in 2019.
The SBF is the apex business chamber championing the interests of the Singapore business community in the areas of trade, investment and industrial relations. It represents 27,200 companies, as well as key local and foreign business chambers.
"Since the COVID-19 outbreak, we have witnessed China's speedy activation of its resources to combat this disease and are glad to see improvements. Hence, we are confident that the Chinese economy will bounce back once the public health situation stabilizes," Teo said.
The Chinese government has initiated a wide range of policies to support the steady resumption of production and to counter the impact of COVID-19, the SBF chairman added.
He highly commended China's such measures as lowering interest rates, setting up a special re-lending facility, and providing special re-lending funds to businesses, which are "timely and crucial" for helping cushion the impact of COVID-19 on both domestic and global economy.
Teo said that China's efforts in reducing supply chain disruptions will benefit Singaporean companies directly.
He shared the view that the international community needs to work together to eliminate the threat of the disease because no country can isolate itself from other countries in today's highly-connected world.
It is mutually beneficial for countries to work together, share information, and lend support whenever necessary, especially during this challenging time, so that the global economy can stabilize and be restored quickly, he stressed.
"This is not just China's battle, but the world's," said Teo.
In February, Singapore's Ministry of Trade and Industry downgraded the city-state's GDP growth forecast for 2020 to -0.5 to 1.5 percent amid concerns about the ongoing COVID-19 outbreak, saying that Singapore's outward-oriented sectors such as manufacturing and wholesale trade will be affected by the weaker growth outlook in several of its key final demand markets, and firms in these sectors could also be affected by supply chain disruptions.
The Singapore Purchasing Managers' Index (PMI) fell 1.6 points to 48.7 in February, the biggest monthly decline since August 2014, indicating that the country's manufacturing was impacted by the supply chain disruption caused by COVID-19.
According to Teo, the Singaporean government has rolled out support measures and initiatives to help businesses cope with the current situation, and if the outbreak worsens, the government will be prepared to do more.