When I buy a great business at a fair price, my favorite holding period is forever.
That statement is absolute in nature, and I've written two articles (in June 2019 and July 2020) attempting to show that BG Staffing's Real Estate segment is indeed a great business trading at a better-than-fair price.
This article shifts our perspective towards BG Staffing's superiority as a relative investment, and my recommendation is to take advantage of this relative superiority via a pair trade which could be exited within six months.
We will get to metric comparisons below. Let's start with a snapshot of how BG Staffing's stock price has decoupled itself from a group of peers since the beginning of 2020 (Figure 1).
Figure 1: DWCBTE (Blue) vs BG Staffing (Black)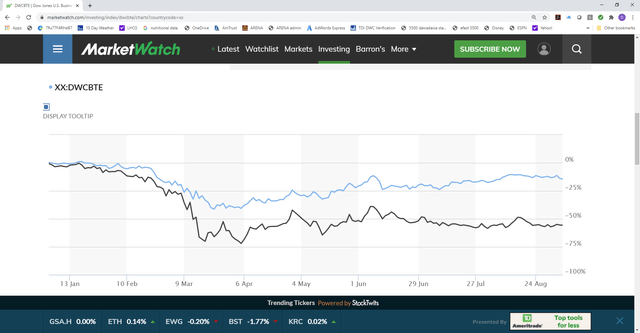 DWCBTE is the Dow Jones U.S. Business Training & Employment Agencies Total Stock Market Index, comprised of various vendors of businesses like Asure Software and Barrett Business Services. It should be no surprise that, beginning in late February, when the U.S. began to take note of Covid-19, the DWCBTE—as well as stock prices in general—began to fall as the potential of a recession increased. The DWCBTE is also heavily weighted with staffing agencies (Robert Half, ASGN, Manpower; see this blog post for a list of 13 such publicly traded companies). Like major U.S. indices, the DWCBTE hit its 2020 nadir on March 23: At 5,537 it was down 42% from the first trading day of the year.
Of course, like most other stocks and indices, the DWCBTE rebounded and currently sits at 8,077, down about 15% for the year.
As you can see, however, the fate of BG Staffing's stock price has been different. Its 2020 nadir of $5.69 (on April 3) was 74% lower than its price on January 2, and its current price of $9.69 is down about 55% for the year.
Is that difference from the beginning of this year between the DWCBTE and BG Staffing (-15% vs -55%) justified? No, I don't believe so.
Like a lioness trying to pick easy prey from a herd of antelopes, I have studied the staffing agency constituents of the DWCBTE to pick a weak peer company on which to prey via a pair trade. That weak peer company is Kelly Services.
Overview of Kelly Services
(If you are already familiar with Kelly, you can consider skipping this section.)
In 2019, Kelly generated revenues of $5.4B, $3.3B of which came from temporary staffing placements (essentially the same type of business as BG Staffing) and just over $2B of which came from Kelly's Global Talent Solutions (GTS) segment. GTS is different as it partners with companies that wish to outsource some or all of the recruitment and job fulfillment duties. Staffing is transactional, whereas GTS is a form of partnership.
Also different from BG Staffing, Kelly is international: over $1B of 2019 revenues came from outside the U.S.
In February of this year, Kelly's CFO, Olivier Thirot, described the company as servicing a narrowing range of broad industries with an increased focus on specialty areas. Outside of the 38% of total 2019 revenues that came from GTS, Kelly had intentionally shrunk its Commercial footprint (44%, down from 50% in 2015). The Commercial segment places office professionals as well as workers in contact centers, the light industrial sector and electronics assembly companies.
Education represents 8% of Kelly's revenues in 2019 and is made up mostly of substitute teachers around the country in the K-12 space. Professional/Technical (P/T) made up 10% of 2019 revenues and is an area the company expects to grow in the future. The talent that P/T provides is all the rage these days in staffing, with high-end coders, back office systems implementers and engineers in high demand.
Kelly was founded in 1946 by William Russell Kelly, who took the company public in the 1950s. The company has maintained a multi-class common stock structure ever since. Only class B shares (KELYB) have voting power, and that voting power transferred from Mr. Kelly to his son, Terrence Adderley, sometime in the 1990s. Adderley, who eventually led the company, passed away in 2018, and 93% of Kelly's class B shares now reside in the Terrence Adderley Revocable Trust K. Non-voting class A shares (KELYA) make up the vast majority of its traded securities and can be shorted.
Kelly has been extremely conservative with debt for decades and maintains an asset-heavy balance sheet.
About six years ago, Kelly developed a working relationship with Persol, one of Japan's largest staffing companies. Beyond exchanging board members, the two companies have invested in their relationship in a couple of ways. First, they have an informal cross-shareholding of each other's stock (about $70M initially invested each). Second, they formed a joint venture (JV), PersolKelly, for staffing in the Asia Pacific market. I estimate Kelly has put about $100M into this JV, of which it is a 49% owner (Persol has the controlling 51% interest).
The Persol relationship works its way onto the Kelly Consolidated Statement of Earnings in two ways. First, its increase or decrease in the value of its Persol Holdings stock is shown as a Gain (loss) on investment in Persol Holdings. Second, its equity portion (49%) of the JV's earnings/losses is shown as Equity in net earning (loss) of affiliate. The JV results lag one quarter, and that delay plus the JV's geography merit our attention during the throes of Covid-19.
Kelly: A Bad Compounder of Money
Figure 2 details some financial highlights that I culled from Kelly's 10-Ks. Let's use it to shift our discussion from historical and factual to qualitative and subjective.
Figure 2 – Culminating in RONTA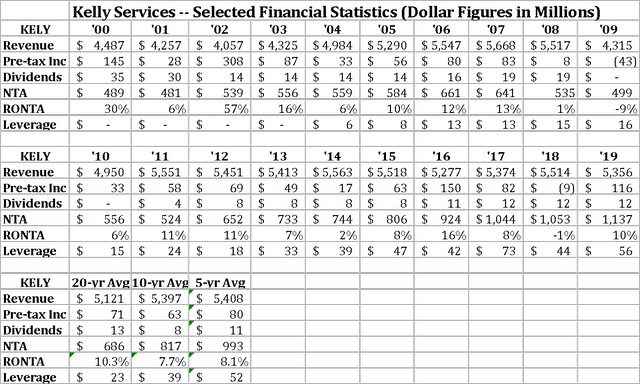 –Source: Author from company's 10-Ks. RONTA is calculated using pre-tax earnings.
As I explain in this blog, return on unleveraged net tangible assets is my favorite metric (and Warren Buffett's) when gauging the economic attractiveness of a business. Since Kelly's use of debt has not been meaningful, we instead focus simply on return on net tangible assets, which is a bad 10% over the past 20 years, and an even worse 8% for both the past 10- and 5-year periods. An A share of Kelly (KELYA) purchased in September of 2001 for $21 is worth about $18 today.[1]
Its stock price over the past 10 years has bounced around the $12 and $29 range. Most recently (year to date), KELYA has traded in sympathy with the DWCBTE (see Figure 3).
Figure 3: DWCBTE (Blue) vs KELYA (Green) vs BGSF (Black)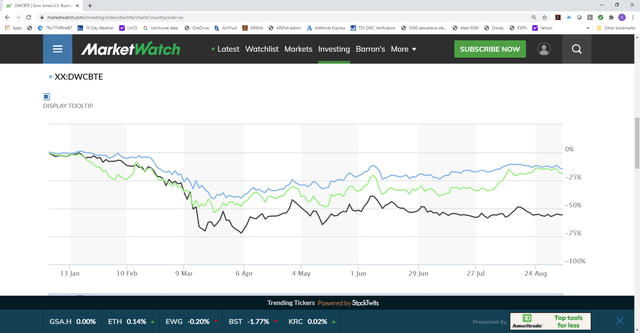 Kelly vs BG Staffing: Pre-pandemic
BG Staffing was formed about 11 years ago, but didn't start behaving like a real public company until 2014. Since then, BG Staffing's financial results have been impressive.
Figure 4 – Culminating in ROUNTA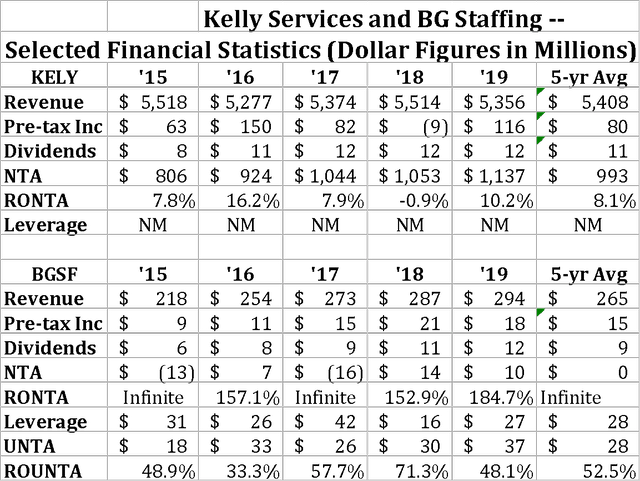 –Source: Author from companies' 10-Ks. RONTA and ROUNTA are calculated using pre-tax earnings.
While 2019's fourth quarter results weren't known on January 2, 2020, Mr. Market is always looking forward and could easily estimate them, so we'll land on the first trading day of this year as our pre-pandemic marker. Using that start date, Kelly's market cap was about $9B, while BG Staffing's was $225M. As such, on a pre-tax earnings basis, Kelly was trading at a 7.7 multiple to BG Staffing's 12.5.[2]
For our purposes in the next section, a more important multiple is that on revenues: On January 2, Kelly was trading at a .18 multiple while BG Staffing was at .85.[3]
While one could argue that these two companies' respective absolute prices on January 2 were too high or low, based on historical performance, the relative premium Mr. Market ascribed to BG Staffing was justified, I believe. Based in large part on BG Staffing's ROUNTA, profit margins and future growth prospects, I suggest that BG Staffing's premium (or Kelly's discount) on January 2 should have been greater. Even so, at the beginning of this year, that particular relative mispricing wasn't big enough for me to argue with Mr. Market.
Ultimately, BG Staffing has proven itself an exceptional company, whereas Kelly has proven to be a bad place to park money. Kelly shareholders would likely disagree with that opinion, at least until they check the numbers.
Before getting into pandemic valuations, we should note that the Persol relationship requires some adjusting on Kelly's pre-tax earnings line. But even with these adjustments, the financial outcomes are not good. I estimate that Kelly has invested about $170M into/with Persol ($70M in stock and $100M in the JV). Persol's stock price today is pretty much where it was at the inception of the investment, and dividends have been tiny. The JV has produced net profits for Kelly annually since 2014 of -$.7M, $1.1M, $2.7M, $5.2M and -$3.6M (all pre-pandemic). Those are terrible returns. Even if my estimate of $100M invested in the JV by Kelly is off by 50%, those same returns on $50M are still bad.
Outcomes from Persol are further evidence that Kelly's management team has not been a good steward of shareholders' money.
Kelly vs BG Staffing: During and After a Covid-19 World
Through the first six months of 2020, Kelly's year-over-year top line was down 18% while BG Staffing's was down 4%.[4] I give neither company a pass on profits, but due to severe changes in their respective personnel models and sizable asset write-downs, analyzing and comparing profits is more difficult and less important than usual. Indeed, profits were hard to predict and hard to come by during the tumultuous first half of 2020. But a new normal is setting in, and these two companies will adjust and return to profitability soon enough. (In fact, by the end of July 2020, BG Staffing's revenue was 87% of its run rate just prior to the March "lockdowns"). If we focus instead on the top line and annualize the first 26 weeks of 2020,[5] Kelly is currently trading at .17 times estimated 2020 revenue while BG Staffing is trading at .37 times[6] as of September 7. This is a substantial difference from January 2 (.18 times vs .80 times, respectively).
What will these two companies look like a year from now? Two years from now?
I fully expect Kelly to continue to fumble while BG Staffing continues to shine.
While Kelly talks about getting into the I/T space (less than 10% of 2019 revenues), BG Staffing is already there (more than 40% of 2019 revenues). BG Staffing is in a far better position for the hot growth expected from technology placements.
Not only is BG Staffing's highest organic growth segment (Real Estate) its most profitable; the apartment industry it services is defensive in nature (a deep recession could see rising occupancy in B- and C-class apartments). Kelly's defensive business, Education, is barely profitable, makes up a fraction of revenues and looks a bit weaker post Covid-19 with the increase of virtual teaching arrangements. A protracted downturn could play to the advantage of apartments—much less so for substitute teachers.
Is Mr. Market arguing that Kelly's future is brighter than BG Staffing's? Based on past performance, that is a tough argument to make. Does Mr. Market put a premium on Kelly's European presence? I'd rather have U.S. revenues in 2020. Does Mr. Market think the multi-class common stock structure of Kelly is going to help the company transition—after seventy years—into a good compounder of money? Studies show the odds are against that.[7] Many singularly controlled companies produce inferior results delivered by overpaid executives[8] who have no reason to worry about reprisals from shareholders en masse. Kelly is not an exception to that trend. Speaking of executives, BG Staffing's CEO Beth Garvey gets out of bed each morning with purpose; I can't say the same for Kelly's leadership.
One might reasonable wonder, "What could cause this misvaluation?" My answer: "Any number of causes." There is a lot more quant trading today; Renaissance Technology (king of the quant funds) has been in and out of BG Staffing for longer than I have been in it. As a rule, quants care less about fundamentals and more about psychology. Trying to pick Mr. Market's psychology on any given day is too hard for me. But I can read fundamentals.
I offer you a second reason these two stock prices became so dislocated from each other. Look at Figure 3 and note BG Staffing's massive fall on/around March 3–much bigger than the DWCBTE and KELYA. BG Staffing is a small company with relatively small institutional ownership–just under 60%. Most of the DWCBTE constituents see a much larger percentage (KELYA is just over 90%). As BG Staffing is small, many of its shareholders are as well. When the stock market corrected in early March, many smaller investors were subject to margin calls (note my final warning at the end of this article). Unlike institutions, those small traders would have been forced to liquidate their holdings in various stocks. It could easily have been the case that one or more holders of BG Staffing got caught being over leveraged (as Buffett says, only when the tide goes out can you see who is naked). Of course, that sort of selling begets more such selling. Throw in some quants (who prefer to stare at naked beaches than to study fundamentals), and you see how these two stocks could have become decoupled. (It is worth noting that the very market forces that can take a micro-cap stock price like BG Staffing's down to new depths can also shoot it to new heights. Though many fear volatility, it should be more widely appreciated. We are looking to exploit pricing inefficiencies, and volatility–unrelated to operations–is an obvious inefficiency).
I don't think the reason for the dislocation is important and am not trying to rationalize the irrational. I am confident Mr. Market has made a mistake somewhere—either too high for Kelly and the DWCBTE or too low for BG Staffing. Of course, this is where pair trading can be executed most successfully. We should be cheering for inconsistencies from Mr. Market.
The fear that rattled Mr. Market in late February turned into a full-blown panic attack around March 23. Since then, Mr. Market has been much more hopeful for most stocks. Inconsistency, however, is one of Mr. Market's more endearing characteristics. Today, Mr. Market seems to argue—at the same time, mind you—that BG Staffing's stock price should be low because of a potential extended recession but that Kelly's stock price should have mostly recovered because the outlook for the economy is much better than he previously thought.
Well, Mr. Market, which is it?
Pound for pound, BG Staffing is a far superior company to Kelly. Mr. Market has it wrong. If he were to allow just one of these two stocks to be trading close to January 2 levels, it should be BG Staffing.
This pair trade recommendation is meant to take advantage of Mr. Market's schizophrenic irrationality.
We can lean on Mr. Market's two inconsistent perspectives to see potential outcomes of this pair trade, though our starting places will all be the same: an initial short position on KELYA at $18.36 and a corresponding long position in BGSF at $9.69. We'll use $100,000 generated from the short sale for easy math (that's 5,446 shares short on KELYA and 10,320 long shares of BGSF). Let's first imagine his more depressed perspective, and assume we have an extended recession. In this case, KELYA falls back to around $9, which would be around .09 times oversimplified 2020 revenues (about half of where it was on January 2). BGSF stays about the same price (about .37 times oversimplified 2020 revenues, or half of where it was on January 2). If we exit the trade at those prices, we make no money on the BGSF side of the trade, while we profit $51,000 after paying back our KELYA lender with only $49,000 worth of stock.
If we instead imagine Mr. Market's more sanguine perspective and see BG Staffing's oversimplified 2020 revenue multiple return to January 2's correlation with KELYA's (i.e., both of them about the same as January 2), its stock price would approximately double to $19. In this case, we would exit the pair trade with a $100,000 profit on the BGSF side of the trade and walk away even on the KELYA side.
I wouldn't be surprised if we see something between those two potential outcomes within the next six months. The longest I recommend holding this pair trade is two years. As with previous pair trade recommendations, readers should stay tuned (follow my profile) for when I choose to exit this trade. I'll offer a debriefing of results at that time. Of course, when calculating final profits/losses from any trade requiring margin, the cost of borrowing (in this case, the initial KELYA short) must be included. If those 5,446 shares of KELYA were outstanding for one year at, say a 4% margin rate, then we would have $4,000 worth of interest subtracted from the outcome (half that for six months, double it for two years).
What I expect is to see an irrational Mr. Market eventually catch on to the fact that we should study operational results more and worry about what other traders are doing less. That could take several months. I wouldn't abandon this trade unless we saw a fundamental change in either company's operations (BG Staffing's for the worse or Kelly's for the better).
Of critical importance, I highly recommend vigilance whenever you use margin. As a rule, you should never leverage more than 25% of an account's assets.
---
[1] If we add back in the approximate $6.50 it received in dividends during those 20 years, the compounded annual growth rate on that KELYA share is .95% (that's right, less than a 1% CAGR).
[2] For context, on January 2, 2020, Robert Half's market cap was 11.8 times its 2019 pre-tax earnings; ASGN was 16 times; and Manpower 8.6 times. Robert Half and ASGN are considered high-margin staffing companies, as is BG Staffing. Manpower is considered a low-margin staffing company, as is Kelly.
[3] For context, on January 2, 2020, Robert Half's market cap was 1.2 times its revenue; ASGN was 1 times; and Manpower was .28 times.
[4] Without the two acquisitions BG Staffing made around the beginning of the year, its year-over-year revenues would have been down 16% through the first 26 weeks of 2020.
[5] The havoc that Covid-19 has wreaked amongst staffing companies is varied, and the reader should question my annualization of the first 26 weeks of 2020. An argument can be made that we should instead use trailing twelve-month revenues to at least approach audited figures. But as Robert Half's CEO Keith Waddell admitted during his 2020 Q2 conference call, "if there was ever a period of time when what we did a year ago wasn't particularly relevant, I would argue it's this time." While I confess that seasonality affects most staffing companies somewhat, there is nothing severe about changes for these particular companies' quarter-to-quarter results.
[6] For context, Robert Half's market cap dropped 49% from the beginning of the year to March 23, and currently sits at negative 16% on the year, trading at 1.2 times revenue using my oversimplified estimation (first 26 weeks times two) for 2020 revenues. ASGN's market cap dropped 59% from the beginning of the year to April 3, and currently sits at even for the year, trading at 2 times oversimplified 2020 revenue. Manpower's market cap dropped 49% from the beginning of this year to March 23, and currently sits at negative 25% on the year, trading at .26 times oversimplified 2020 revenue.
[7] To be clear, I do not believe multi-class common stock structured companies are inherently either good or bad investments. I would happily buy Google parent Alphabet's class C shares at the right price. As a counterpoint to the above-referenced Controlled Companies in the S&P 1500 study (and its precedent), I suggest Dorothy Shapiro Lund's Nonvoting Shares and Efficient Corporate Governance.
[8] The jury is still out on the compensation of Kelly's newest CEO, Peter Quigley (see p. 43 here). His pay is at least lower than the company's previous underperforming CEOs.
Disclosure: I am/we are long BGSF. I wrote this article myself, and it expresses my own opinions. I am not receiving compensation for it (other than from Seeking Alpha). I have no business relationship with any company whose stock is mentioned in this article.
Additional disclosure: We are short KELYA.