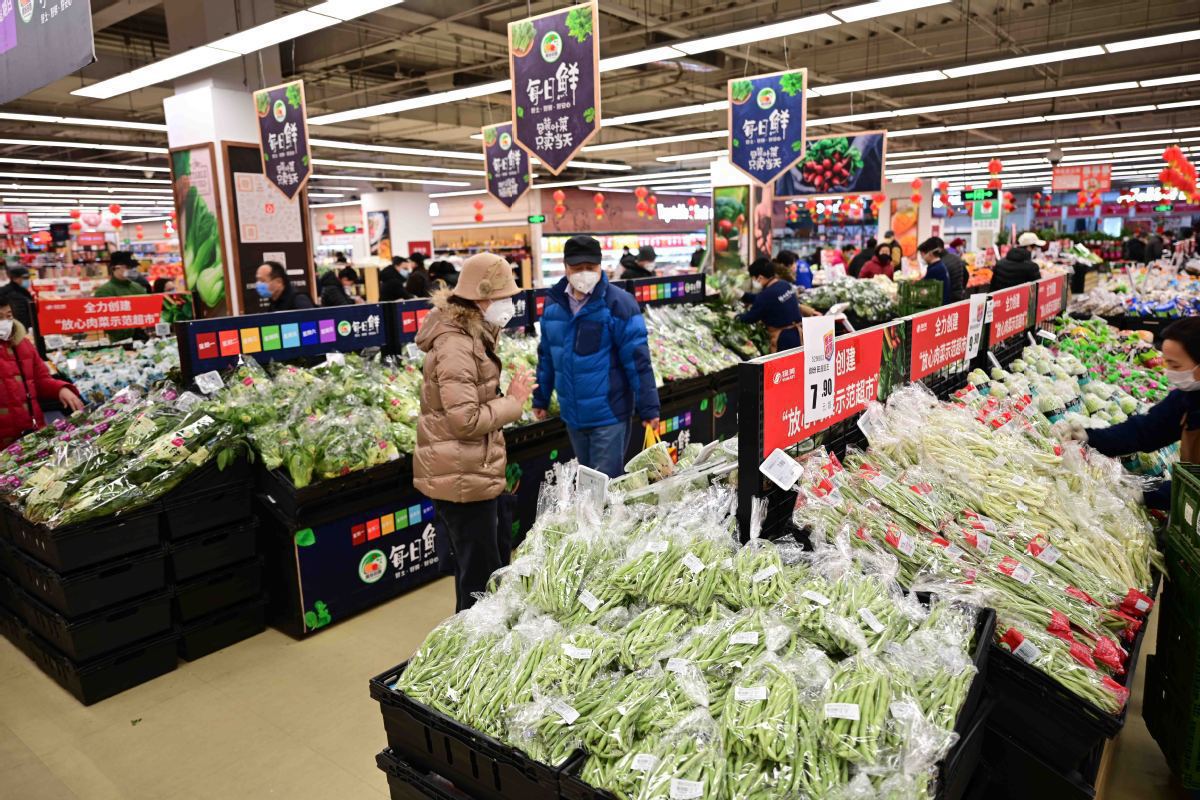 While most businesses delayed resuming work after the Chinese New Year holiday due to the COVID-19 outbreak, supermarkets and other suppliers of daily necessities had to work harder during the extended holiday.
For, there is a growing need for daily necessities from hypermarkets and grocery stores, with a large number of people staying at home, working remotely, and cooking by themselves.
Li Shunming, 53, runs seven supermarkets in Linzi district of Zibo, Shandong province. He said he was busier during this year's Chinese New Year holiday period compared with the past.
"With some of the roads sealed off, it takes longer for vegetables and other goods to be transported from farms and warehouses to our stores because drivers have to detour. We have shorter time but need more staff to put those goods on shelves for sale," Li said.
"It's also challenging for us to take preventive measures against workplace contagion. We disinfect the floors, shelves, doors twice a day with alcohol-based products, check body temperature of our staff and customers, and hand out masks and other medical supplies."
Despite the rising transportation cost and wages, Li did not raise the prices of the goods on sale. Any price rise would have put additional burden on low-income households and those who are unable to work during the epidemic, he said.
That apart, the State Administration for Market Regulation had prohibited price hikes in necessities like vegetables, meat, egg, milk, and cooking oil.
"Luckily, their prices remained flat at the supplier end, which is a huge relief for us," Li said.
As demand was higher than normal, hypermarkets, supermarkets and other food suppliers have stepped up efforts to ensure adequate supplies.
For instance, Walmart China reportedly increased its supply of vegetables and meat by 50 percent during the holiday.
From Jan 18 to 31, Walmart China supplied via its stores over 10,000 metric tons of vegetables, nearly 30,000 tons of flour, rice, and oil, and over 2,000 tons of meat to its customers across the country.
The COVID-19 outbreak led to a sales surge for online retailers as well, as many consumers decided against visiting supermarkets for fear of getting infected.
Zhang Yang, 28, who works in a private firm's office in Beijing, installed apps of six online grocers on her phone. "For the past few days, goods at Missfresh were not available until 8 am. So, I'd set alarm at 7:50 am to pick up the fresh vegetables I need. Then, I'd switch to Hema and other apps to see if there's anything else I need that I couldn't get on Missfresh."
From Jan 24 to 28, Missfresh's transaction volume increased 321 percent year-on-year. Average per-customer transaction value increased from 30 yuan ($4.3) to 120 yuan.
Hema Fresh, another online retailer, also reported a sales surge. Company data showed Hema supplied 500,000 packaged vegetable boxes and 80 tons of vegetables to its Shanghai branch on Jan 28.
Jingdong's online retail branch also reported a sales spike. From Jan 24 to Jan 27, the platform saw a 540 percent year-on-year sales growth.
Wang Jun, co-founder and CFO of Missfresh, told Entertainment Capital that the company is still facing challenges since many villages, where the vegetables were mainly grown, were sealed off and transportation was also disrupted.
So, the company contacted more farms in the Inner Mongolia autonomous region and Yunnan province, and cooperated with numerous vegetable suppliers such as Shuhai Supply Chain Solutions.
So far, supplies of daily necessities have been adequate on Missfresh, Wang said.
Suppliers continue to receive ample timely help from the government to tackle various epidemic-related problems.
The Ministry of Commerce said it, along with other related government departments, will extend support to businesses, particularly supermarkets, convenience stores, wholesale and community grocery stores, in order to ensure equipment and medical supplies relating to disease prevention will reach staff. No efforts will be spared to prevent any workplace contagion.