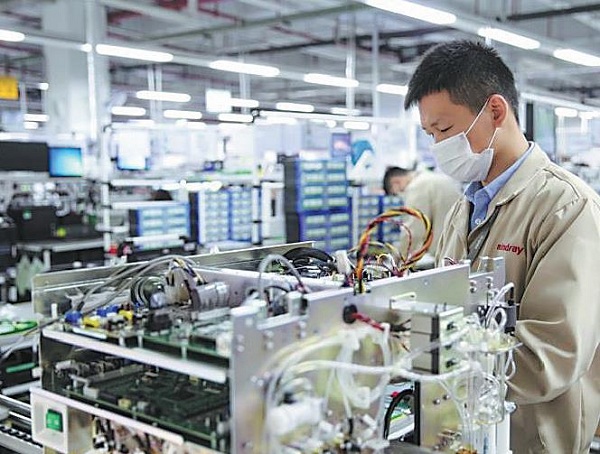 The Shenzhen government will take steps to rev up its economy and boost the development of industries, especially in the medial supply sector, officials said at a news conference on Saturday.
The coronavirus pandemic had created considerable difficulties for the city's economy, said Jia Xingdong, chief of the Shenzhen industry and information bureau, adding that the city had demonstrated its adaptability as output of essential medical supplies dramatically increased in about one month.
During the outbreak of the novel coronavirus, the daily output of masks of the city was fewer than 20,000. By March 17, the figure had rocketed to 10 million. And the daily output of other protective gears and other pandemic-control equipment, such as ventilators and infrared thermometers, increased dozens of times during the same period, Jia said.
Jia and some senior officials of the city's industry and information bureau, and representatives of enterprises and industrial associations took part in the news conference.
By the end of March, virtually all large-scale enterprises in the city had resumed operations, with about 80 percent of employees returning to their posts, according to the city's industry and information bureau.
There have been no cases of cluster infections in enterprises in Shenzhen, Jia said.
In April, the added value of large-scale industrial enterprises increased by 2.8 percent year-on-year, the first time it had entered positive in growth territory since January, with internet-related industries, emergency manufacturing industries and pharmaceuticals registered as the major industrial growth engines, according to the information bureau.
The city government has taken various steps, including tax and fee reductions, exemption and subsidies to help relieve enterprises' burdens by more than 60 billion yuan ($8.47 billion).
Since industry accounts for more than 35 percent of the city's gross domestic product, the recovery of the industrial enterprises will stoke the growth of the city's economy, Jia said.
The government has also taken a variety of steps to improve the business environment, boost consumption, set stage for the enterprises to secure orders, promote technological innovations, and expand the coverage of the 5G network. By the end of August, the city plans to have about 45,000 5G base stations, making it the first city in China to realize full coverage with its own 5G network.