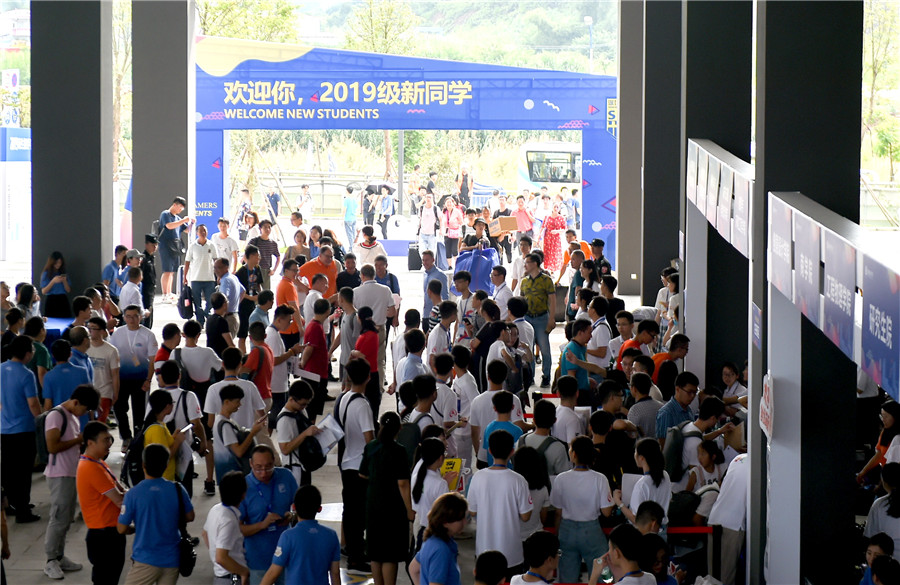 Most of the top universities in China emphasize research achievements, but a university in Shenzhen is about to break with tradition.
Aiming to explore application-oriented higher education, the city government initiated Shenzhen Technology University in 2016 and it was officially approved by the Ministry of Education in 2018.
From preparation to formal establishment, it took less than three years, reflecting the urgent need for highly skilled talents in the manufacturing hub.
China has about 165 million skilled workers, accounting for more than 20 percent of the total workforce, but only about 47 million are recognized as high-level talents, according to the Ministry of Human Resources and Social Security of China.
"To establish application-oriented colleges is a reflection of Shenzhen's overall technology innovation strategy in the education sector," said Zheng Yujie, director of the department for think tank research and information at the China Development Institute.
He said the city is designing a future driven by both original innovation and young skilled talents with the spirit of craftsmen.
He believes Germany's applied technology universities cultivated two-thirds of the nation's engineers and its world-recognized high-quality manufacturing industry also comes from such professional education.
SZTU plans to learn from Germany's model and its Sino-German College of Intelligent Manufacturing is an example. Its students are required to spend one-third of their four-year courses in real-life work training.
The university also signed a strategic cooperation agreement in June with German industrial conglomerate Siemens Ltd to jointly establish an intelligent manufacturing practice and training base.
"We have set up more than 150 cooperation frameworks with renowned companies," said Ruan Shuangchen, president of SZTU, adding that they develop teaching programs together with these partners.
The university recruits full-time and part-time teachers with rich practical experiences, such as Huawei's former terminal R&D director of Shenzhen division, and they account for 80 percent of the entire teaching staff, while publishing papers is no longer the key criteria for evaluation.
Courses are also set up according to the latest industry trends, including big data and internet, new materials and energies, and urban transportation.
"We have set up eight majors and enrolled about 800 new students nationwide this year, planning to double both figures next year," the president said.
SZTU is just one example of China's higher education institutions attaching more weight to industrial application.
According to a report released in February by the National Center for Science and Technology Evaluation, the 2,766 public research institutions and universities in China that participated in the survey signed about 9,900 contracts in 2017 to transfer, permit or invest in their scientific achievements.
The total value of the contracts recorded a year-on-year increase of about 66 percent to 12 billion yuan ($1.68 billion).
In 2017, they established more than 6,000 institutions or platforms together with companies, and founded or co-founded 1,676 startups.
But the report also pointed out the weakness that some of the scientific achievements are not in line with market demand and professional service providers of technology commercialization are insufficient.