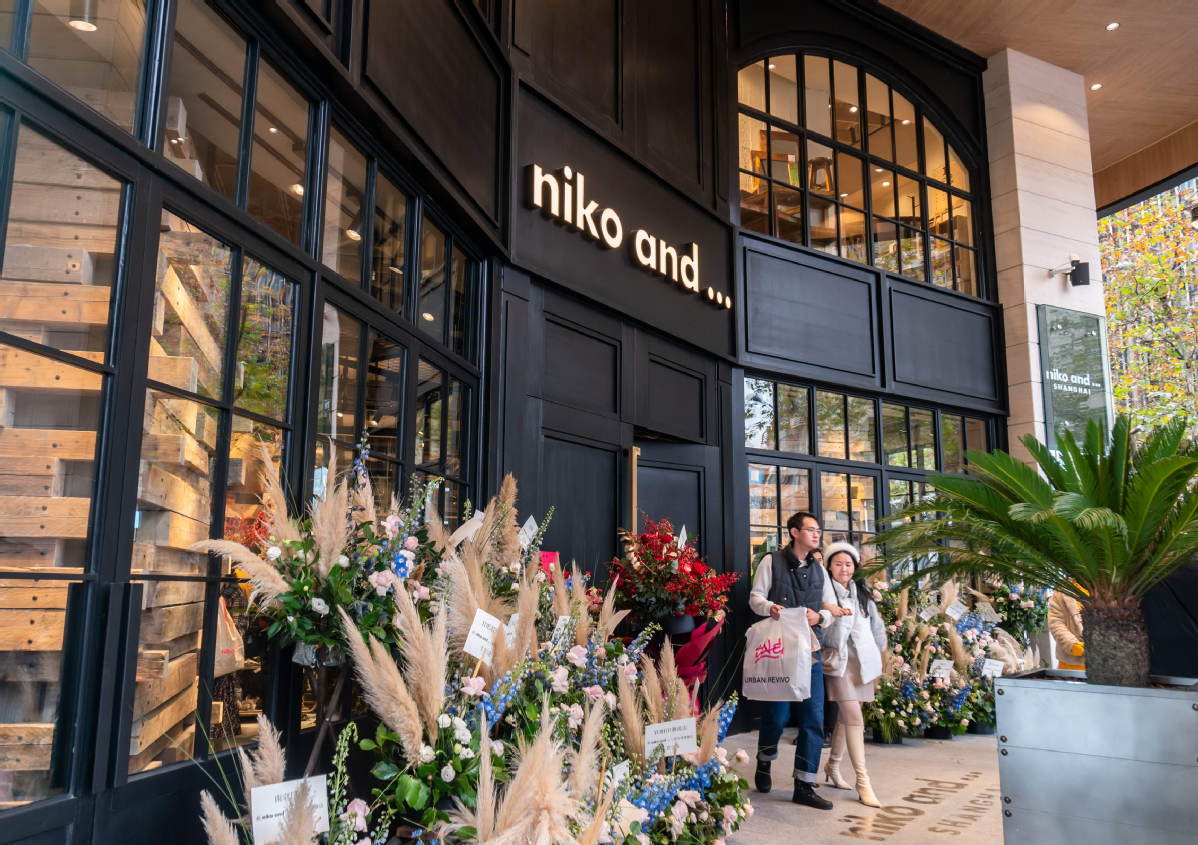 Despite the ubiquity of e-commerce in China, international brands are looking beyond digital platforms and increasingly recognizing the importance of boosting their physical presence in the country, with Shanghai seen as the ideal first stop.
Japanese lifestyle megastore "Niko and…" opened its first store in China in downtown Shanghai in late December. Covering 3,500 square meters, the three-story flagship store is the largest of the 130 shops that the Japanese lifestyle leader has built globally.
Kitamura Yoshiaki, board member and general manager of the sales division of Adastria Co, the owner of the "Niko and …"brand, described the launch of the megastore-which sells 4,000 types of products and includes a cafe-as a "water-testing "endeavor in the Chinese market, as lifestyle megastores are still a rarity in the country.
Although Shanghai is probably the "fiercest battlefield" for retail brands, the pros outweigh the cons, according to Yoshiaki.
"Shanghai has moved quickly up the global fashion ladder, making it a flag-bearer to host new entrants like us," he said.
Canada's largest quick service restaurant chain Tim Hortons opened a coffee shop in Shanghai in February 2019, marking its first step in the Chinese market. Since then, the Toronto-based coffee chain has opened 33 cafes in the country and another 1,500 stores are on the way in the next 10 years.
According to Tim Hortons' China CEO Lu Yongchen, the reasons for choosing Shanghai as the company's first stop in China can be largely attributed to its position as the most mature Chinese coffee market, and more importantly, the city's ability to serve as a bellwether.
"If a brand is welcomed in Shanghai, it is safe to say that the brand will be able to seek sustained growth in China," he said.
While other Chinese cities such as Beijing and Chengdu have made more efforts to attract international brands to launch their first Chinese mainland stores, Shanghai still outshines its peers as the business models of the first stores vary, said experts from China's largest real estate consultancy RET.
Among the 498 stores first opened in Shanghai in the first half of 2019, 59 percent are restaurants, 32 percent retail stores and 11 percent entertainment service providers. Apart from the obvious reasons such as the large population, higher consumption capability of local residents, and business vibrancy, experts from RET also stressed that the communication proficiency and government efficiency have made Shanghai an ideal launch pad.
Statistics from the Shanghai Municipal Commission of Commerce showed that a total of 756 stores debuted in the city in the first three quarters of 2019, up 74.6 percent from a year earlier.
Liu Min, deputy director of the commission, said that the store debuts in Shanghai have become a consumption highlight in the city.