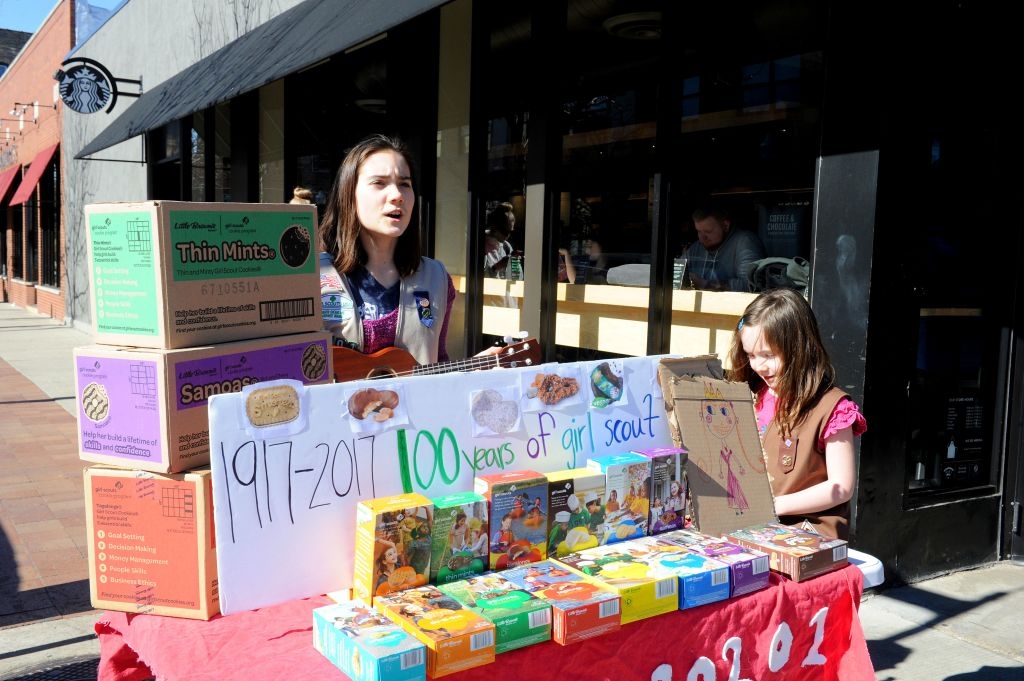 The Girl Scouts' decision to withdraw their original Tweet…is a reflection of…the growing intolerance, particularly by the hard left, of dissenting speech that is seen as supporting the other side. (Photo by NOVA SAFO/AFP via Getty Images)
I don't know why I am so mad at the Girl Scouts for having withdrawn their Tweet congratulating Justice Amy Coney Barrett for being the fifth woman nominated to the Supreme Court in its long history. The Tweet was anything but partisan or political. It was a girl's organization dedicated to educating young women about their unlimited possibilities in life. The Tweet itself was innocuous. Here is what it said: ""Congratulations Amy Coney Barrett on becoming the 5th woman appointed to the Supreme Court since its inception in 1789."
It was accompanied by a collage of photographs of the five women who have served on the high court – three of them liberals and two conservatives. But when a few angry leftists led by Cambridge U.S. Rep. Ayanna Pressley and actor Amber Tamblyn complained, the Girl scouts quickly removed the Tweet and apologized for doing something that could be "viewed as a political and a partisan statement."
Megyn Kelly responded quite appropriately to that absurd claim saying:
"This is pathetic. It's not 'partisan' to generically congratulate the 5th woman ever to join the High Court. It's patriotic. Taking your tweet down is partisan, however, and a real disappointment.
In reporting the story, the USA Today said that: "The retreat by the Girl Scouts was quickly assailed by many of Barrett's conservative supporters." That entirely missed the point. I am neither conservative, nor a Barratt supporter. I was opposed to the Republican Senate rushing this nomination through after denying an earlier one from President Obama when he nominated the highly qualified Merrick Garland, and the Republicans refused to process the nomination. I believe that Barrett is also highly qualified but the Senate should have waited until after the election and allowed the winner to make the nomination.
Senator Lisa Murkowski of Alaska may have gotten it right when she voted against allowing the Senate to consider the nomination, but after that view was rejected, she then voted to confirm Justice Barrett, arguing that the process issues should not be used against a highly qualified nominee.
The reason I am so angry at the Girl Scouts' decision to withdraw their original Tweet is that it is a reflection of the divisive nature of our nation and the growing intolerance, particularly by the hard left, of dissenting speech that is seen as supporting the other side.
When the Girl Scouts can't even congratulate a woman for helping to break a longstanding glass ceiling , we know that we are in trouble. I was a Boy Scout and had many friends who were Girl Scouts. We loved scouting. We never considered it political or partisan. My family and I always buy the thin mints that are our favorite Girl Scout cookies. I will continue to enjoy the thin mints, but from now on they will cause a bitter taste in my mouth because of the thin skin manifested by the Girl Scout leadership in submitting to censorial pressures from intolerant hard left activists.
Alan M. Dershowitz is the Felix Frankfurter Professor of Law, Emeritus at Harvard Law School and author of the book, Guilt by Accusation: The Challenge of Proving Innocence in the Age of #MeToo, Skyhorse Publishing, 2019. His new podcast, "The Dershow," can be seen on Spotify, Apple and YouTube. He is the Jack Roth Charitable Foundation Fellow at Gatestone Institute.
© 2020 Gatestone Institute. All rights reserved. The articles printed here do not necessarily reflect the views of the Editors or of Gatestone Institute. No part of the Gatestone website or any of its contents may be reproduced, copied or modified, without the prior written consent of Gatestone Institute.