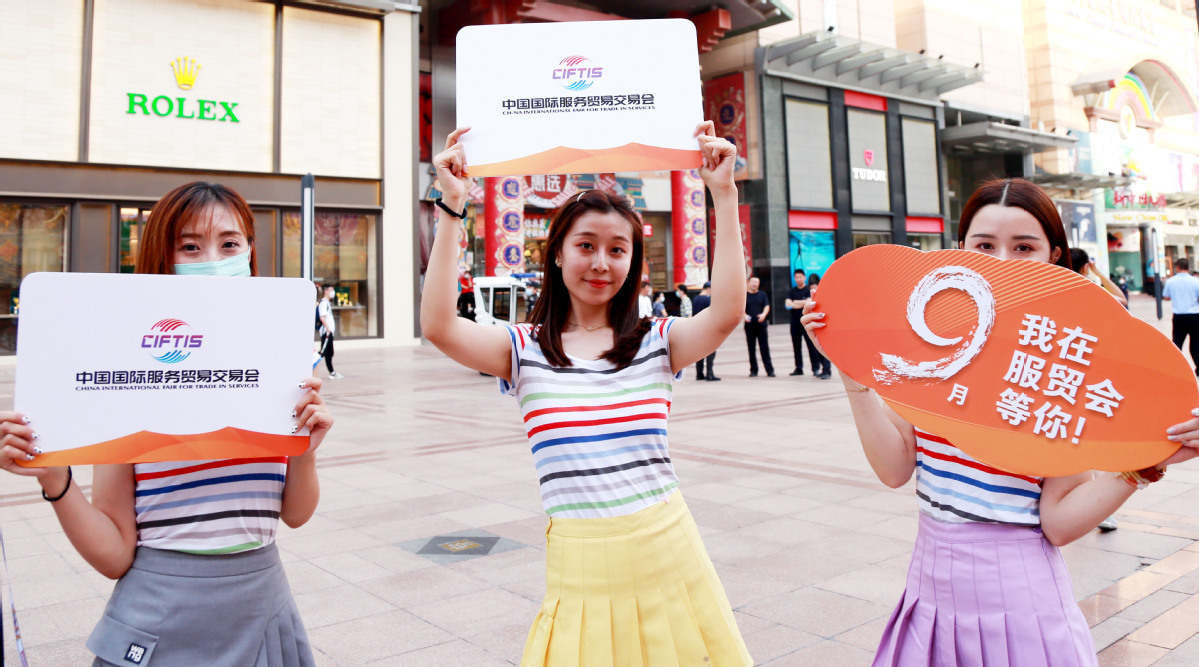 Negative list for cross-border orders may be introduced by end of this year
China's services trade structure maintained its steady improvement during the first six months of this year with a narrowing deficit and strong resilience in the trade of knowledge-intensive services, according to the Ministry of Commerce.
Trade of knowledge-intensive services jumped by 9.2 percent on a yearly basis during the first half of this year and accounted for 43.7 percent of the country's total services trade.
China's international trade in services dropped by 14.7 percent on a yearly basis to 2.2 trillion yuan ($316.27 billion) in the first six months of 2020 due to the COVID-19 epidemic and weak overseas demand.
"Despite the decline, China's services trade saw a largely stable trend in the first half. Services exports outperformed imports, with the services trade deficit narrowing by 46.1 percent from the same period of last year to 401.7 billion yuan," said Xian Guoyi, director-general of the ministry's department of trade in services and commercial services.
Xian attributed the decline in services trade to COVID-19-induced contraction in the tourism sector and said that after stripping out the impact of this sector, the country's services imports and exports rose by 2.1 percent on a yearly basis in the first half.
In comparison with goods trade, trade in services refers to the sale and delivery of intangible products such as transportation, tourism, telecommunications, construction, advertising, computing and accounting.
The official said that the country's services outsourcing grew rapidly between January and June, while offshore services outsourcing undertaken by Chinese companies surged by 10.4 percent year-on-year, of which industrial design services grew by 8.7 percent. Pharmaceuticals and biotechnology research and development services grew by 35.3 percent.
To further expand the opening-up of services trade, Xian said the government will accelerate the drafting pace of the negative list for cross-border services trade and introduce it by the end of this year.
According to the ministry, the foreign investment negative list mainly dealt with the entry permit issue, while the services trade negative list addresses a wider range of issues, including cross-border payment and consumption in overseas markets.
To maintain solid economic fundamentals, the government has emphasized the importance of focusing on the "six priorities" of safeguarding employment, people's livelihoods, the development of market entities, food and energy security, the stable operation of industrial and supply chains and the smooth functioning of society.
From a long-term perspective, the negative list for cross-border services trade will help selected free trade zones or areas, as well as their surrounding regions such as the Yangtze River Delta and Pearl River Delta, to become world-class urban areas and a new growth pole of the modern global services trade, said Li Xilin, a researcher specializing in services trade at the Chinese Academy of International Trade and Economic Cooperation.
To create a freer and convenient environment for services trade and investment for companies, China adopted the negative list management system for the first time to conduct negotiations on services trade and investment during the second phase of China-South Korea Free Trade Agreement talks last year.
Eager to promote the healthy growth of the sector and the country's emphasis on services trade, Beijing has geared up for the China International Fair for Trade in Services scheduled for early September. The event will have both online and offline exhibitions, said Sun Yao, deputy head of the Beijing Municipal Commerce Bureau.
By Tuesday, about 141 international organizations, foreign embassies, commerce chambers and institutions are expected to participate in this year's event, a major comprehensive exhibition in services trade, said Sun, adding overseas guests, exhibitors and purchasing agents will mainly attend the online exhibitions and all types of entities in China will mainly take part in the offline exhibitions.
The fair covers areas including trade of cultural products, tourism services, financial services, winter sports, industrial-and services-themed robots this year. It includes four major forums and more than 100 seminars and promotional events. The value of tentative deals reached at the fair amounted to $105 billion in 2019.