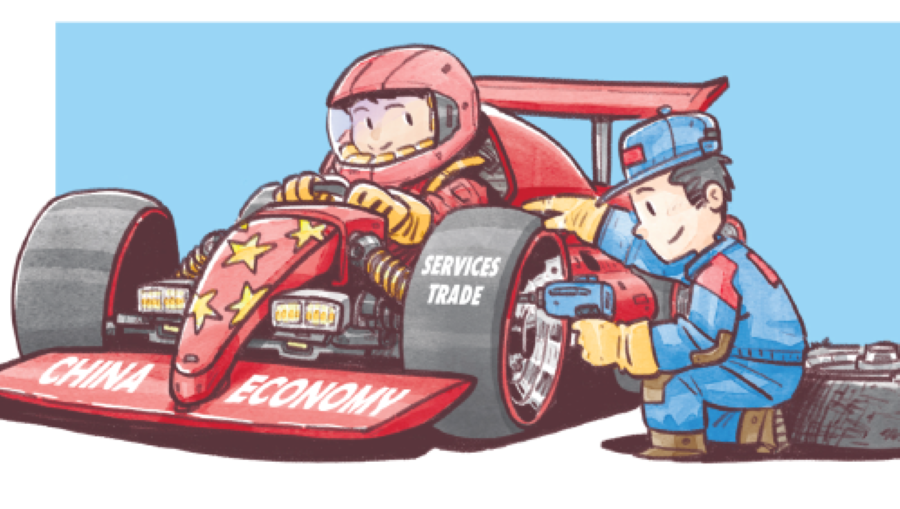 China has been known as the world"s factory, the largest exporter of goods and a major buyer of resources and commodities in the international market. Now the country is preparing itself for major shifts in global trade. It's poised to pursue a more balanced growth by boosting trade in services with the rest of the world.
Such a trend was indicated in President Xi Jinping's on-video speech to the China International Fair for Trade in Services on Sept 4 Xi's speech sent out at least two important messages.
First, China will further open its services sector and widen market access for foreign investors and companies.
Second, China will boost the development of its own services sector by encouraging international cooperation, leveraging the thriving digital technology and improving the protection of intellectual property rights.
For both China and the rest of the world, trade in services is widely seen as a new growth driver and a key area for international trade and exchanges in the coming decades.
Services trade currently accounts for about 20 percent of the total volume of global trade and the proportion is expected to rise to one-third in 2040, according to a report by the Chinese Ministry of Commerce and the World Trade Organization.
China's services trade boasts even greater growth potential. The value of China's services trade stood at $743.4 billion last year, accounting for only about 5 percent of the country's GDP.
There is also a big gap between China's trade in goods and services as the latter is equal to only less than one-fifth of the former's value. The services trade is also a major source of China's trade deficit as the country's services trade deficit stood at about $260 billion last year.
Filling the gaps requires more supportive government policies and wider international interactions and exchanges. That will unleash the potential of global trade in services as it can be a main stabilizer of global business activities, which have been seriously disrupted by the COVID-19 pandemic.
The services sector will also undoubtedly be the next frontier for China to experiment deeper reforms and wider opening-up as the country is seeking to shift its old development model into a more balanced and inclusive one by boosting the development of the services sector.
Unlike merchandise trade, trade in services involves the sale and purchase of intangible products in areas such as finance, education, tourism, medical care, and telecommunications.
In fact, China has seen rapid growth of its services trade over the past few years. Since 2012, the sector has been growing at an average annual rate of about 7.8 percent, higher than the global growth rate, according to the Ministry of Commerce.
To facilitate an even faster and more innovative development of the services trade, China has expanded a pilot program to 28 cities and regions, which aims at promoting a higher level of opening-up in the country's services trade by further refining government policies and reforming the existing administrative and regulatory systems.
China has also decided to build Beijing, the country's capital, into a free trade pilot zone with an emphasis on digital economy, technological innovation and liberalization of the services sector.
The country has already made significant progress in further opening its financial services sector to foreign players by reducing regulatory barriers, removing shareholding restrictions and refining administrative policies. The same is expected to take place in sectors such as education, elderly care, sports and entertainment.
In the meantime, liberalizing services trade is also closely associated with the dual-circulation development pattern recently proposed by China's top leadership.
Some economic analysts tend to see China's dual-circulation policy as a sign that the country is becoming more inward-looking and will likely reduce its dependence on foreign trade. But they seem to overlook a fact that a more robust domestic circulation will create stronger demand and faster income growth of Chinese families, which would mean that Chinese consumers will be able to buy more sophisticated services from the world, thus benefiting global trade and the world's economy as a whole.
It is projected by the Ministry of Commerce that from 2018 to 2022, China will import services worth $2.5 trillion and thus contribute to more than 20 percent of global service import growth. The growth will be driven by the huge demand for high-quality services of Chinese consumers in areas such as insurance, elderly care, education and tourism.
The country will also soon release the negative list for cross-border trade in services to promote the institutional opening-up of the services sector to the world, which will allow foreign players to tap China's domestic services market.
Compared with trade in goods, trade in services is usually more knowledge-and technology-intensive. By upgrading its technological and innovative capability, China will also substantially increase its competitiveness of being a major services exporter and boost its ability to bring global consumers good quality services at reasonable prices.
In the foreseeable future, China will likely be a major and competitive supplier of 5G service in the telecommunication area. The country's Beidou Navigation Satellite System will also be able to provide commercial services for customers in more countries and regions. China's mobile payment systems and fun social-networking apps developed by local technology firms will also be increasingly used by more users across the world.
As Xi said in his speech at the recent trade fair in Beijing, the opening-up and international cooperation in the services sector is becoming an important engine to push global development. The further opening of the Chinese market and a stable growth of the Chinese economy will undoubtedly be a positive force to revitalize global trade in the current challenging times and will inject fresh energy into the global economy to overcome the devastating impact of the COVID-19 pandemic.