Despite this week's volatility, ServiceNow (NYSE:NOW) shares are up more than 65% year-to-date, and it has a price-to-sales ratio significantly higher than peers. To many, these metrics are frightening; however, in our view, ServiceNow is attractive. The company has a unique platform that fits perfectly into the current massive global digital transformation opportunity that is still in its very early innings. More specifically, the total addressable market is huge, the ongoing secular shift has been accelerated by covid, and NOW has the solution and leadership to capitalize for a very long time. In fact, our long-term view, combined with the company's continuing strong execution, leads us to believe Wall Street is not appreciating how truly valuable this business continues to be.
Overview
ServiceNow is a cloud-based technology company that provides a subscription-based Software-as-a-Service ("SaaS") platform to help organizations digitize and automate workflows across different areas such as information technology, human resources, and customer service, to name a few. The solution improves organizational productivity and cost savings, and ServiceNow continues to "land and expand" many large customer relationships.
For those of you who prefer watching a video (instead of reading through this article), here is our brief four-minute video overview of ServiceNow and why we like it:
The Now Platform
Thanks to the company's visionary founder and chairman, Fred Luddy, the ServiceNow Platform is in the exact right place at the exact right time to capitalize on the enormous digital transformation opportunity as organizations generate vastly more data today than in years past and need a way to utilize it efficiently and effectively across departments. Although there are many standardized Now software packages, the overall Now platform offers one data/architecture model that improves workflow across the entire organization and also prevents data redundancy. Further, the Now platform offers easy integration with third-party applications through APIs, and a subscription-based payment model that continues to allow the company to land and ultimately expand valuable customer relationships.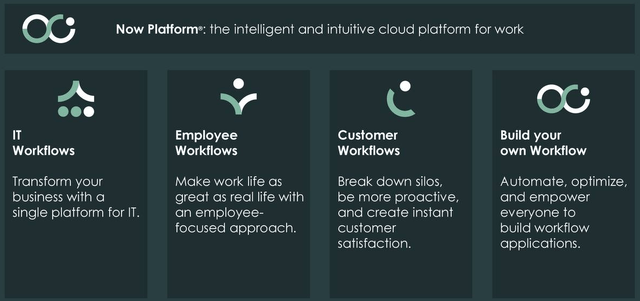 Source: Earnings call presentation
Competitive Advantages
ServiceNow is a market leader in the IT service management ("ITSM") tools market with a market share of over 51% in 2019 as per Gartner, which is substantially higher than any of its nearest peers. The ServiceNow platform is a disruptor in the ITSM space and has continued to take market share from traditional players such as BMC since its IPO in 2012 when it had a market share of just 10%. Competition also comes from new market entrants such as Micro Focus, Freshworks, and IBM (NYSE:IBM); however, please note that ServiceNow's product offerings are far superior and have significantly larger coverage. For example, ServiceNow was named a leader in the Gartner magic quadrant for ITSM tools for the sixth year running in 2019.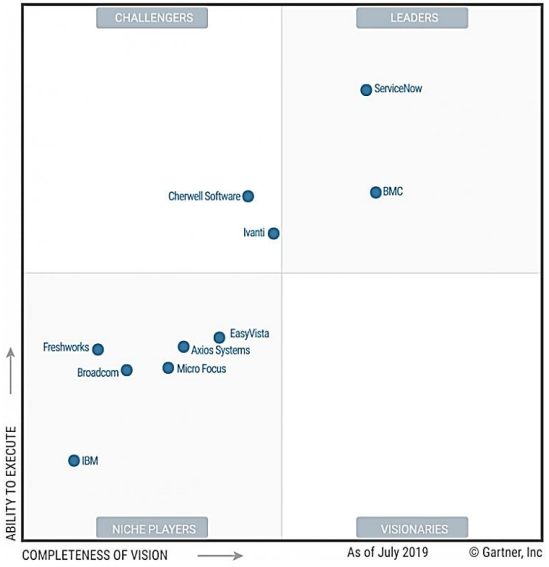 (Image source: Gartner)
Furthermore, ServiceNow will face new competition as it explores newer HR and customer service workflow service verticals. For example, it is bound to face competition from other SaaS companies that operate in those verticals such as Splunk (NASDAQ:SPLK) in dashboarding and Zendesk (NYSE:ZEN) in the customer engagement markets. However, we believe that due to its higher integration capabilities, superior platform infrastructure, and continuous innovation, ServiceNow is well positioned to make its presence felt in newer verticals as well.
Also very important, from a competitive standpoint, high switching costs add "stickiness" to ServiceNow's revenue and cash flows. For example, it becomes very difficult for a customer to shift to another service provider due to the significant direct costs (such as the time and expense associated with new software) as well as indirect costs (such as a loss of productivity while users develop expertise). This phenomenon is also captured by the 97% renewal rate enjoyed by ServiceNow. Furthermore, the following customer cohort chart helps demonstrate NOW's sticky customers and expanding relationships.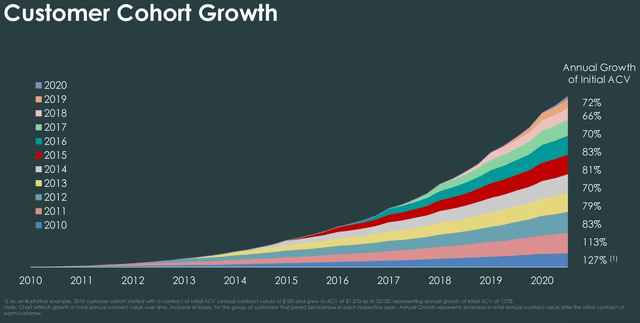 (image source: Investor presentation)
Also important, this stickiness becomes especially valuable during difficult economic times.
A Large Total Addressable Market
With organizations becoming more globalized and competition intensifying, operational efficiency has become a major focus area for companies. The operational frictions within large enterprises with traditional workflow mechanisms have become more evident in the current scenario given business disruptions and social distancing. In order to achieve operational efficiency, digital transformation and day-to-day workflow automation have become the need of the hour, so management can focus on protecting revenue and ensuring business resiliency. As per ServiceNow's management, the company's total addressable market stood at $110 billion in 2018 and is expected to reach $165 billion by 2023, growing at a CAGR of 8%.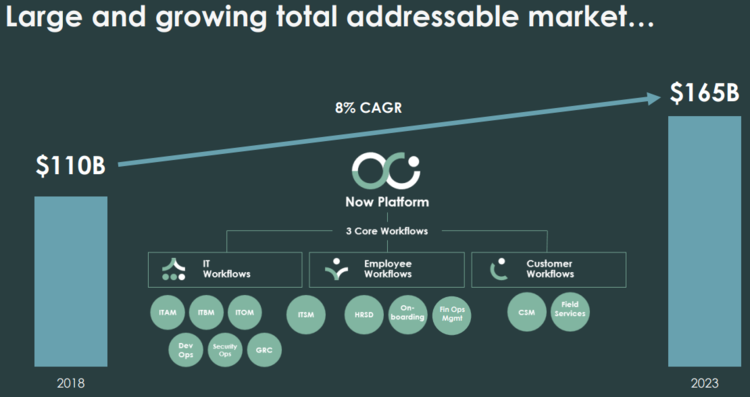 (Image source: investor presentation)
Given ServiceNow's dominant position in IT service management, the company is in a strong place to roll out additional products to its enterprise customers who are increasingly looking to deal with fewer vendors in order to be more efficient. This large total addressable market is another reason NOW's business is so valuable.
Recent Performance and Valuation
Not only has ServiceNow delivered impressive top- and bottom-line growth in recent years through customer acquisition and up-selling, but it is also benefiting from the accelerated digital transformation in our post-pandemic world, plus another quarter of expectation-beating performance. For example, ServiceNow reported subscription revenue of $1.02 billion in Q2 2020, which represents an impressive year-over-year growth rate of 30%. And this strong growth was primarily a function of increased purchases from existing clients as well as onboarding of additional clients. Specifically, in the last 12 months, the company has added 200 new customers with annual contract value of over $1 million, 40 of which were onboarded in Q2 2020 itself including two transactions over $10 million.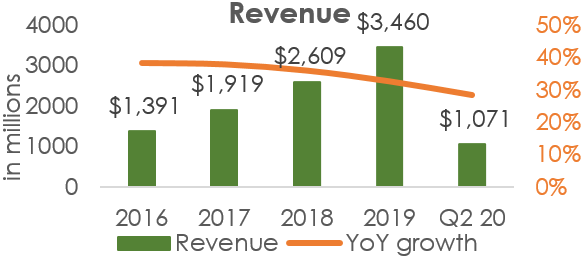 Data source: Company data
ServiceNow has been reporting phenomenal growth in recent years through continuous innovation and product additions, growing at a CAGR of over 36% between 2015 and 2019. And although the annual growth rate has slightly slowed in recent quarters, 28% year-over-year growth is still quite healthy and attractive for a market leader.
From a valuation standpoint, ServiceNow recently traded at just over 16 times one-year forward sales estimates.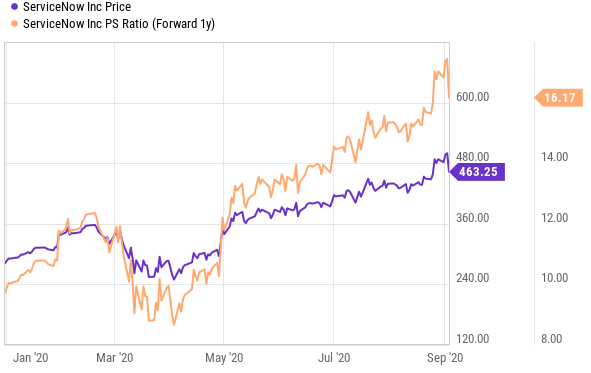 (Image source: YCharts)
And contrary to some Wall Street analysts, this metric is attractive relative to the company's high growth rate, leadership position in the industry and the very large, long-term total addressable market. In our view, ServiceNow is pricey, but worth it.
Risks
Despite the many attractive qualities of ServiceNow's business, there are risk factors investors should consider. For example, NOW competes in intensely competitive markets, and even though the company enjoys many competitive advantages (e.g. product, scale, leadership position), the industry could change and new competition is always a threat, especially if NOW fails to keep innovating at its current high rate.
Technically speaking, another risk factor is the argument that the shares have gone up so much so quickly that the stock is due for a technical sell-off in the near term. Some investors feel that the increased market volatility for tech stocks this week is an indication of near-term challenges. In our view, timing near-term market move is filled with more pitfalls than value, and a far better approach is simply to buy really good businesses and then hang on for the bumpy but ultimately sharply upward long-term ride.
The COVID-19 pandemic also creates risks for the business. As a cloud-based company, and an organization where employees have recently been able to work from home, NOW has been less impacted by the pandemic than other organizations. However, any serious, long-term economic harm caused by the virus could have a significant negative impact on the business.
ServiceNow First Focus
For reference, you can learn more about our ServiceNow views in our First Focus report, included below.
Conclusion
ServiceNow has consistently delivered impressive top- and bottom-line growth in recent years through customer additions as well as continuous up-selling among existing customers. And despite the premium valuation, we believe the company's large addressable market, sticky customer base and superior execution will lead to attractive, long-term shareholder returns. For these reasons, we've highlighted NOW as one of three stocks that currently standout as "pricey but worth it" (the other two are Salesforce (NYSE:CRM) and Square (NYSE:SQ)). Overall, if you are a disciplined, long-term growth investor, ServiceNow continues to be dramatically undervalued by the market. And despite some near-term volatility, we view NOW as pricey, but worth it.
Disclosure: I/we have no positions in any stocks mentioned, and no plans to initiate any positions within the next 72 hours. I wrote this article myself, and it expresses my own opinions. I am not receiving compensation for it. I have no business relationship with any company whose stock is mentioned in this article.
Additional disclosure: Left Brain Investment Research has no positions in any of the aforementioned securities. However, affiliate companies Left Brain Capital Management and/or Left Brain Wealth Management are long ServiceNow (NOW), Salesforce (CRM), and Square (SQ).