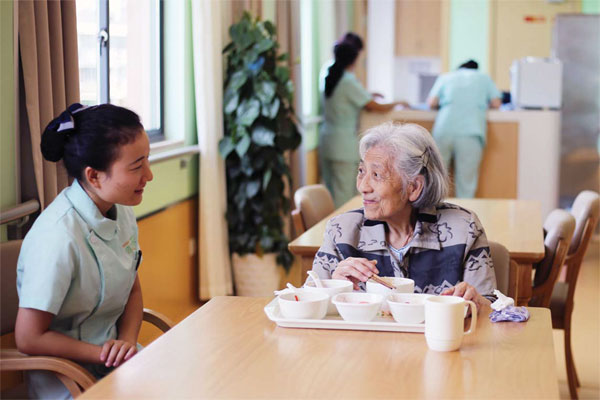 An affluent aging population, accelerating urbanization and smaller families will be growing consumption engines in the next decade in China, which will use new technologies including 5G for retail development, said top industry leaders.
Pei Liang, president of the China Chain Store and Franchise Association, said during its annual retailing convention in Qingdao between Nov 7 and 9 that consumers in China will be a changing factor and the decision-makers in the next decade of the retail market in the country.
Pei estimated that in the next 10 years, about 258 million people, or 17.8 percent of the total Chinese population, will be aged above 65, and that they will be the beneficiaries of the opening-up and reform policies.
"The new senior citizens will be a vast gold mine for retailers, which means that the coverage areas for physical stores will become smaller, pushing retailers to adapt their formats and create room for health products and services for elderly people," said Pei.
"The urbanization rate in China is expected to rise from the current 59.6 percent to 71 percent in the coming decade, resulting in a natural move for deepening penetration to third-and fourth-tier cities," he said.
According to the research of the association, regarding online channels, the consumer penetration rate in third-and fourth-tier cites is 30 to 40 percent lower than in first-and second-tier cities, which have a penetration rate exceeding 80 percent online.
How to transform online volumes into brick-and-mortar stores in lower-tier cities has remained a challenge, said Pei. Online consumption is mainly the preserve of those under 35 years old, but it may change with the development of fresh food e-commerce and omnichannels.
Meanwhile, the increasing number of younger and smaller Chinese families present immense opportunities for instant and ready-to-eat foods and meal replacements, according to the association's research.
The association said it remains a question whether the slowdown in GDP growth also means slower consumption growth, but the contribution of consumption to the overall economy is rising.
At present, consumption in China contributes to 36 percent of overall GDP, while the figure is 63 percent in the United States, which means a lot of potential to grow. However, retailing in China takes up 44 percent of GDP, which is higher than the United States. Therefore, despite the big potential of consumption to grow, it is not necessary for retail to grow at the same time, Pei said.
"Looking ahead, mobile payment technology and its penetration rate is one of the major driving forces of the world-leading digital retail development in China," said Pei, which will be further enhanced by 5G technology and blockchain.
Meanwhile, digital applications, which are led mostly by marketing systems, are gradually expanding to take up all business sectors, and retail enterprises will respond quickly with more satisfying solutions, he said.
Zhang Wenzhong, founder and chairman of Wumart Technology Group Co Ltd, a major national retailer and a digital solution provider for Chinese retailers, said at the conference that the reform of traditional retailers' IT systems through digital mindsets and technology to enhance operational efficiency to better serve customers is the key to the digitalization for brick-and-mortar retailers.
The digital transformation is no longer a job for individual companies. It has to be achieved through alliance and cooperation, he said.
Wang Jianguo, chairman of Fivestar Holdings, a conglomerate involved in retailing home appliances, and maternity and infant products, said at the conference that information technology has empowered users to take control of their consumption, making their consumption behavior more personalized and diversified.
Meanwhile, the foundation of today's retail industry no longer merely relies on stores, storage and employees. It has expanded to rely largely on internet, big data and artificial intelligence to facilitate the integration of online and offline business.