Science Applications International (SAIC) provides engineering, technical, and enterprise IT solutions to the U.S. government. The company has over 25,000 employees, about half of which have security clearances (slide 5). That's because almost 50% of revenue comes from the Department of Defense ("DoD"), and several recent large-scale contract wins are exhibits #1 and #2 (see below). The company is significantly undervalued in comparison with the S&P 500, and could be a prime beneficiary of a rotation out of high-flying tech stocks into more boring undervalued companies.
Earnings
SAIC's fiscal year is one full year ahead of the calendar year. As a result, SAIC released its Q2FY21 earnings report on September 2nd: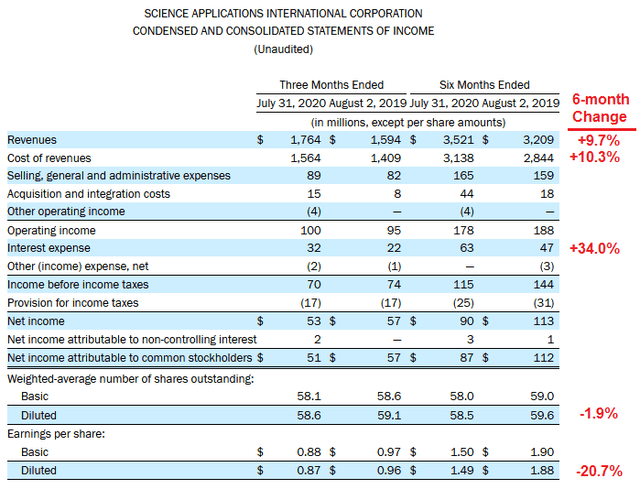 Source: Q2 EPS report
In spite of top-line revenue growth of nearly 10% over the first six months of the year versus the year earlier period, cost-of-revenues increased at a faster pace and combined with higher SG&A, expenses related to the Unisys (UIS) Federal acquisition, and higher interest expense (+34%) EPS fell 20.7% as compared to the first six months of 2019.
During the quarter, SAIC voluntarily paid down $125 million of debt. Subsequent to the end of the quarter, SAIC has made another $100 million in voluntary debt repayment and continues to de-lever, which should lead to a meaningful lowering of the $63 million of interest expense during Q2. Long-term debt of $2.7 billion was up ~$800 million over the prior year quarter. Net debt of ~$2.5 on annualized 6-month trailing EBITDA (~520 million) gives a net debt to EBITDA ratio of an estimated 4.8x.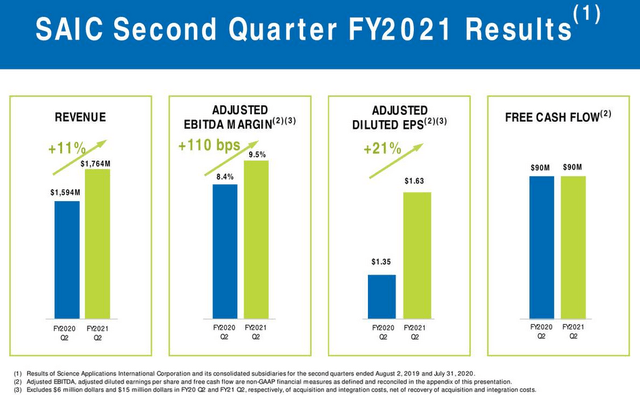 Source: Q2 Presentation
As shown in the graphic above, SAIC delivered $90 million in FCF, or an estimated $1.54/share. Considering the quarterly dividend is only $0.37/share, there appears to be a big disconnect in the company's FCF generation and the amount it chooses to allocate to shareholders. But the disconnect is the relatively high leverage discussed earlier. So, unfortunately for dividend investors, most of the FCF SAIC generates over the next 12-18 months will likely go to paying down debt and get to a more rational leverage ratio (say, 3.0x or below).
Going Forward
SAIC derives most of its revenue from various departments in the U.S. government: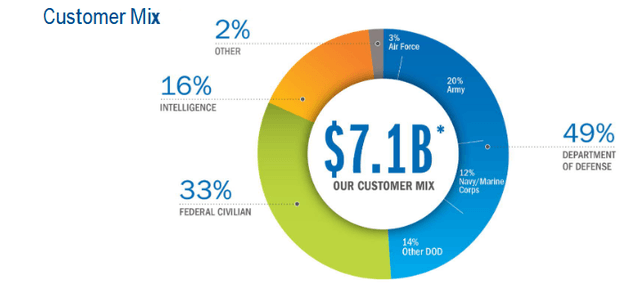 Source: September Investor Presentation
As can be seen in the graphic, nearly half of all revenue comes directly from the Department of Defense ("DoD"). Two recent large-scale contracts are indicative of SAIC's role within the DoD budget:
$950 million U.S. Air Force contract for "the maturation, demonstration and proliferation of capability across platforms and domains, leveraging open systems design, modern software, and algorithm development in order to enable Joint All Domain Command and Control." The contract is part of a multi-level security effort to provide an open architecture for the development and operation of multiple integrated platforms as a unified force across all domains (air, land, sea, space, cyber, and electromagnetic spectrum).
A $286 million contract with intelligence and space agencies for support services and solutions in systems engineering and integration, software, analytics, mission engineering, and training.
Note those two contracts alone (and there are many others) equate to more than 50% of the current quarterly revenue run rate. Total net bookings for the quarter ~$4.6 billion, which reflects a book-to-bill ratio of 2.6x as compared to Q2 revenue. The backlog looks better still:

Source: Q2 EPS report
Of course, much of the backlog is composed of multi-year projects. Still, to have a backlog that is roughly 2.7x full-year 2019 revenue of $7.1 billion is a great position to be in.
Valuation
SAIC currently sports a P/E=12.6 as compared to the P/E ratio of the S&P 500 of 29x while the current yield of 1.9% is a tad higher than the 1.76% yield of the S&P 500. It's fair to say SAIC is selling at a significant discount to the market. According to Seeking Alpha estimates, the company could earn $6.35 this year and $7.90 next year. With the stock closing today at $78.72, that's a forward P/E=12.4 on FY21 and 10.x for FY21.
Risks
With such high visibility on a backlog funded by US government contracts, the main risk to SAIC would be a significant draw-down in defense spending via a continuing resolution. That is certainly possible in the era of COVID-19 and a Federal budget deficit that was already running at a ~$1 trillion annual run-rate even prior to COVID-19.
Summary and Conclusion
SAIC has a relatively high leverage ratio at 4.5x net-debt-to-EBITDA. However, the company should be able to slowly but surely pay that down to a more reasonable level, say 3x, over the next 12-18 months. I say that because the company is generating solid FCF and has a current backlog that is 2.7x full-year 2019 revenue. The company is selling at less than half the S&P 500 P/E valuation and pays a decent (if slow-growing) dividend. Based on FY21 earnings of $6.35, and a P/E=15, the stock could easily reach to $95 over the next year. That's 25% higher than today's close. The stock is a BUY – and no security clearance is necessary to do so.
Disclosure: I/we have no positions in any stocks mentioned, and no plans to initiate any positions within the next 72 hours. I wrote this article myself, and it expresses my own opinions. I am not receiving compensation for it (other than from Seeking Alpha). I have no business relationship with any company whose stock is mentioned in this article.
Additional disclosure: I am an engineer, not a CFA. The information and data presented in this article were obtained from company documents and/or sources believed to be reliable, but have not been independently verified. Therefore, the author cannot guarantee their accuracy. Please do your own research and contact a qualified investment advisor. I am not responsible for the investment decisions you make.