Når du nærmer dig pensionen, bør du overveje, hvordan du får mest ud af dine penge.
Det er en kompliceret opgave at finde ud af, hvordan du skal bruge din opsparing for at få mest ud af den. Du skal blandt andet være opmærksom på:
beskatning af udbetalinger fra pensionsordninger
modregning i offentlige ydelser
forrentning og beskatning af formue du vil bruge senere
Få styr på skattereglerne
Skattesystemet er progressivt, hvilket betyder, at skattesatsen stiger i takt med indkomsten. I Danmark er det afkast, indkomst og pensionsudbetalinger der bliver beskattet, og som bliver modregnet offentlige ydelser. Formue bliver ikke beskattet, og bliver heller ikke modregnet i offentlige ydelser.
Det betyder, at du i teorien kan have et gældfrit hus til 5 millioner kr., og samtidig få ældrecheck og pensionstillæg. Også selvom huset stiger i værdi. Hvis du belåner huset og sætter pengene i banken, så forsvinder ældrechecken. Hvis du får afkast af de investerede penge, bliver afkastet modregnet i et eventuelt pensionstillæg.
Hvis du har pensionsordninger, tæller afkastet på dem ikke med i modregning af offentlige ydelser. Afkastet på pensionsordninger beskattes også med en anden sats end afkastet af frie midler. Pensionsafkastskattesatsen er 15,3 % mens den er mellem ca. 27 % og 44 % for frie midler.
Kend dit udbetalingsområde
Grafen herunder illustrerer, hvordan du kan ende i forskellige områder, når det kommer til udbetaling af din pension. Hvis du ligger i det nederste trin, betyder det, at det beløb du får udbetalt ikke påvirker pensionstillægget. Ligger du derimod i området for modregning, er det vigtigt, at du planlægger, så du i videst muligt omfang undgår modregning, eller får mest muligt ud af den modregning du uanset oplever. Samtidig er det vigtigt, at du tænker på topskatten, når du planlægger din pension.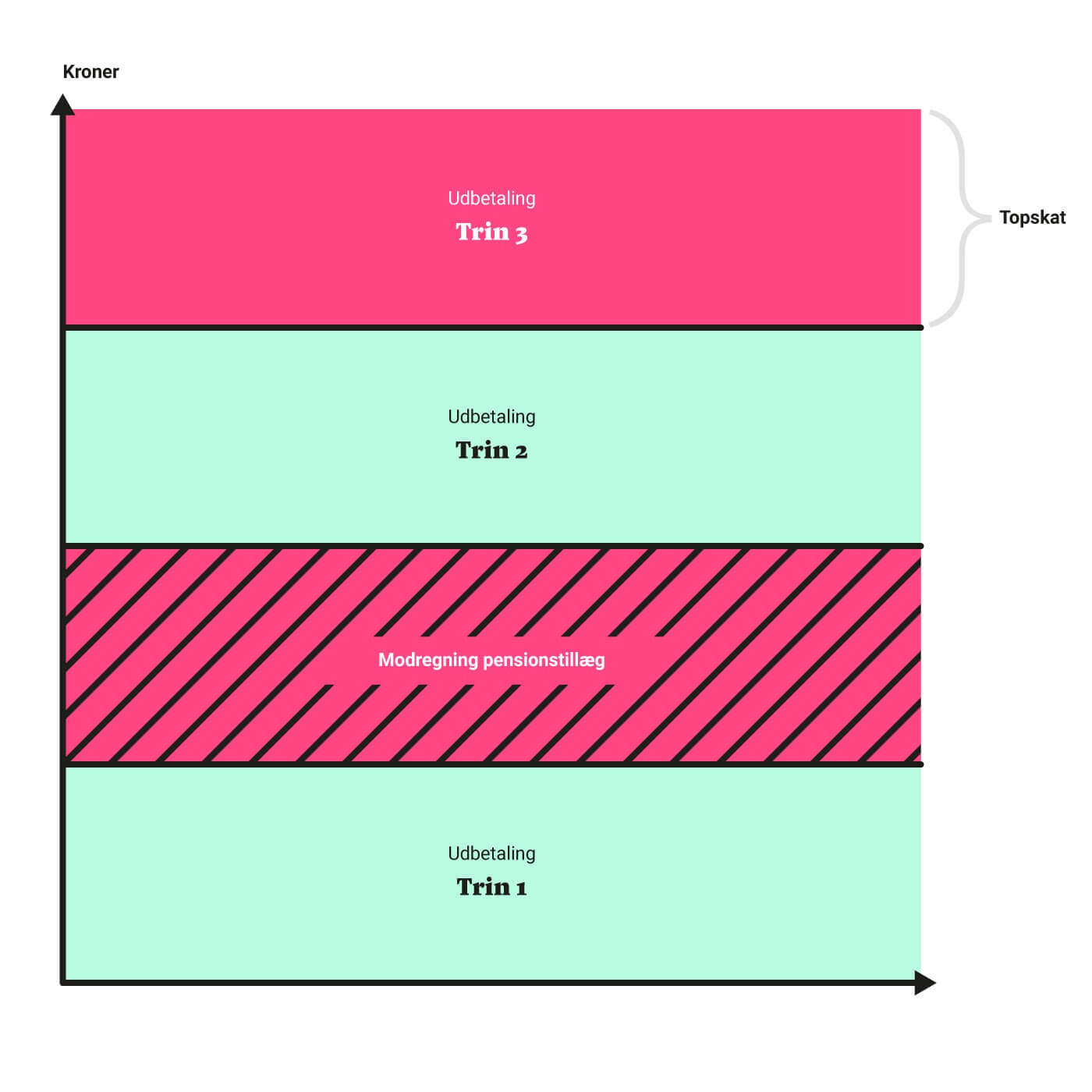 Lad os sige at du får udbetalt 530.000 kr. fra en pensionsordning. De 530.000 kr. er under topskattegrænsen, så derfor er der ikke en skattemæssig udfordring i at få alle pengene i samme kalenderår. Du skal dog være opmærksom på, at beløbet er højere end grænsen for modregning i pensionstillægget. Det betyder, at hvis du får pengene udbetalt over et kalenderår, vil du blive fuld modregnet i dit pensionstillæg, men fordi beløbet er over det punkt, hvor der ikke er mere at modregne, vil resten af pengene ikke udløse yderligere modregning. For en enlig vil det være 276.283 kr. af udbetaling der modregnes, så du får 85.464 kr. mindre i pensionstillæg.
Vær opmærksom på modregninger
Får du i stedet pengene over to kalenderår med 265.000 kr. pr. år, er modregningen i pensionstillægget højere, fordi du i begge år bliver modregnet for hele beløbet over 88.700 kr. I alt 352.600 kr. Du får derfor i alt 23.489 kr. mindre i pensionstillæg, end hvis du får hele beløbet i samme kalenderår.
Det betyder at det for nogle fx vil kunne betale sig at få udbetaling af en 10-årig pension fordelt over 5 år med fuld modregning i pensionstillæg, og 5 år uden modregning, fremfor 10 år med modregning hvert år.
Det er komplicerede beregninger, så tag evt. fat i en rådgiver når du skal navigere din pensionsøkonomi.
Aktier, udbytte, gevinst og tab
Aktieindkomst – udbytte, kursgevinst kurstab – fra aktier i et depot for frie midler beskattes med 27 % op til 55.300 kr. og med 42 % af resten. Hvis du skal sælge aktier for at finansiere din pensionstilværelse, er det en god ide at holde styr på kursgevinsterne og udbytterne. Det kan fx være en ide at sælge aktier med gevinst fordelt på to kalenderår i stedet for ét. Det kan også være en fordel at sælge aktier med kurstab samme år som du sælger aktier med gevinst. På den måde reducerer du aktieskatten i et givet år.