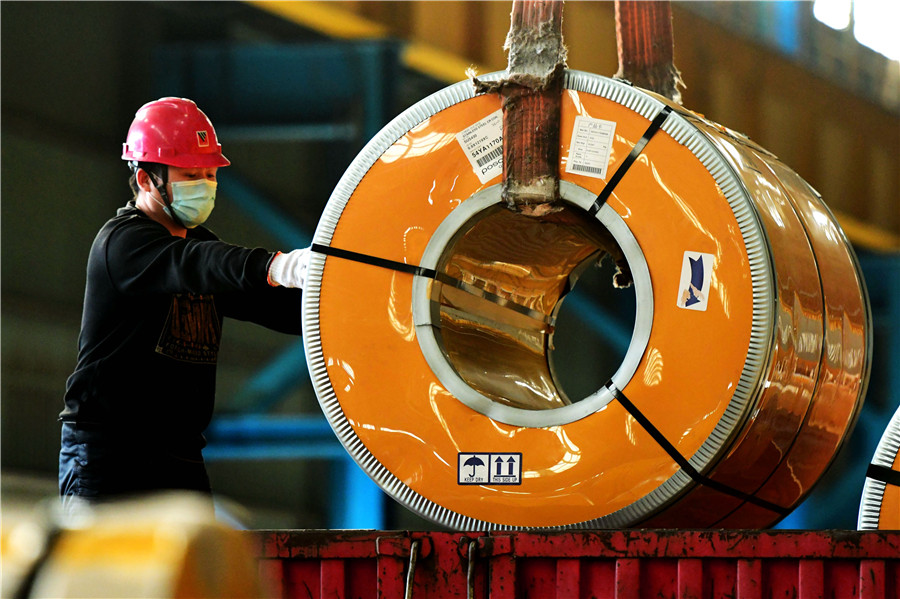 Local help in work resumption at 32 auto parts makers receives big praise
China's timely measures for orderly resumption of work at foreign and domestic businesses have helped sustain the global supply chain, industry experts from South Korea said on Wednesday.
The comments came after the Ministry of Commerce said last week that despite the novel coronavirus epidemic, the local government in Shandong had helped 32 South Korean auto parts companies in the province restart work before Feb 15, thereby stabilizing the global automotive supply chain.
In addition to automobile businesses, the South Korean government branches and companies including South Korea's Ministry of Trade, Industry and Energy and Samsung Group have sent letters to the Shandong provincial government lauding its efforts to help stabilize the supply chains.
Choi Chang-woon, general manager of TS Technology Co Ltd, a Dezhou-based wire harness manufacturer, said because all its products are exported to South Korea, the timely work resumption with sufficient industrial and epidemic prevention materials in Shandong will help the company supply parts to companies such as Hyundai Motor and (its affiliate) Kia Motors on time.
With an order book running till May this year, the firm currently produces 15,000 sets of wire harnesses every day and has nearly 40 percent market share in South Korea.
To prevent possible infection from the virus, Choi said governments from different towns have helped the company to arrange its workers' transportation and accommodation to solve practical issues.
China's measures will not only lift the role of the national economy as the world factory and market, but also ease pressure on multinationals and add stability to the global supply chain, as well as boost the global economy, he said. The ministry said local governments have been working to support work resumption in key industries. Nearly all key foreign companies in the traditional export-oriented provinces and cites such as Shanghai, Zhejiang, Jiangsu and Guangdong have resumed operation.
In the long run, the outbreak's impact on China's supply chain and production chain is temporary, said Huo Jianguo, a researcher at the China Center for International Economic Exchanges in Beijing.
"China's vital position in manufacturing, services and the retail sector won't change. The outbreak has not caused a notable shift in the consumption trend, supply and production chains," he said.
Despite the temporary impact of the novel coronavirus epidemic, foreign direct investment from nonfinancial sectors into the Chinese mainland grew by 4 percent year-on-year to 87.57 billion yuan ($12.54 billion) in January, according to data released by the Ministry of Commerce.
In January, 3,485 new foreign-funded enterprises were established across China, while FDI increased by 157.1 percent in South Korea, 50.2 percent in Japan and 40.6 percent in Singapore, data showed.
As the epidemic is largely a regional and short-term event, Charles Kao, China branch president of South Korean cosmetics group Amorepacific, said China's robust market, diversified channels and flexible business transition will help mitigate the outbreak impact.
"Speaking of digitalization, we normally put it in the context of a growing proportion in business (against traditional tech or services)-and since the outbreak, digitalization is poised to get even better," he said.
Consumers have turned to online services including "cloud-based" technologies and services for their daily supplies. The surging orders have also helped boost new derivative services such as "contactless delivery", all of which indicate that consumer confidence is largely steady, he said.